Jason Noah is a South African forex trader and musician popularly known as the founder of Forex Kings, an institute that offers training on FX. He has risen to become one of the youngest millionaires in South Africa through his success in FX trading and other businesses he has ventured into. Get to know more about him here.
Summary of Jason Noah's Bio
Full name:

Jason Noah

Gender:

Male

Date of birth:

September 27, 1997

Place of Birth:

Kimberley, North Cape, South Africa

Jason Noah's Age:

26 years old

Zodiac Sign:

Libra

Ethnicity:

Black

Nationality:

South African

Sexual Orientation:

Straight

Religion:

Christian

Relationship Status:

Dating

Jason Noah's Height in Inches:

5 feet 5 inches

Jason Noah's Height in Centimeters:

165 cm

Jason Noah's Weight:

60 kg

Body measurement in inches:

34-30-32

Education:

Langenhoven Hoerskool, Riversdale, Pretoria, South Africa

Jason Noah's Occupation:

Forex trader, Musician, entrepreneur

Jason Noah's Net worth:

$2.1 million

Famous for:

Being the founder of Forex Kings

Xxx Instagram:

@jasonnoah_sa

Twitter:

@JasonNoah20
How Old is Jason Noah?
Jason Noah is 26 years old as he was born on September 27, 1997. He is a South African of black ethnicity. Jason was born in Kimberley, North Cape, South Africa but spent his childhood in Pretoria, Soshanguve, South Africa.
Jason prefers to live a private life, away from the media, and as such, details about his parents, siblings, and background remain unknown, although he occasionally posts pictures of his mother on his Instagram account.
For his education, Jason attended a local high school named Langenhoven Hoerskool, Riversdale, in Pretoria, South Africa, but there is no information about any University he attended. While in high school, Jason sold space cookies and cigarettes to get money for lunch and was once stabbed in school for his wares.
How Did Jason Noah Start Trading Forex?
When Jason was only 18 years old, he was thrown out of the house by his father for getting his girlfriend pregnant. He had to move in with his cousins as he could not afford to rent an apartment at the time.
Jason was already involved in forex trading before he was sent out by his father and he continued the trade while living in his cousin's backroom, although it was a very difficult period for him and he tried committing suicide to escape the hardships he experienced at the time. He revealed that he had to apply for jobs at pick 'n pay and SAPS.
Ashley Hastibeer Trained Jason Noah in Forex Before He Hit the Millionaire Milestone
Jason did not immediately get a breakthrough in forex trading as he had to blow up several of his accounts. However, he did not let the numerous setbacks discourage him. In a bid to better his forex trading skills, Jason took a course with Ashley Hastibeer, a Durban-based forex trader. The course gave him the knowledge and skills needed to further his career.
Jason invested $1,000 in forex trading which gave him a return of R1.8 million and this marked his rise to stardom and wealth as he was able to recover his blown accounts. He continued trading forex in combination with other business ventures which spiked his net worth, making him one of the self-made forex millionaires.
Jason Noah Founded His Forex Training Company in 2017
Jason Noah is a serial entrepreneur who seeks to create various sources of income. Following his breakthrough in forex trading, Jason decided to set up an institute to train other people who wish to go into the trade.
The institute named Forex Kings was founded on April 1, 2017, and gives training on how to understand signals and trade forex efficiently. It caters to different categories of trainees including beginners and professionals.
Forex Kings offers both online and offline training sessions under three different training packages which are platinum, gold, and silver and the fees for the packages range between $300 to $550. The institute has been very successful in its craft as Jason constantly uploads pictures and videos of physical classes held at various venues on his Instagram account.
Is Jason Noah the Richest Forex Trader in South Africa?
Jason Noah is not the richest Forex Trader in South Africa. Although he has amassed a great fortune of R35 million which is the equivalent of $2.1 million, he is way behind Jabulani Ngcobo and Sandile Shezi who are both successful South African Forex Traders with an estimated net worth of $2.4 billion each.
Jason Noah Has Also Ventured Into Music
Jason Noah is quite skilled in many things including music. He followed his passion for music and although he has not been recognized as a successful musician, he has released some tracks which include:
Bad Shawty 2019
012 2019
Ivory 2021
I Get You 2021
Bayalila 2021
Jason also established a music record label named 012 Grounded at the age of 21.
Who is Jason Noah's Girlfriend?
Jason Noah has never disclosed the identity of his girlfriend, and he does not post pictures of them together on his social media platforms. We could not confirm how they met and how long they have been dating. However, she got pregnant when he was just 18 and they have remained together ever since.
Jason Noah's girlfriend was a huge source of support to him during his formative days, encouraging him when he was still struggling to make a breakthrough in forex trading. They both enjoy a seemingly happy relationship as shown by pictures of them enjoying themselves at luxurious locations.
Does Jason Noah Have Any Kids?
Jason Noah has two kids; a boy and a girl with his long-term girlfriend, although he is yet to reveal personal details about his kids. His first child Bryson was born when he was just a teenager and he welcomed his daughter in 2019. Jason shelters his children from the media and we could not verify what the kids are currently up to.
Jason explained his privacy preference when he revealed that he was robbed at gunpoint in 2019. In a YouTube video, he stated that the incident taught him to keep certain private information away from social media, and in addition, he increased the security details guarding him and his family.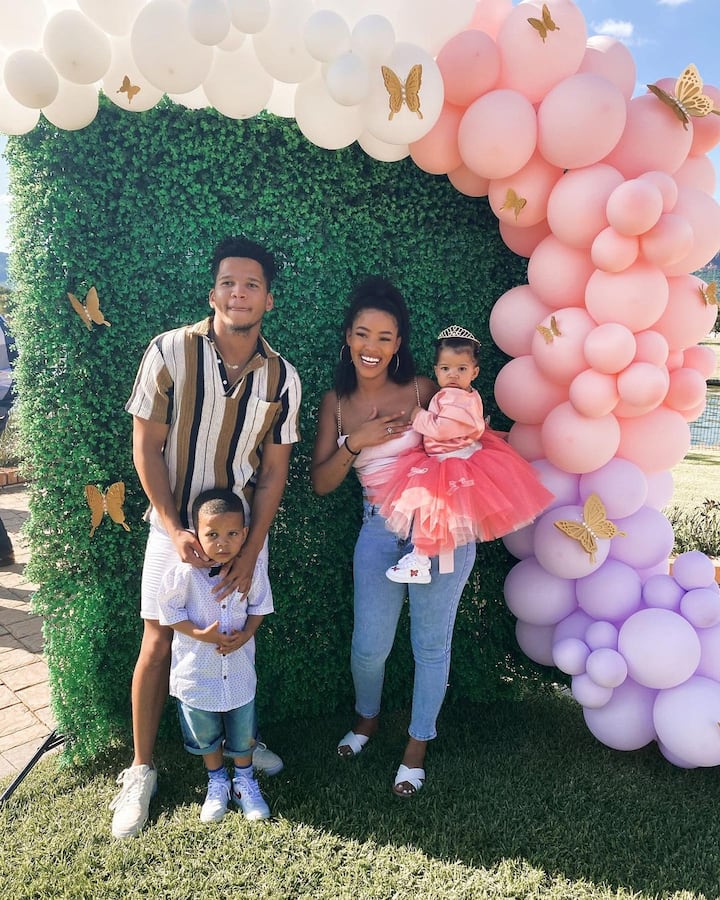 Is Jason Noah Active on Social Media?
Jason Noah is active across various social media platforms. His Instagram account @jasonnoah-sa currently has 428k followers while his Twitter account @JasonNoah20 which was created in July 2019 has 635 followers. Jason also has a YouTube channel @Jason Noah with 20.8k followers. He regularly posts information on Forex trading across his social media platforms.