Jason Peters is an American professional athlete and football offensive tackle for the Philadelphia Eagles of the National Football League (NFL). Originally a tight end, Peters is dubbed as the best-left tackle and a powerful player on the pitch by the Eagles head coach Andy Reid.
He played college football in Arkansas, before signing with his first professional team, the Buffalo Bills as an undrafted free agent in 2004. Years have passed since then and this player has grown his career much to the admiration of lovers of American football. Get to know all about him in the paragraphs that follow below.
Who is Jason Peters and How Old is He?
Jason Raynard Peters was born in Queen City, Texas on January 22, 1982, in a Christain home and grew up among three brothers: Jerry Peters, Tim Peters, Will Peters. His father is Bishop J. Peters and his mother is Teledeo Simington.
He was an alumnus at Queen City High School (TX) where he exhibited his athletic prowess both in football and basketball. But as he performed best in football, Peters pursued the game into college and committed to play for the Arkansas Razorbacks football team at the University of Arkansas.
NFL Career Beginnings and Achievements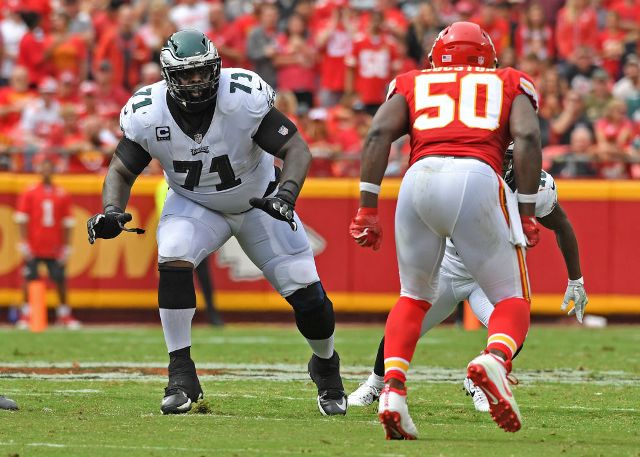 Jason Peters went undrafted after the 2004 NFL Draft despite being projected as an early fourth-round pick by Sports experts. At 320 pounds, he recorded 61 knockdown blocks more than catches (21) coming out of college. He eventually joined the Buffalo Bills as an undrafted free agent in April 2004 but was cut from the team's roster and then re-signed to the practice squad.
A few months later (November 12, 2004), the Bills signed Peters to the active roster where he earned a mark as a blocking tight end and feared wedge buster. Under the tutelage of offensive line coach Jim McNally, he learned to play offensive tackle.
Peters competed for the starting right tackle and was assigned to the position by the Bills, as well as got signed to a 5-year contract extension worth $15 million in the offseason. He started the 2007 season games as the starting right tackle until the Bills reshuffled their offensive line in Week 7, moving him to the left tackle. It was the same year that the footballer played his best game and got selected on the AFC Pro-Bowl team, which was the first time a Bills offensive lineman would make the Pro Bowl since 2003.
The offensive line coach McNally described Peters ability as limitless. However, the Bodyguard, as he is nicknamed, could not make it to the Pro Bowl due to a groin injury he suffered in the game against the New York Giants.
Peters began the 2008 offseason as an unhappy player looking to upgrade his contract. It was reported that his angst was fueled by fact that he received a lesser amount considering his position as the Bills'only Pro Bowl blocker. He wanted to match up to other teams offensive linemen who earned much more in contracts and bonuses. According to reports, he requested a deal extension between $8 million and $11.5 million per season.
For this campaign, Peter intentionally missed the team's workout and the mandatory minicamps and was willing to sit out the entire season in order to get a new and improved contract. Amidst the holdout, Head Coach Dick Jauron said he will be fined and be removed from the lineup. Peter received a fine of over $560,000, for missing all the training camp after he returned to the Buffalo Bills on August 21, 2008. By the end of the 2008 season, he recorded what was dubbed the worst in NFL among starting left tackles with only 11½ sacks. He was also picked as the starting left tackle on the Pro Bowl and a Second-team All-Pro in that same season, which some believed was a dubious selection.
The following season (2009), Jason Peters was successfully traded to the Philadelphia Eagles on April 17, 2009 in exchange for their first round pick (28th overall) and 4th round pick (121st overall) in the 2009 NFL Draft. The franchise signed him to a six-year contract worth $60 million to play for the Eagles through 2014. His previous contract with the Bills that was yet to end (in two years time) was voided by the Eagles with the team's head coach Andy Reid saying he has always admired Peters' play and considered him the best-left tackle in football.
Peters got selected to the 2010 and 2011 Pro Bowl as the starting offensive end and also the 2010 second-team All-Pro selection. He played a steadily with the Eagles through February 26, 2014, when the team renewed his contract for another five-years worth $51.3 million.
Meanwhile, he ruptured his Achilles tendon twice on different occasions, first of which was during an offseason workout on March 28, 2012, and the second time was after his home personal equipment malfunctioned.
See Also: Alshon Jeffery Wife, Height, Weight, Age, Bio, Family, NFL Career
With a one-year contract renewal with the Eagles on June 14, 2017, he continued to play on the team and had his first his first Super Bowl ring when the Eagles beat the New England Patriots 41-33 in the Super Bowl LII. The footballer suffered knee tears to the ACL and MCL on October during Monday Night Football against the Redskins.
The Franchise, as his other nickname goes, has played in 181 games with 171 starts since the start of his NFL career. He was named a top 10 player over the age of 35 in 2018, with a cap hit of over $10 million.
His Height and Weight
Height: 6ft 4in (1.93m)
Weight: 328 lb (149 kg)
The two-time All-Pro and nine-time Pro Bowler is "freakishly athletic for his size as he continues to dominate opponents well into his 30s," according to ESPN's Tim McManus.
Jason Peters is very private about his family life and is not known to have a wife or girlfriend. For all we know, the 36-year old is single and is passionate about his football career.