Radhi Devlukia-Shetty (Born 30 July 1990) is 33 year-old British vegan, plant-based chef, entrepreneur, and social media personality famous for being the wife of Jay Shetty, an award-winning viral content creator, host, and motivational speaker whom she married in 2016.
Radhi's husband has garnered over 20 million followers across the globe, with his videos gaining more than 4 billion views on social media platforms. Together, the couple discusses topics related to wellness, purpose, mental health, and relationships on their social media handles. Radhi herself has amassed over 90,000 followers. She has been able to gain a huge following thanks to her often sharing in-depth tips on how to live a healthy lifestyle.
Summary of Radhi Devlukia-Shetty's Biography
Full Name: Radhi Devlukia-Shetty
Gender: Female
Date of Birth: 30 July 1990
Radhi Devlukia-Shetty's Age: 33 year old
Place of Origin: England, UK
Ethnicity: Indian
Nationality: British
Sexual Orientation: Straight
Marital Status: Married
Radhi Devlukia-Shetty's Husband: Jay Shetty
Radhi Devlukia-Shetty's Height in Inches: 5 feet 7 inches
Radhi Devlukia-Shetty's Height in Centimeters: 170 cm
Weight: 55 kg
Radhi Devlukia-Shetty's Net Worth: $5 million
Instagram: radhidevlukia
YouTube: Radhi Devlukia
Who is Radhi Devlukia-Shetty?
Jay Shetty's wife is of Indian ethnicity. She was brought into the world on the 30th of July 1990 in England, UK. Her birth name is said to be Roshni Devlukia but she is fondly called Radhi by her friends and family. The identities of her parents are not yet known, however, it is of public knowledge that she has an elder sister named Deepa Devlukia.
While growing up, the internet personality had a chubby stature which subjected her to bullying when she was in high school and college. Following her passion to change her physique, she began practicing yoga and meditation which contributed so much to her subsequent weight loss.
Prior to becoming an Instagram sensation, Radhi Devlukia-Shetty worked at Watford General Hospital in Hertfordshire as a specialist in dietetics. Following her work as a plant-based dietitian, she became an Ayurvedic medicine enthusiast. She is a vegetarian who loves cooking and often prepares new recipes.
Radhi practices Hinduism and she is very spiritual. As such, she has cited Radhanath Swami as her role model. Swami is a guru, community builder, activist and author who has been a Bhakti Yoga Practitioner and a spiritual teacher for over forty years. Radhi Devlukia-Shetty shares her knowledge on spiritual things and meditation on social media, mostly on Instagram where, as mentioned above, she has gathered massive following.
With the aim of spreading love and positivity throughout the world, Radhi was a guest on her husband's Facebook series titled, On Purpose, on 2019 Valentine's Day. In the program, she gave insights on the importance of sustaining the habit of exercise by prioritizing the healthy feeling over the loss of weight. She also encouraged people to eat their biggest meal in the afternoon when digestion is strongest.
As a dietitian, Radhi talked about the need for drinking hot/lukewarm fluids instead of cold beverages as they aid digestion. The best part and the most needful segment of the interview was her tips on food and wellness as she wittily displayed her remarkable erudition on the art of applying the principles of nutrition to the diet.
Furthermore, Radhi Devlukia-Shetty believes in conscious cooking & living as she studies and implements the practice of Ayurveda. As a result, she has a unique and organic approach to life, sometimes extreme but authentic which is rare to come by in the current social environment. In 2018, Jay Shetty's wife was featured on Women of Impact YouTube Channel due to her works on social media.
Concerning her body measurements, Radhi Devlukia-Shetty is an elegant looking lady who stands at a height of 5 feet 7 inches (1.70 m). Her curvaceous body weighs about 55 kg (121 lbs).
When Did Radhi Become Jay Shetty's Wife?
After dating for a while, Radhi Devlukia-Shetty and her husband exchanged marital vows in a low key wedding ceremony in April 2016. The couple has since been happily married and has advised that components of a successful relationship include understanding, communication, and commitment.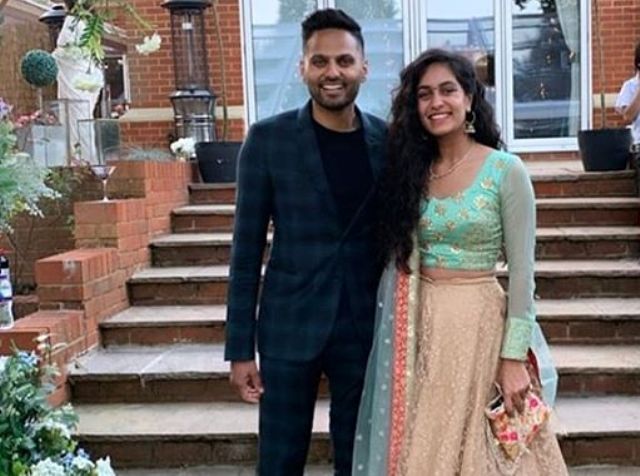 The couple celebrated their third wedding anniversary in April 2019 and occasionally share pictures of themselves on social media. They are yet to start a family and it is not clear if they are trying to or have made a conscious effort to not have a child at the moment.
Radhi Devlukia-Shetty's husband has been bestowed with several accolades following his works as a vlogger and motivational speaker. He was honored with ITV Asian Media Awards and Streamy Awards in 2016 and 2017 respectively. In 2019, he took home the Outstanding Achievement Online Award at the year's Asian Awards.
How Old is Roshni Devlukia-Shetty?
Roshni Devlukia Shetty is 33 years old. She was born on July 30, 1990.
How Long Has Roshni been Married to Jay Shetty?
Roshni Devlukia has been married to Jay Shetty for 7 years. They dated for a while before getting married in a ceremony in April 2016.
What is Roshni Devlukia-Shetty's Net Worth?
Roshni Devlukia-Shetty is estimated to have a net worth of around $5 million.
How Tall is Jay Shetty's Wife?
Roshni Devlukia-Shetty is 5 feet 7 inches (170 cm).
Instructions
Rework the intro to first and directly talk about who she is and what she is known for, and when they got married, how long have they been married?
Include her profile summary
You can come up with a better intro by looking at excerpts from some of the top results on Search engine results page. Check the rest of the intro that it flows in line with the rest of the article.
Check that the meta description is in line with the intro
Finally, come up with some facts about her including things like age, net worth, height, etc. take a look at this url for example: https://starsunfolded.com/roshni-devlukia-shetty/ and come up with something similar to their facts. Alternatively, you can use FAQ
Here's another one: https://wikibio.in/roshni-devlukia-shetty/