China and Africa have been in bed together for many years now but a first of its kind event is about to occur in Gabon as a half-Chinese diplomat, Jean Ping, buckles up to become the next President.
The small central African country may have a President with the highly unusual background of being the son of a Chinese businessman who migrated to Gabon after working in a bicycle factory in France.
See Also: Gordhan Pravin Says He Is Ready To Die For SA Does This…
According to Presidential candidate Jean Ping, his father, Cheng Zhiping, left his hometown of Wenzhou in southeastern China for France in the 1920s where he took up work in a Peugeot bicycle factory. He had then moved to Gabon's Fernan-Vaz region, along the country's Atlantic coast, and worked as a forestry operator. He met and married Ping's mother, Germaine Anina, and Ping was born and raised in Gabon.
Jean Ping is a former Chinese diplomat and also a former head of the African Union Commission, he declared himself the winner of a presidential poll held this weekend and called on his rival, incumbent president Ali Bongo, to "acknowledge his defeat."
It must, however, be stated that Ping's call out is based on unofficial tallies, actual results are expected today. Should Jean Ping's statement be true, the election would have brought to an end the almost 50 years of rule by the Bongo family. Ali Bongo's rule had been marked by questions of his background which centered around news that he was a Nigerian war orphan, adopted by his father, the late president Omar Bongo, and had no claim to being Gabonese.
See Also: The East Africa Community Has A New Resolution To Make Swahili Their Official Language
Considering, Jean Ping has a more far-flung mixed nationality, it is surprising that few have paid attention to his own background. In fact, Ping seems to be flying on the wings of that mixed background. He told Quartz that;
"This cultural mix had a profound impact on my childhood. Looking different—as the son of a Chinese immigrant and Gabonese mother—provided me an early awareness of the world around me and made me more open-minded."
When news of his Presidential ambitions had spread to his father's home province of Zhejiang, he had been profiled in a local paper which circulated on a microblog, Weibo and his candidacy seems to have generated widespread admiration among the people.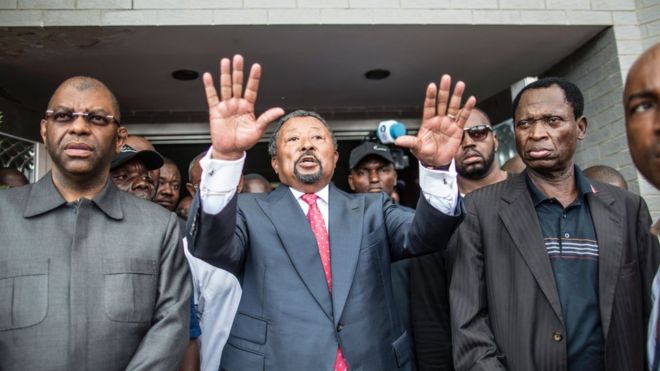 China's relations with Gabon could best be defined as rocky. Although Sino-Gabonese trade is around $745 million a year, Chinese companies haven't always had an easy time in the country. People believe that a Ping presidency would change that but Jean Ping was vague when he answered Quartz question to that effect simply stating;
"The Gabonese people understand that their next leader must strengthen our cooperation with all international partners and allies if we are to build a safe and prosperous Gabon."
How do you feel about a half-Chinese man being the President of an African country? Because it may just happen today.