Jeffrey Wright is a multiple award-winning Hollywood actor with numerous successful films to his credit. Though not one of the regular household names, Wright is regarded as one of the most versatile but underrated actors of his time. Quite a private celebrity offstage or offscreen, Wright consciously avoids the limelight whenever possible such that some of his roles are more popular than himself.
Who Is Jeffrey Wright & What Is His Ethnicity?
Jeffrey Wright was born on December 7, 1965, in Washington, D.C. Jeff, unfortunately, lost his father when he was only a year old. He was raised by his mother, a lawyer, who worked with the U.S. Customs Department, and his aunt, who was a nurse.
The actor of African-American ethnicity attended St. Alban's School for Boys in Washington, D.C., and later studied political science at Amherst College. It was while in college that he discovered his innate acting interests and skills.
After graduating from Amherst in 1987, he further pursued his theatre interests at New York University's Tisch School of the Arts. Though Wright got into N.Y.U. on a full scholarship, he, however, dropped out after two months in order to take his acting career to the next professional level.
Wright has an extensive list of acting credits both on stage and on-screen. His first film role was in 1990 in the movie Presumed Innocent. His film breakthrough came in 1996 with the movie Basquiat, where he played the lead role of Jean Michel Basquiat, the late painter. The film earned him numerous award nominations.
Some of his notable works on the small and big screens include; his character as Rev. Martin Luther King Jr. in the HBO miniseries Boycott (2001), which won him an American Film Institute Actor of the Year (AFI) Award, a supporting role as Roy Cohn's nurse, Belize, in the TV mini-series, Angels in America (2003), which was a hit. His performance in the series fetched him several awards such as a Golden Globe, a Black Reel, a Tony, Drama Desk, and Outer Critics Circle awards. He also portrayed Winston in Broken Flowers (2005) which won him the San Diego Film Critics Society Awards. His other successful roles are the gravedigger in Hamlet (2000), a Puerto Rican gangster in Shaft (2000), as a Desert Storm veteran in The Manchurian Candidate (2004), portraying the character Felix Leiter in Casino Royale (2006) and Quantum of Solace (2008), as Valentin Narcisse in the HBO series Boardwalk Empire (2010-2014) and as Betee in The Hunger Games franchise (2014 – 2015).
What Is His Net Worth?
With several small and big screen roles which have mostly outshined his personality in the entertainment industry, Jeffrey Wright is considered one of Hollywood's successful African -American actors. His current net worth is estimated at $5 million.
Who is Jeffrey Wright's Wife?
Jeffrey Wright was raised by his mother, a lawyer and his aunt, a nurse after his father's demise when he was just a year old. He later got married to biracial British actress Carmen Ejogo who was his co-star in the movie Boycott. The couple officially tied the knot in August 2000 and settled down in Brooklyn, New York. They have two children together, a son Elijah and a daughter Juno (TK). Actors Jeff and Carmen were believed to be enjoying the happily ever moments in their marriage until sometime in 2009 when they crashed many of their fans hopes. Though the couple separated in 2009, their marriage officially ended in 2014. Both actors have since withheld any information regarding their divorce, and children's custody. Jeffrey, who is known to keep his personal life off the radar, may currently be single as he has so far not been linked to any other relationship.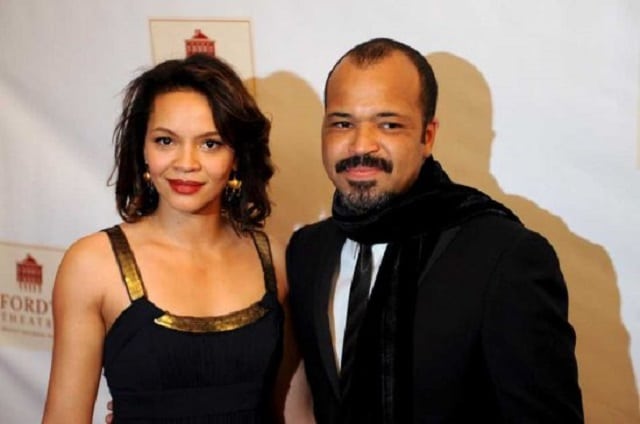 While the marriage was a first for Jeff, it was the second one for Carmen. She was previously married to British musician Adrian Thaws popularly known as Tricky. Born in London to a Nigerian father and a Scottish mother, Carmen is a beautiful but unusual actress with successful movie roles. After the movie, Boycott, where she and Jeff met, Carmen, has other notable feature films and television shows to her credit including Lackawanna Blues (2005), M.O.N.Y., The Brave One both in 2007, Law & Order (2008), Away We Go (2009), and Sparkle (2012).
Carmen also reprised her role as Coretta Scott King in the 2015 movie Selma which was a major hit. She also appeared as Jane Elaine in Born to be Blue (2015), and as magical President Seraphina Picquery in the Harry Potter spinoff, Fantastic Beasts and Where to Find Them (2016). Her more recent works include the 2017 movies, It Comes at Night, Alien: Covenant,  and Roman J. Israel, Esq., amongst others.