Jenna Vulcano was just an ordinary American who worked as a medical receptionist in an establishment in her native land – Staten Island until an opportunity came calling, she featured in a few episodes of her elder brother's comedy television series Impractical Jokers, a Tru TV successful production, where she pulled superlative expensive pranks on Sal Vulcano her brother in the show that endeared her to many people across the world.
Learn more about her biography, family relationship and how she came to be famous among other facts in this write-up.
Jenna Vulcano – Biography 
Jenna Vulcano is the product of the union between Sal Vulcano  Snr. and Dianne Fernandez. She was born on the 4th day of August 1986 in Staten Island, New York where she was equally groomed alongside her sister Dana Vulcano and elder brother Salvator Edward Anthony Vulcano Jnr.
Her elder brother Sal as he is fondly addressed is an American actor, producer, and comedian whose notable works include a book and a comedy troupe known as Impractical Jokers which he formed with his three high school buddies; Joseph Joe Gatto, Brian Quinn, and James Murray.
Although there is not much information to go by with respect to Jenna's early life and educational progress, it is noteworthy that she has a cordial, loving relationship with her family. This is most especially her daddy whom she constantly gushes about and occasionally flaunts on her social media handles.
Jenna Vulcano's first work was as a receptionist and activity coordinator; she is believed to still function as a medical receptionist in a medical establishment in her hometown Staten Island.
As an actress, she went into acting through her elder brother's series where she put in a superlative act that won the love of many in the Strip High Five, Down in the Dump, and Brother-in-Loss episodes of the television series from 2012 to 2013. Jenna Vulcano pulled a lot of interesting jokes on her elder brother whilst in the show. One of such caught on screen was when she kissed one of her brother's friend, Brian Quinn. She took it a notch higher by wedding James Murray legally in the presence of their family and friends only for the marriage to be annulled the night after the wedding.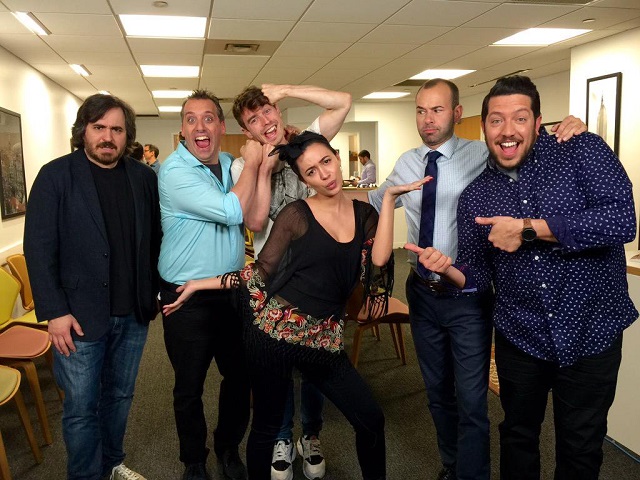 She sure makes a fine actor and many are eagerly anticipating to see more of her works in the near future. The talented and bubbling actress has other interesting things about her.
Read on below to get to know everything there is to know about the Staten native.
Everything To Know About Sal Vulcano's Sister
1. Jenna Vulcano's Net Worth
The comic actress earns from her jokes in the television series Impractical Jokers and via her work as a receptionist. Her, earnings have been estimated to be well within or slightly above $100,000. The sum is sure to increase if she continues to make more quality onscreen appearances among others.
2. Her Love Life
Jenna Vulcano's known affairs are the stunts and pranks she pulled publicly on screen on her elder brother when she shared hot kisses with Brian Quinn and only to marry James Murray in 2014. Her all taped up brother was seated in the congregation, helplessly watching the ceremony. However, the marriage was later annulled after some hours.
James Murray is a member of the comedy troupe alongside her brother Sal Vulcano Jnr, apart from being a comic-actor he also doubles as producer and writer. Whatever Jenna's motivation was in pulling the joke on her beloved brother, she is yet to disclose if her feelings for the man was real or it was just a scripted scene on the show.
Despite the fact that the marriage was purportedly annulled, Jenna Vulcano has not ceased to gush about her on-screen husband on her Twitter feeds especially the ones posted on the 4th of August 2015. Another man she has been romantically linked with is the Auto Group, Service Advisor, known as Famous Shamus who she was reportedly dating years before she married Murray in the TV show.
Interestingly, through a Twitter post she made on the 5th day of August 2015, she declared that she has a daughter Leah, who turned fourteen years old that day. Not much is known about who the girl's father is as Jenna has not revealed more information to that effect.
Read Also: Kodi Smit-McPhee – Biography, Family Details, Movies and TV Shows
3. Social Media Presence
The actress' known social media presence is a Twitter account she created in 2015, that has already amassed over 971k followers. This is quite small in contrast to her elder brother's social media followers which are scattered across Facebook where he has over 723,000 and over 1.1 million on Instagram. Jenna does not have any known accounts on Facebook and Instagram
4. Height and Weight of Jenna Vulcano
Although her height and weight has not been made public, she has a nice slender body build, almost standing shoulder to shoulder with her famous comedian brother, Sal's height is said to be 5 feet 9(3/4) inches (1.79m).