Jennifer Beals is a teen model turned actress who became a person of interest after she made an unexpected smash in the movie, Flashdance. One intriguing quality about the Chicago-born actress is her ability to perform perfectly in several roles involving various ethnic groups and nationalities. She is one of the few actresses whose mistaken identity contributed to their many success stories. Beals has gone ahead to work beyond the popular Hollywood environs and played outstanding roles in several movie platforms. Read on to find out more…
Jennifer Beals' Biography (Age and Ethnicity)
Jennifer Beals was born on the 19th of December 1963 as the last of three children. She was raised alongside her siblings in an African-American neighbourhood. That environs became a nightmare for young Beals as she was bullied because of her skin colour and was often regarded as a 'Whitey'. Because of this, she resolved to be a loner and poured her pain into her acting classes. As regards her true identity, the actress publicly told the world that she is biracial.
When she was 13, she worked in an ice cream store but later took the path of modelling as a teen. Although her days as a model didn't earn many credits, she luckily landed a role in the movie, My Bodyguard (1980). Despite being career oriented, Jennifer Beals was very focused in her academics at Yale University where she majored in American Literature. She also took classes at Depaul University's Goodman School of Drama and at the Professional Workshop.
Also, while at Yale, she landed a role to play as Alex Owens in the 1983 movie, Flashdance. That movie announced her to the world and it became one of the biggest box office smashes that year, grossing over $150 million. Two years down the lane, the actress bagged yet another role in the movie; The Bride and in its remake, The Bride of Frankenstein. Beals played Cinderella in the television series; Faerie Tale Theatre.
Jennifer was quite selective with a lot of movie roles because she didn't want to jeopardize her studies at Yale, it was not until she graduated in 1987 that her career took a better form. After graduation, she got a major role in the movie, Vampire's Kiss starring alongside Nicolas Cage. Later on, the lady got other movie offers away from Hollywood and chose to work with the Europeans and other independent movie directors. Her credits outside Hollywood includes the movies La Patria, Docteur M, and Le Grande Pardon II.
Sometime in the '90s, Jennifer Beals played as a transvestite in the movie, Sons and landed a bigger success after she played a lead role in the movie, Soup. That movie later emerged as the winner of Sundance Film Festival Grand Jury Prize. Moreso, during that period, Beals proved her acting prowess working in different varieties including television series and a few independent movies. In 1994, she played Gertrude Benchley in Mrs. Parker and the Vicious Circle. As a dancer, the actress has gone ahead to prove her dancing skills in the movie, Let It Be Me (1994). She entered the following year adding credits to her name for the movie, The Devil In A Blue Dress (1995).
Jennifer Beals pulled herself more to fame after she was applauded for her outstanding performances in the movie; The Last Days of Disco in 1998. She took a break in her career for four years before starring as a photographer in The Anniversary Party. Till date, Jennifer Beals has continued to keep her fans glued to their seats because of her outstanding performances on set.
See Also: Jameela Jamil Ethnicity, Height, Measurements, Weight, Age, Boyfriend
Family – Parents, Daughter, Husband
Jennifer Beals' parents are nowhere close to the entertainment industry when it comes to their occupations. Her mom, Jeanne Anderson who is from an Irish-American ancestry worked as a school teacher while her father, Alfred Beals was an African-American grocery store owner. Sadly, her father died when she was ten and her mom found love again with Edward Cohen who later played fatherly roles in her life.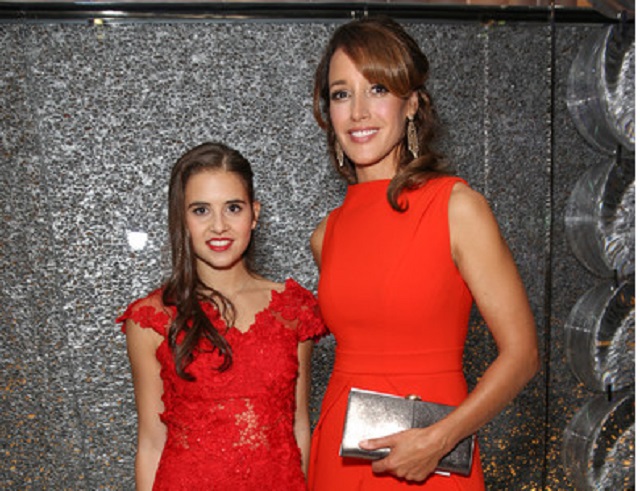 With regards to her love life, Jennifer has been married twice, she was once married to Alexander Rockwell but divorced him after ten years together. Two years after her divorce, she settled with Ken Dixon and had a daughter named Ella Dixon (born in 2005) for him. She is a mother of three – two children from her husband's previous marriage and her daughter with him.