Like everything else about her, Jennifer Lopez's love life has been widely publicized. Her journey to finding love over the years can make for an interesting script for a romantic series. The Love Don't Cost A Thing crooner has had her fair share of relationship ups and downs which have included three failed marriages and an embarrassing broken engagement that happened just a few days to the D day, but through it all, Lopez seems to remain adamant in her chase to finding true love.
With her engagement to former Yankees baseballer, Alex Rodriguez in March 2019, the fourth time might just prove to be the charm for the superstar entertainer. Quickly after their romance began in February 2017, the duo became one of Hollywood's most admired couples, serving onlookers happy moments on the streets of New York, Miami, and LA, stunting on the red carpet and sharing adorable photos of their already blended family.
J Lo First Met Boyfriend Turned Fiance, Alex Rodriguez's Back In 2005
Sometimes, love is found in the strangest of places and at the rarest and most awkward moments. When J Lo first met Rodriguez in 2005, she was just a year into her marriage to Marc Anthony, while Rodriguez was married to Cynthia Scurtis (they were married from 2002 to 2008 and had two daughters), but this did not seem to hinder the instant chemistry they felt when they shook hands for the first time.
Lopez had gone with her then-husband Anthony to Queens, New York, to watch a New York Yankees game which Rodgriguez the-then Yankees third baseman played in. Describing their first moment to Sports Illustrated in a 2019 interview, J Lo said that she felt weird electricity when she shook him and was stuck starring into his eyes for 3 to 5 seconds.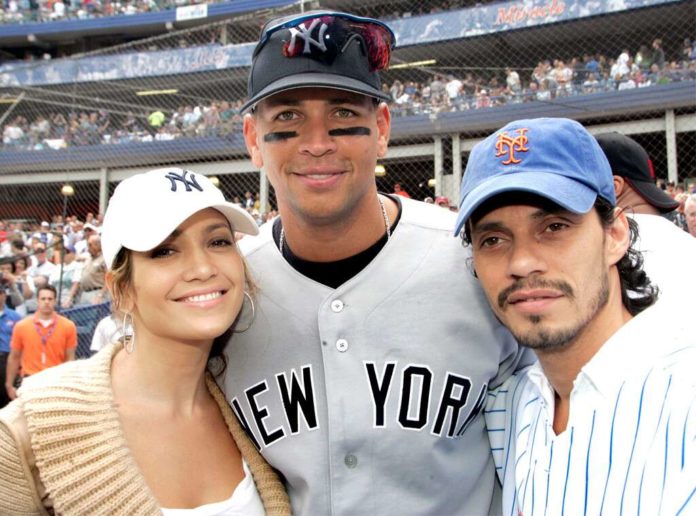 But it wasn't just J Lo, the feeling was mutual as Rodriguez has long been a huge admirer of the Jenny On The Block singer. He would later reveal that as a young baseball player starting out his career, as far back as the late 90s, he got J Lo who was already an international star at the time to sign a photo of hers which he has since kept. He revealed this through an Instagram post of the signed photo, along with the hashtag "#lifecanbeafunnythingsometimes." Indeed it can be… For J Lo and Rodriguez's romance, it all seems like it was meant to be.
The Couple Began Dating After Reconnecting In A Chance Encounter
Lopez reconnected with Rodrguez outside a restaurant in New York in February 2017. She was dressed in her costume for her detective role in Shades of Blue and having lunch when she looked out and saw Rodriguez pass by. In her interview with Ellen, J Lo said she went out and tapped him on the shoulder, and the rest, as they say, is history. He called her that night and arranged for their first of many more dates to come.
In the next couple of months, photos of them together quickly splashed all over the internet as they became Hollywood's newest power couple. Fast forward to May 2017, they made their red carpet debut as a couple at the Met Gala, and by June, Instagram photos revealed that Lopez had already met Rodriguez's family.
Fast forward to March 2019, Rodriquez popped the question to Lopez while on vacation in the Bahamas. Experts valued the 15-carat diamond ring at $1.4 million. Among those happy for the couple was former POTUS Barrack Obama who sent the couple a congratulatory note. By September 2019, they had an engagement party, photos of which were posted online.
J Lo and Rodriguez share a lot in common, they are both Leos; while J Lo was born on July 23rd, the former baseball star was born on July 27th, however, J Lo is the older one by 6 years. When she turned 50 in 2019, Rodriguez was only turning 44. Both Lopez and Rodriguez are Latinos who grew up in New York. In a number of interviews, J Lo has gushed over how incredibly supportive her fiance is of her career. She told GQ in late 2019 that they are also alike in their drive and ambition.
While J Lo continues to enjoy a successful career in entertainment, Rodriguez who retired from baseball in 2016 with over $540 million in career earnings has become a media personality, appearing in sports shows like ESPN's Sunday Night Baseball, and CNBC's Back In The Game. One of the highlights of his 25-year baseball career was winning the 2009 World Series with the Yankees. He formerly owned a Mercedes-Benz dealership in League City, Texas, and now operates a gym called TruFusion which has outlets throughout America and Asia with plans to expand to Europe. He also has investments in eSports team NRG Esports.
How J Lo's Long-standing Romance With Marc Anthony Eventually Failed Time's Test
Of her three marriages, the one with musician Marc Anthony was the longest. For a few years, they were one of Hollywood's most adored couples. They worked and performed together to the thrill of fans. J Lo began dating Anthony in 2004, shortly after her engagement debacle with Ben Affleck, however, they had first met in 1999 when they collaborated for their song "No Me Ames."
According to the Wedding Planner actress, Anthony came into her life and made her feel loved at the time when she was loneliest. Perhaps, one of the contributing factors to their separation was that they kicked things off too soon. Their romance was a whirlwind one that quickly led to marriage in June 2004. By November 2007, the couple revealed they were expecting a child and on February 22, 2008, they welcomed twins, a boy, and a girl named Maximillian David and Emme Maribel Muniz.
Fast forward to July 2011, Jenny and Marc announced their separation. Anthony filed for divorce in April 2012 and on June 16, 2014, their divorce was finalized with Lopez given primary custody of their two kids. Irreconcilable differences served as the reason for the split.
Lopez has found a way to maintain an amicable relationship with Anthony as they co-parent their two kids. A kiss they shared on stage at the 2016 Latin Grammy Awards two years after their divorce sparked rumours that they were trying to get back together, but that wasn't the case. However, it might have contributed to Anthony's separation from model Sharon De Lima which was announced a day after the kiss at the Latin Grammys. Marc and Sharon would eventually divorce in 2017, ending their marriage which began on November 11, 2014.
Her First, Two Marriages Were Very Short-Lived
Before she became an internationally renowned star, Jennifer Lopez, in February 1997, married a certain Cuban waiter and producer named Ojani Noa, but their union lasted for barely a year. What followed after their divorce was a series of legal battles. Noa would later intend to defame Lopez by publishing a tell-all book about their marriage but Lopez would sue him and obtain an injunction preventing Noa from going ahead with the book.
He was ordered by the court to pay her $545,000 for compensatory damages and handover materials related to the book to Lopez's attorney. Noa was in 2016 seen in an episode of Braco TV's Millionaire Matchmaker.
J Lo's next marriage was to Cris Judd in 2001 but like the first, the marriage also crashed rather too soon in 2002. Judd was a backup dancer she met on the set of her music video "Love Don't Cost a Thing." Lopez would later reveal that they did not have what it took to make the marriage work. Their divorce was finalized in 2003. Judd would later marry a certain, Kelly Wolfe.
The Superstar Entertainer Has Romanced A Handful Of Fellow Stars
In addition to her marriages, Jennifer Lopez has been linked to a handful of high profile men, however, her first relationship to hit the news was with her high school sweetheart David Cruz, their romance lasted for a decade from 1984 to 1994. After her first marriage ended, J Lo began dating rapper Sean Combs whom she worked with on her debut album in 1999, but Combs' infidelity would be the end of the relationship in 2001. They remain friends.
And then came 2002, when Lopez fell in love with her Gigli co-star Ben Affleck. Their romance was so high-profile that it birthed the couple name "Bennifer", starting the longstanding trend of celebrity couple nicknames. They got engaged later that year in November 2002 but soon called it off. Lopez would later describe their split as her first real break-up.
A few months after splitting from Marc Anthony, J Lo, in November 2011, began dating Beau "Casper" Smart her backup dancer whom she also toured with. Their relationship was on-and-off until when they called it quits for good in 2016 and then there was a fling with rapper Drake which ended in 2017.