Jennifer Lopez is a singer, dancer, an actor, and producer of Puerto Rican descent. Her entrance into the entertainment industry was as a dancer in 1991 and she has gone on to become an artist and actress in Hollywood. Not satisfied with just acting, Lopez started producing her own films. Most of her work has earned her worldwide recognition and awards as well as endeared her to the hearts of many. Below are more details about her life and career progression and family.
Jennifer Lopez Bio (Age)
Jennifer Lopez whose full name is Jennifer Lynn Lopez was born in Bronx Borough on July 24, 1969. She was popularly called J -lo by her fans. Her parents, Guadalupe Rodriguez and David Lopez were Puerto Ricans who had great dreams and expectations for their three children and made sure they were given the opportunity to achieve success. Her father was a computer technician while her mother was a homemaker and teacher. She was a middle child of three sisters; Leslie and Lynda Lopez.
Her elder sister, Leslie, is an Opera singer while younger sister, Lynda, works with New York's WB Network Channel 11 as a journalist. Her parents at an early age of 5, enrolled Jennifer Lopez for singing and dance classes in a bid to ensure that she and her siblings stayed out of trouble. By the time she was 7 years, her school went on an excursion to  New York City touring the city.
She attended Preston High School and though her academics were poor, she adequately made up for this shortfall with her outdoor activities which saw her representing her school in track events up to the national championship. She equally loved softball and participated in gymnastics activities in her school.
Baruch College was next after high school but she dropped out after her first semester to pursue a career in music. J-Lo worked briefly in a law firm and also took dance classes in the evenings in Manhattan till she got finally got her breakthrough in 1990, with a comedy movie titled In Living Color which made its hits on Fox.
Career
Jennifer Lopez did have a good head start in the singing and dancing classes as organized by her parents though, it was not their best career choice for their daughter probably because they did not think highly of the profession then. Despite the lack of support from her parents, she gradually worked her way into the industry and fearlessly embraced showbiz – the path she had carefully decided on at the age of 18.
She got her major break in 1990 as a fly girl dancer in a sketch comedy television series, In Living Color after which she started her career, as a backup dancer for famous Janet Jackson and New Kids on the Block. She performed extensively in many of their hit tours around the world.
She ventured into acting and made her debut in a film titled My Family in 1995. Thereafter, she appeared in Money Train, alongside Wesley Snipes and Woody Harrelson. She featured also in Jack (1996)with Robin Williams before starring in the award-winning Selena, the next year, earning over $1 million for the film. Then in early 2001, Jennifer Lopez shocked the world when she released her album 'J. Lo' which peaked at No. 1 on the pop charts, while her film, the romantic comedy 'The Wedding Planner', shot up to the top spot at the box office within the first week of release.
She was on the panel as a judge for the 2011 American Idol. In all, Jennifer Lopez to date has released 8 albums and featured in over 40 films and TV shows.
Net Worth
Jennifer Lopez is estimated to be worth $47 million by the 2018 Forbes release, most of which she gained from her films and records sales. She is said to own 11 exotic cars such as Royce Rolls Ghost, Jaguar, Mini Cooper, Range Rover, Ford, Bentley, and Aston. She has bought 3 massive and impressive houses; located at Hidden Hills, Beverly Hills and a seven bedroom beach house at Hampton.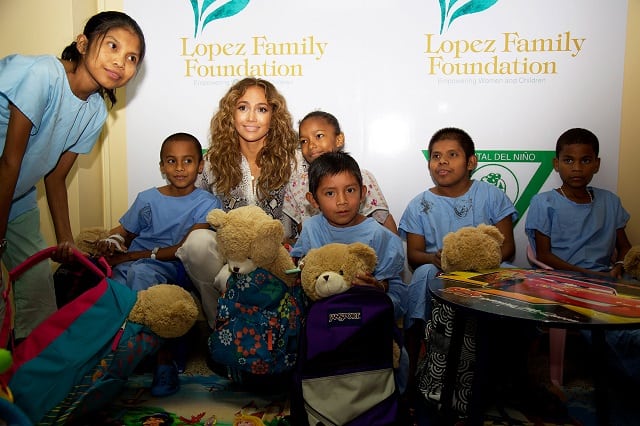 She also founded a charitable organization for children – Lopez Family Foundation – where it affords her the opportunity to give back to the society in her own way.
Boyfriends, Husbands, Kids
Jennifer Lopez's first marriage was to Ojani Noa. The union was contracted in 1997 but ended in 1998 amidst legal battles. She then got married to Cris Judd in 2001 but the marriage also crashed in 2003. The Latina singer again married salsa dancer & singer, Marc Anthony in 2004 and they had two adorable children together (twins). They got divorced in 2014 and that was her longest marriage ever.
She has been romantically linked with some celebrity names including Wesley Snipes, Sean Diddy Combs also called P. Diddy, Drake, Ben Affleck, among others. Lopez dated one of her backup dancers, Casper Smart, from 2011 to 2016 and most recently, she has been linked with Alex Rodriguez, a baseball star player.
Jennifer Lopez in 2008 had two adorable twins – a boy and a girl – with then-husband Marc Anthony. Their names are Maximillian David and Emme Maribel Muniz.
Read Also: Janet Jackson Daughter, Son, Husband, Divorce, Siblings, Height, Net Worth
Height and Body Measurement
You do not need to look far to know why she has been twice ranked as the sexiest woman in the world by FHM and other magazines. Her athletic and super hot body is the proof to the votes. This gorgeous brown-eyed, and haired woman with sonorous voice stands at 5 feet 5 inches, surpassing the normal state average height of a Hispanic woman. Her hip is measured as 37 inches her waist at 26 inches and her well-formed breast at 34 inches. Her shoe size is 8.5 (US).