In most cases, when a woman marries an older "wealthy" man, she is accused of being a "gold digger" who married because of the money and fame she stands to gain. Some women who have fallen into this category have tried to prove the world wrong – that one can indeed fall in love with an older man and stay with him not because of monetary gains but for the sake of love. Jennifer McDaniel belongs to this latter category of women as she has proven to be a true and supportive wife to Hulk Hogan whose real name is Terry Gene Bollea, withstanding the hurdles that life, marriage, and the media have thrown her way.
Who Is Jennifer McDaniel?
The stunning Jennifer McDaniel was born in the United States on the 13th of May 1974. Jennifer has experienced serious scrutiny by the media especially since she began to openly date Hulk Hogan in 2008 following his highly publicized divorce. This might be the reason why she has kept details about herself off the media. As a result, not much is known about her family, childhood, and education.
The only valuable information about her that has been made public is that she is/was a makeup artist. Despite the constant rumors that trail her life and marriage, Jennifer has managed to keep herself afloat and is constantly seen putting her best foot forward.
Other Facts to Know About Hulk Hogan's Second Wife
Relationship/Marriage to Hulk Hogan
Jennifer McDaniel came to the attention of the media in 2008 when she began dating Hogan, not long after his explosive and sensational divorce from his wife of 26 years Linda Claridge, who 'took him to the cleaners' leaving him bankrupt. Hogan revealed that he was in a very bad place after his divorce and considered committing suicide. Jennifer was one of the people that really held him down and helped him find happiness again.
The duo got engaged in November 2009 and got married in Clearwater, Florida on the 14th of December 2010. Although their wedding was an intimate ceremony, it wasn't without 'drama' as an uninvited paparazzi who was caught trying to take a picture of the couple entered into a scuffle with their bodyguard. The police were called in but no arrest was made.
Considering the bitter ending of Hulk's first marriage, it was reported that the couple did sign a prenup this time around. Jennifer and Hulk have remained married and continue to work on their relationship and live together as husband and wife.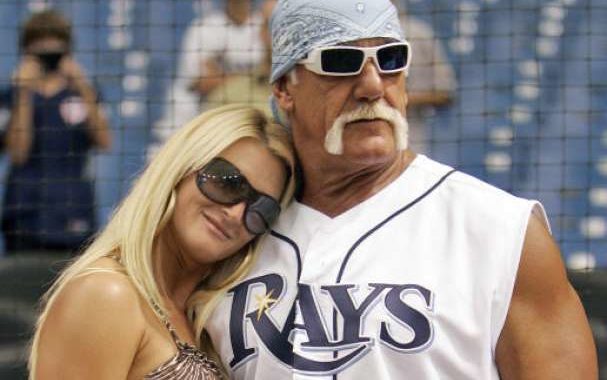 Relationship with Hogan's Children
While Jennifer McDaniel doesn't have children of her own, she has been able to cultivate a good relationship with Hogan's two children (Brooke and Nick). She is particularly close to Brooke and they have been photographed hanging out on several occasions.
Fitness Lifestyle with Husband
It's uncertain if her marriage to a fitness junkie is what prompted Jennifer to join the gym but she has religiously shown up with her husband at the gym and it is definitely paying off as she looks way too hot for anyone in their 40s.
Hogan's Controversies; Jennifer McDaniel's Loyalty
When one considers the point when Jennifer became a part of Hogan's life, it's enough evidence that she is really in the relationship, not for the monetary gains but because she genuinely cares for him. In 2012, just two years into their marriage, a sex tape of Hogan and Heather Clem was leaked. Jennifer stood calmly by her husband until the storm passed. She was also by his side after he got fired by WWE in 2015 over a racist rant about his daughter's sex life.
She has also expressed her loyalty and undying love for him by tattooing his birth name – Terry on her left wrist. Jennifer has proved beyond a reasonable doubt that she is in the relationship and marriage for the long haul.
Read Also: What is Brett Somers' Cause Of Death, When Did She Die, How Old Was She?
Her Husband's Devotion
Since the duo got married in 2010, Hogan has not attended any public event without Jennifer McDaniel by his side. He uses every avenue to flaunt and rave about his gorgeous wife and his devotion to her is obvious. He once revealed in an interview that things were a little weird between them initially due to their age difference. But now he is very 'cool with it'.