Jesse L. Martin is an actor, singer, and talented stage performer who has had a long-starring role in the television series Law & Order.
The New York University's Tisch School of the Arts' graduate, who also played the role of Tom Collins in the hit Broadway musical, Rent, is set to portray singer Marvin Gaye in an upcoming biopic. Read on to find out more about Martin's biography, sexual orientation, height, and other facts.
Who is Jesse L. Martin?
Jesse L. Martin was born Jesse Lamont Watkins on January 18, 1969, in Rocky Mount, Virginia as the third child of four sons born to his parents, Jesse Reed and Virginia Price Watkins. His father worked as a truck driver while his mother was a college counselor.
Martin's parents divorced when he was still a child. Later on, when his mother remarried, he and his brothers chose to adopt their stepfather's surname. The family then moved to Buffalo, New York where Martin completed his education.
He attended the Buffalo School for Visual and Performing Arts. He also enrolled at an after-school drama program where he honed his acting skills and grew out of his shell, having been a very shy child. Martin's talent while attending high school was evident for everybody to see as he was voted "Most Talented" in his senior year.
After high school, Martin enrolled into New York University's Tisch School of the Arts' Theatre Program. There, he rose to a role synonymous with the legendary American writer, Mark Twain by being the President of Rubin Dorm.
His Acting Career
After graduating, Martin began a career in acting. He started off by touring the United States with John Houseman's The Acting Company before heading back to New York to perform anywhere he could find work. At this time, Martin appeared in everything, from plays at local theatres to soap operas and commercials. He landed a recurring role in CBS's 'Guiding Light' but in the meantime, also waited tables to support himself financially.
Martin went on to make his Broadway debut in 'Timon of Athens' before going on to bag the role of Tom Collins in the Tony Award and Pulitzer Prize-winning musical 'Rent'. He also performed in 'The Government Inspector', 'Bright Lights Big City', 'The Merchant of Venice' and 'The Winter's Tale', among many other productions.
His stage performances gained him a reputation in the acting world as he began to get TV and film roles. Martin appeared in '413 Hope St.' and the movie 'Restaurant' before cementing the role of NYPD Detective Ed Green on 'Law & Order', which he played for almost a decade. This made him the fifth-longest serving cast member of the show.
After leaving 'Law & Order' in 2008, he was hired by NBC as the co-star of 'The Philanthropist', before he later joined the cast of 'Smash'. In 2004, Martin again landed a role as a police detective in 'The Flash'.
In addition to his acting work, Martin has done a number of voice-overs/narrating work, most notably in the video game 'Law & Order: Justice is Served' and the audiobook 'On the Shoulder of Giants', and 'Volume 2: Master Intellects and Creative Giants' by Kareem Abdul-Jabbar.
Jesse L. Martin currently resides in Manhattan, New York, and is on the Board of Trustees for the Jonathan Larson Performing Arts Foundation.
Is He Gay or Does He Have a Wife?
Despite having played a starring role in one of the longest-running shows on TV, Law & Order, not very much is known about Jesse L. Martin's personal life. The actor has managed to keep the intriguing details about him on the low, with very little known about his personal relationships. He has, however, in the past been linked to Venessa Riding.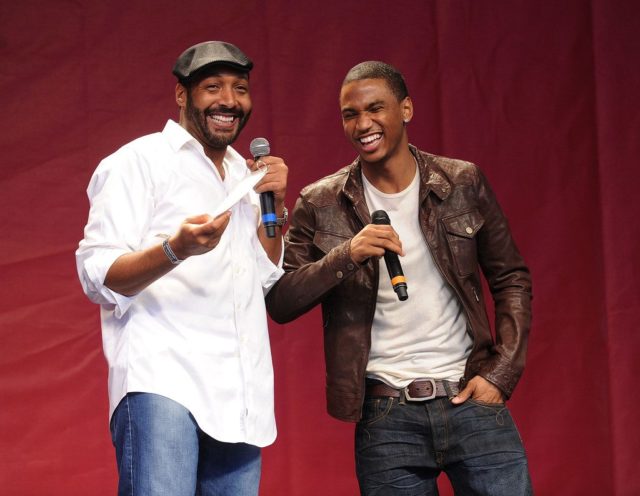 There are no details of him possibly being married and he does not seem to be gay as no accusations or even rumors have surfaced. The closest he has ever come to being accused of being gay is when he perfectly executed the role of a gay computer geek/philosophy professor in 'Rent'.
Read Also: Whoopi Goldberg Daughter, Husband, Divorce, Age, Is She Gay/Lesbian?
Height & Other Facts About Jesse L. Martin
Birth Name:
Jesse L. Martin
Date of Birth: January 18, 1969
Nationality: American
Profession(s): Actor, Singer, Stage Performer
Ethnicity: Black
Height/Tall: 1.88 m (6 feet 2 inches)
Net Worth: $10 million