A natural performer, Jessica Biel has metamorphosed from the little kid acting in front of a mirror to one of Hollywood's most recognizable faces. The star model and actress, just like her noble husband, has an impressive resume and has achieved enviable feats in her career.
More so, she uses her star power to leverage on charitable causes as well as raising awareness for a number of pressing global issues. Read on to discover lesser-known facts about Biel's personal life and career.
Jessica Biel Bio (Age)
A native of Ely, Minnesota, Jessica Claire Biel was born on March 3, 1982, to Jonathan Biel, a businessman and Kimberly Biel, a homemaker and spiritual healer. Jessica and her younger brother were raised in Boulder, Colorado, but that was after their family had moved around living in five other American cities. Biel's interest in theatre was noticed at an early age, hence she was promptly enrolled for both voice lessons and dance classes.
She began modeling in 1994 after signing a contract with a Denver talent agency. While participating in a modeling convention, Biel won a scholarship to attend the Young Actor's Space in Los Angeles. She pursued these interests alongside her studies. Two years later, Biel landed her breakthrough role as Mary Camden on the WB family series 7th Heaven. The show gained popularity among families and conservative viewers shuttling Jessica to the limelight. 7th Heaven laid the foundation for bigger roles for Jessica. In 1997, she portrayed better dramatic prowess with the role of Peter Fonda's granddaughter in the film Ulee's Gold. The next year, she co-starred with Jonathan Taylor Thomas in the comedy I'll be Home for Christmas.
In the year 2000, Jessica Biel found herself embroiled in a controversy after almost nude images of her were featured on Gear magazine's cover. Jessica's sexy and unusual images irked some 7th Heaven conservative fans. Nonetheless, in honor of her contract with WB, Jessica remained on the show until after its sixth season. While still part of the 7th Heaven cast, Biel enrolled for college in the year 2000 at Tufts University, Massachusetts, but dropped out after the first year to focus on her acting career. She then returned to Los Angeles and made several other appearances in different movies.
Jessica Biel has an exhaustive list of movies to her credit. Some of her notable movie roles in subsequent years include; the romantic comedy Summer Catch (2001) alongside Freddie Prinze Jr., as a college student Lara Halleran in Rules of Attraction (2002), and as Erin in the 2003 horror movie Texas Chainsaw Massacre. In 2004, she portrayed the role of Abigail Whistler, the leader of a vampire group in the movie Blade: Trinity, alongside Wesley Snipes. Also, Biel acted as a fighter pilot in 2005's action thriller Stealth, and as an Eastern European noblewoman Sophie in the 2006 romantic historical drama The Illusionist.
She also appeared as a lawyer in I Now Pronounce You Chuck & Larry (2007) and as Larita in Easy Virtue (2009). In the year 2010, she portrayed the role of a publicist in Valentine's Day, and an army captain in The A-Team, alongside Bradley Cooper and Liam Neeson. Biel was featured as a resistance leader in 2012's Total Recall, and as Vera Miles in the biographical film Hitchcock (2012). Her outstanding performance as a traumatized woman Cora Tannetti in 2017's The Sinner earned her an Emmy nomination for the first time.
See Also: Penelope Cruz Husband, Sister, Children, Nationality, Measurements
Her Son and Husband, Is Jessica Biel Married?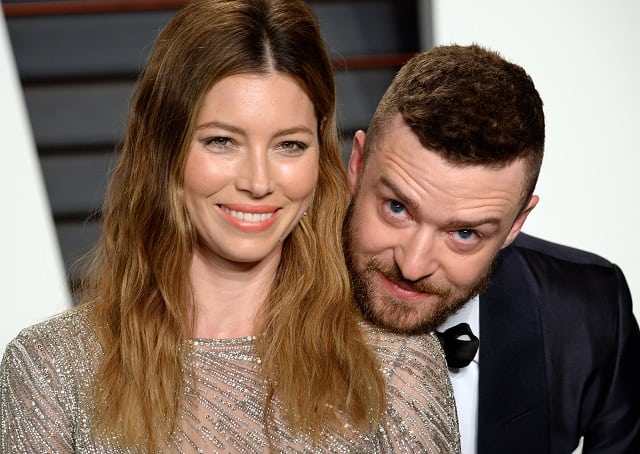 Biel's relationship has always made headlines. She is happily married to her longtime love Justin Timberlake. The couple began dating in 2007 and tied the knot on October 19, 2012, in a ceremony attended by friends and family in Puglia, Italy.
Biel and Justin's union has so far produced one child, a son named Silas Randall Timberlake. He was born on April 11, 2015. The power couple remains strongly committed to their relationship and shows no sign of a split. Before Timberlake won Biel's heart, she was formerly linked to Chris Evans whom she dated for two years.
Height and Body Measurements
Jessica Biel is not one of your tallest celebrity favorites neither is she the shortest. The actress stands at an average height of 5 feet 7 inches and weighs 55 kg.
Her body measurements are bust – 36 inches, waist – 26 inches and hips – 36 inches. Biel maintains her slim physique and fitness through workouts and healthy diets, she was once a vegetarian.