Jessica Caban is not one of those women who are renowned as a result of their partner's fame. More than being the other half of a celebrity couple, Caban is also a successful entertainer in her own right. From aspiring to be an attorney to modeling and then acting, Jessica has metamorphosed pretty well over the years. Discover amazing facts you never knew about the top model and award-winning actress.
Jessica Caban's Age and Biography
Jessica Marie Caban is a New Yorker born on June 13, 1982. She and her older brother are products of Latino parents. There is a scarcity of information about Jessica's academic endeavors but we do know that she had her elementary and high school education while living in Spanish Harlem.
Interestingly, the Boricua model initially nursed dreams of becoming a lawyer, and diligently worked towards it. However, her life goals changed during her teens, after watching the 1961 classic West Side Story. Inspired by the lead character played by Boricua star Rita Moreno, Jessica's line of thoughts changed and she began working towards becoming an influential figure in showbiz.
She has become Bruno Mars long-term girlfriend since they met
It is no news that Jessica Caban's heartthrob is pop singer Bruno Mars. The pair who first met at a New York restaurant in 2012 quickly established a romantic bond and the next year, they began living together. Though they have been an item since 2012, Jessica and Bruno initially chose to keep their relationship private, leaving the media with just mere speculations. But the rumours were confirmed when Bruno Mars publicly eulogized his partner during an acceptance speech at a recent Grammy Award ceremony.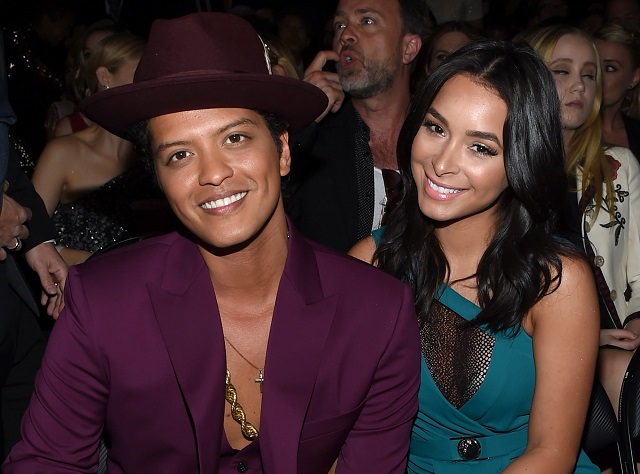 Ever since they went public with the news, the pair have been generous to share tidbits of their love life with social media fans. Jessica and Bruno who currently live together in Hollywood Hills are apparently head over heels in love with each other and show no signs of discord in the near future. While the couple has not let fans in on their next step together as regards marriage or kids, it is expected that their relationship will have a 'happily ever after' ending.
Another interesting fact about their relationship is that
Jessica Caban is 3 years older than her musician partner Bruno Mars. Nonetheless, love has triumphed for the celebrity couple who are yet another proof that age is just a number.
Jessica Caban's Career Profile
Caban began her entertainment career as a model for singer/actor Jennifer Lopez's fashion brand J-LO in 2002. That marked the beginning of Jessica's foray into showbiz. She followed it up with appearances in commercials, magazines, and music videos, notably a feature in Latino group Proyecto Uno's Holla song.
Jessica got another major breakthrough in 2008 on Sí TV's reality show Model Latina. After competing with several contestants from across the globe, Caban emerged as the first-ever Model Latina champion. After the show which earned her critical acclaim, the model got recognized by various local and international magazines including Latina, Fuzion, Signature Hits, and many more.
Jessica Caban soon joined the list of models who caught the acting bug. She debuted as an actress in the 2010 romantic drama Shades of Love and later landed an outstanding role in Are You for Great Sex that same year. Caban's impressive performance in the latter movie earned her multiple awards. Her acting credits include a guest role as Sonia in the third season of the popular series Jane the Virgin.
Recognition
Jessica Caban's numerous endeavors in the entertainment industry have brought her not just financial rewards but also recognition, both locally and across the globe. As an actress, she won the 2010 Boston International Film Festival Award for Best Acting Performance in a Feature Film. Caban is also a recipient of the Hoboken International Film Festival Award for Best Actress.
Net Worth
Jessica Caban has successfully carved a niche for herself in the industry. While her exact earnings and net worth figures are unknown, the actress cum model is believed to have amassed a decent financial portfolio and can afford a comfortable life.
Height
The Latino model stands at an average height of 5 feet 4 inches and weighs about 53 kg. Her body measurements are 35 inches, 24 inches, and 34 inches for bust, waist, and hips respectively.
Social Media
Jessica Caban has an active social media life. She has amassed a huge fan base on popular platforms such as Instagram, Facebook, and Twitter.
Volunteer Services
Jessica Caban is heavily involved in volunteer works. She is part of a non-profit organization called 'The Committee for Hispanic Children and Families' (CHCF) which is aimed at eradicating poverty and improving the standard of living for Latin-Americans living in the US.