Rising above various forms of ethnic humiliation and rejection, Canadian former model and actress, Jessica Matten has built a lasting reputation in the international film industry. Meanwhile, Matten is most popular for her role as Black Warrior Sokanon in Netflix's 2016 historical television series Frontier, which airs Wednesdays on Discovery Canada. In addition, she's gained more recognition for portraying Gerrilynn in 2018 CBC drama Burden of Truth. Her latest role is in the upcoming American comic adaptation movie, The Empty Man.
Jessica Matten Bio
Jessica Matten was born and raised in Edmonton, Alberta, Canada. Her birth date is November 30, 1985. Jessica is of Canadian nationality and Ukrainian-Chinese origins. She developed interest in modeling in her early years and started pulling that off at the age of six. At this tender age, Jessica performed alongside her mum, Theresa Ducharme at the Korea's International Drum Festival in Seoul. She also did a modeling internship at UK's Elle Magazine.
Matten attended the University of Alberta and graduated with a B.Sc. degree in Human Ecology. She subsequently enrolled at the Shoreline Studio's Vancouver Acting School. To further brush up her modeling talent, Jessica completed a night program at Central Saint Martin's & London College of Fashion.
After her education, Jessica Matten kicked off her career with modeling but later extended it to acting, dropping the former in subsequent years. As a model, she became the face of some commercials such as Smart Pet Brands, Nature Valley, and Nintendo Wii's EA Sports Active: More Workouts.
In 2010, Jessica Matten made her debut movie appearance in the short fantasy drama Pigs, starring in a minor role of an unnamed woman. Another minor role as Jana in the short adventure-comedy movie, Eddie's Stereotype followed the same year. In 2011, she appeared in Footsteps into Gangland as Asian girl 2.
Jessica's breakthrough role came about in 2012 when she was cast as Delia in the award-winning short action film, A Red Girl's Reasoning. The movie earned Jessica a considerable cult following in North America and some other parts of the globe.
Jessica Matten's other popular movies and TV series include Best Day Ever: Aiden Kesler (1994-2011), Robot Love (2013), Blackstone (2015), Mohawk Girls (2016), and Sleepwalk (2017), among others.
See Also: 5 Interesting Things You Need To Know About Kelsey Chow
5 Interesting Facts You Need To Know About Jessica
1. She Established A land Development Business at 19!
At the young age of 19, Jessica Matten already owned and managed a land development firm. In order not to appear too young to her clients, Jessica used to pull off her braces whenever business called.
2. She Learnt Two Languages in One Month!
To enable her to play her role in Frontier, Jessica quickly learned two languages – Cree and Ojibway in just a month! She learned the two languages well enough to speak them in the movie. Jessica's interest in indigenous issues seems to have extended to include loving native languages too. That must be the reason behind her ability to accomplish such an incredible feat.
3. Jessica Is Dating A Music Artist
Although Miss Matten has never publicly voiced her love story, her social media accounts tell us she's got a boyfriend – an independent Rock musician called Brendt Thomas Diabo. Jessica occasionally shares photos of her lovely moments with Brendt on her Instagram account. Judging from the dates they began posting photos of each other, the two have been dating for at least 2 years.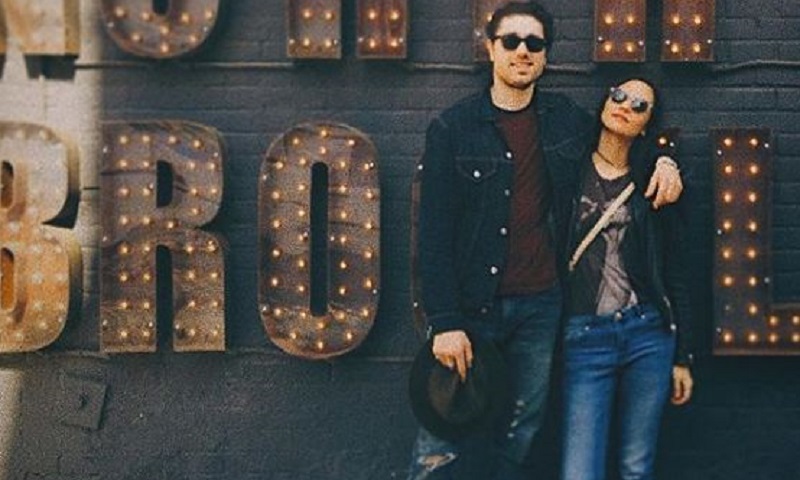 4. Jessica Runs A Healthy Lifestyle Program
Jessica Matten runs her family's wellness and fitness foundation Lemon Cree, alongside her mother, Theresa Ducharme. Their target audience is the indigenous Canadian youths. Via the program, Jessica and her mum penetrate remote Canadian communities to empower the youth and also encourage the adult folk to maintain healthy lifestyles.
Under the Lemon Cree umbrella, Jessica is working on developing the first Native American-owned D-League NBA basketball team. The team will be based in Rochester, New York.
5. She Is Also A Social Activist
Jessica runs a campaign #N8Vgirls, a movement that mainly borders on matters affecting indigenous Canadian women. Alongside their wellness program, Jessica and her mum also hold self-esteem and identity workshops across the globe for the aboriginal women. They also use the platform of "Indigenous Women Breaking Barriers: A Mother and Daughter Story" to enlighten their target audience.
Jessica's #N8Vgirls was inspired by the ugly racial discriminatory experiences she had while growing up as a native Canadian. Jessica comes from the Métis ethnic group and was precisely ridiculed for her skin color. She is, therefore, using the viral campaign to create awareness and promote a positive self-image among the aborigines and of course, for everyone.