In a world filled with so much hate and uncertainty, some people are choosing to use love to conquer, and one such person is Jessica Olsson. An accomplished art director, Olsson first gained a bit of the spotlight as the elder sister of two professional soccer stars. Her stock, however, went through the roof after she tied the knot with German-born NBA legend, Dirk Nowitzki, in 2012.
This beautiful interracial couple has stayed together ever since then and is now the proud parents of three kids. They share a mutual love for charity and have dedicated themselves to working to make the world a better place. They are also committed to inculcating their diverse cultural heritage in their kids and raising them just right.
Jessica Olsson is from a Mixed Racial Background
Jessica Olsson was born in the year 1982 in the Swedish town of Gavle. She hails from a tight-knit family comprising of a white Swedish father and a black Kenyan mother, Njeri Waikwa, who hails from the Nanyuki tribe located in North West, Kenya. This, therefore, means that Olsson is biracial, half Caucasian, and half black, while her nationality is Swedish.
With regards to her siblings, Olsson is the elder sister of twins, Marcus and Martin Olsson. She and her younger ones spent the greater portion of their formative years in Sweden and completed their education there. They subsequently embarked upon different paths of life; she took to the art world while the boys both took to soccer and are now professionals.
Marcus plays in the midfield and left-back position and made his debut for the youth team of Hogaborgs BK at the age of 18 in 2006. Since then he has gone on to play for several teams, including English clubs such as Derby County and Blackburn Rovers, and has scored a total of 14 goals in the process. He has also earned one cap with the Swedish U-21 team, as well as two caps with the Swedish senior national team.
Martin, on the other hand, primarily plays as a left-back and also commenced his career with the youth team of Hogarborgs BK in 2006. Since then, he has played for at least three English clubs, including Blackburn Rovers, Norwich City, and Swansea City, and has scored eight goals in the process. He has also had a more successful national team career than his twin, having played for Sweden's U-19 side (13 times), U-21 side (23), and the senior national team (45 times).
How She Met and Married the Retired NBA Star
Before we give you the lowdown on one of the most beautiful interracial love stories that you will ever hear, it is only right that we get some background info on the man in Jessica Olsson's life. Simply put, Dirk Nowitzki is one of the best players ever in the history of basketball.
A native of Wurzburg, Germany, Nowitzki began his career in his motherland before being drafted into the NBA in 1998. He would go on to spend about 21 years in the league, all of them with the Dallas Mavericks, during which he established himself as one of the best power forwards ever. He won the NBA championship in 2011 and was named finals MVP that same year. Dirk also emerged as the league MVP for 2007 and retired as the Mavericks leading all-time scorer in 2019.
Jessica Olsson and Nowitzki first met during a charity event in February 2010. The basketball star was immediately smitten with Olsson's beauty, and upon further conversation, fell even more in love as he discovered that they shared common interests in arts, sports, travel, family, and kids. The power forward did not waste any time in making his move, and a relationship ensued in earnest. The couple would date for two years before tying the knot in multiple ceremonies in July 2012. These multiple ceremonies were in recognition of their multi-ethnic background.
Jessica and Dirk were first married by a district judge in a private ceremony held at their Dallas home on the 20th of July 2012. They then jetted out to the Caribbean for their honeymoon and also held a reception ceremony for relatives there. The couple would later go back to Kenya so that they could carry out traditional Kikuyu marriage rites there as well.
The ceremony required Dirk to pay a bride price (ruracio), which he did using the Kenyan shillings. It also required him to pick his bride out of five veiled-women, and he passed the test excellently. All in all, it was a thrilling experience for everyone, including Jessica, who had never really been to Kenya much.
The Dilemma of Raising Three Biracial Kids
Jessica Olsson and her now-retired husband are the proud parents of three adorable kids, namely daughter Malaika (born in July 2013) and sons, Max Nowitzki (b. March 2015) and Morris (b. November 2016). The couple makes their home in Dallas, but they are determined to inculcate their diverse cultural heritage into their kids. To this end, they take them on frequent trips to Germany and Kenya so that they can interact with their extended family members. They are also teaching them a variety of different languages, including Swedish and German.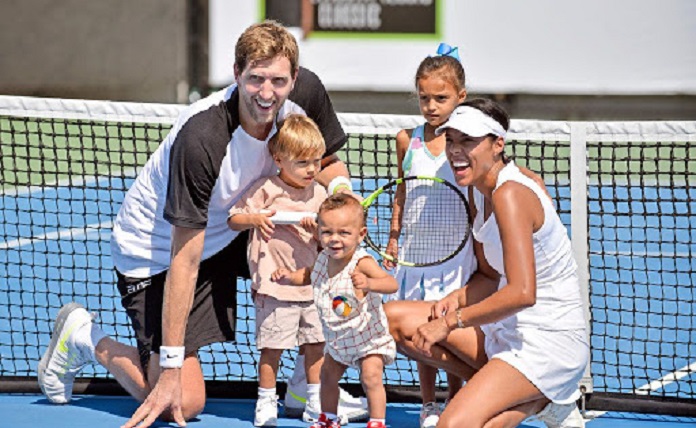 Olsson and her husband are also not blind to the current situation of things in the world and have acknowledged the fact that their children will face various difficulties due to their biracial background. They are, therefore, working to inculcate in them the kind of upbringing that will help them to make wise decisions when they run into a complicated situation someday. The couple is also determined to lavish lots of love on their kids with just the right amount of authority and discipline thrown in.
Her Work At Dirk Nowitzki Foundation Fetched Her UNICEF's Spirit of Compassion Award in 2020
Before her marriage to her legendary husband, Jessica Olsson worked as the associate director of the Goss-Michael Foundation Art Gallery located in Dallas. The gallery was founded by British pop star, George Michael, and his partner, Kenny Goss, and is dedicated to showing British contemporary art. They also support aspiring young artists through annual photography, painting, and drawing contests, as well as scholarships.
Olsson is no longer with the foundation, but this does not in any way suggest that she has been idle. The Swedish national now serves as the president of her husband's charity known as the Dirk Nowitzki Foundation. The foundation provides grants to non-profits that promote the education, health, and wellbeing of children, and Jessica has been able to expand its operations in several ways. She has set up an additional office in Dallas. She also coordinates their fundraising efforts such as the Nowitzki's annual charity tennis tournament.
Jessica Olsson has also spearheaded the foundation's exemplary partnership with UNICEF. The partnership saw the global body conduct an assessment to identify some of the most urgent needs of children in the Houston area. Their investigation uncovered that these kids lacked mental health support, and as such, the foundation funded the creation of a new mental health training module for better evaluation and treatment of children suffering from trauma cases. This feat fetched Jessica widespread praise, and in February 2020, she and her husband were bestowed with the spirit of compassion award at the annual UNICEF Gala in Dallas.