Ever since Jessica Seinfeld bumped into popular comic, Jerry Seinfeld, on one fine morning in the year 1998, life has been a rollercoaster ride for her. From ditching her husband of barely a month in order to take up with the comedian to emerging as a successful cookbook author, Mrs. Seinfeld has faced several challenges but has conquered each and every one of them.
She has raised three thriving kids. She has also utilized her star power to help the less-privileged in the society. Jessica is the founder of the Good+ Foundation (formerly known as Baby Buggy), a non-profit that helps families to access baby supplies and other essentials. What initially started out as a personal donation drive for used baby supplies has been able to help over six million families around the United States.
Early Life and Work in the PR Industry
Jessica Seinfeld was born on the 12th of September 1971 in Oyster Bay, New York. Her given name at birth was Nina Danielle Sklar and she hails from a family of five. Her mother, Ellen Sklar, is a social worker who served in the Department of Corrections while her father, Karl Sklar, is a computer expert. Seinfeld also has two sisters, one of whom is named Rebecca Shalam.
Jessica Seinfeld grew up in the town of Burlington, Vermont which is where she completed her grade and high school education. She then attended the University of Vermont where she obtained her bachelor's degree. Upon leaving college, Jessica built a career for herself in public relations.
She worked as a licensing manager at the entertainment division of Golden Books Family Entertainment. Golden Books is a firm that is famous for publishing family-related entertainment products such as home videos and children's books. After Golden Books, Jessica also worked as a PR executive for the popular fashion brand, Tommy Hilfiger.
Ditching Her Husband of One Month for Jerry Seinfeld
Jessica Seinfeld is married to one of the greatest stand-up comics of all times and their relationship began on a somewhat controversial note. Prior to meeting Jerry Seinfeld, the New York native was in a budding relationship with Eric Nederlander, a scion of the Nederlander family which owns many theatres.
Jessica and Eric started going steady when she was 21 and dated for five years before tying the knot in June 1998. However, after they returned from their honeymoon, she started dating Jerry Seinfeld and her husband was forced to file for divorce in October 1998. Jessica and Jerry dated for a year before getting engaged in November 1999. Their nuptials took place on Christmas Day of the same year.
Due to the manner in which she left her first husband, Jessica Seinfeld has endured criticisms from many who felt that she dumped Eric for a richer and more famous guy. She has, however, explained that their relationship was already in trouble before the wedding and that they were even attending couples' therapy sessions. She also revealed that she wanted to call off the wedding but lacked the courage to do so.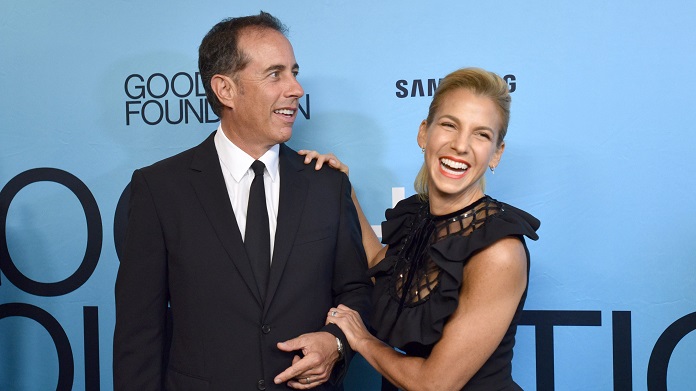 Family Life With Jerry and Raising Three Kids
Despite the controversies and the unpleasant media coverage, Jessica Seinfeld and her husband have been able to make their union work and have supported each other to new heights. The couple has also welcomed three children together. They are Sascha (daughter – b. in 2000), Julian Kel (son – b. in 2003), and Shepherd Kellen (son – b. 2008).
Sascha initially completed her diploma at Chapin, a prestigious all-girls high school in Manhattan. She later enrolled in the prestigious Duke University. Her parents are quite proud of her and commemorated her going off to college with a family picture in August 2019.
Jessica Has Several Best-selling Cookbooks
Ever since she left the PR industry, Jessica Seinfeld has occupied herself with philanthropic works. She has also delved into the world of writing and is now the author of not less than four cookbooks.
Her very first book is Deceptively Delicious – Simple Secrets To Get Your Kids Eating Good Food. The book was released in October 2007 and seeks to help parents whip up healthy but delicious meals for their children. Deceptively Delicious performed quite well. It topped the New York Times bestseller list and also reached the second spot on the USA Today Bestseller list.
All these motivated Jessica to keep on putting ink to paper and she now has about three other additional cookbooks to her credit namely Double Delicious – Good Simple Food For Busy Complicated Lives (October 2010), The Can't Cook Book (2013) and Food Swings (2017). As the name suggests, Double Delicious compiles easy and quick recipes for people who are always on the go while The Can't Cook Book features simple and easy-to-follow recipes that people with limit culinary skills can follow. Food Swings, on the other hand, boasts of about 125 recipes that run the gamut from healthy to deliciously decadent.
Thanks in part to her books, Jessica Seinfeld has reportedly amassed a fortune worth $30 million. Her husband, on the other hand, is one of the richest comedians in the world with a net worth of $950 million. Jerry Seinfeld consistently ranks amongst the highest-paid comedians in the world. Since 2006 till date, he has topped Forbes list of the highest-paid comedians in the world. He was only dethroned once in 2016 by comedian/actor, Kevin Hart.
The Plagiarism Claim That trailed her First Book 
Success comes at a cost and for Jessica Seinfeld, the cost of her success as an author has been the plagiarism claim she has faced. Back in 2007, a cookbook author named Missy Chase Lapine accused Jessica of copying the ideas for her first book, Deceptively Delicious (published in October 2007) from her own book titled The Sneaky Chef: Simple Strategies for Hiding Healthy Foods in Kids' Favourite Meals (published in April 2007).
Missy claimed that Jessica's book copied the structure of her book. She also accused of her of copying individual elements such as covers, illustrations, ingredients, lists of appliances as well as personal narratives. While the matter was going on, Jessica's husband appeared on the Late Show with David letterman and defended her. He made fun of Missy's accusations calling it vegetable plagiarism. He also described her as a nutjob and wacko, suggesting that the fact that she had three names meant that she was a potential serial killer.
Missy did not take kindly to these insinuations and she sued the comedian for defaming her character in the same court. The court later ruled on both cases in 2009 and held that Jessica was not guilty of plagiarism. This was attributed to the fact that her book had a different tone, feel as well as the manner of presentation even though it has the same idea as Missy's. The court also dismissed the defamation suit and Seinfeld's legal team declared it a complete victory.