Being on the spotlight, the power couple; Jessie and Rhett James McLaughlin have shown the world what it takes to be in love. Although a blogger and fashion designer, the former (Jessie) became popular after her marriage to Rhett Mclaughlin.
On the other hand, Rhett is known for being an ardent American YouTuber, songwriter, actor, and comedian. He is also known as the co-founder of "Rhett & Link", a YouTube channel which has entertained people with series of comedies and other viral videos. The Channel has seen over 5 billion views with more than 25 million subscribers as well as becoming one among the New Media Rockstars Top 100 Channels.
Find out what exactly intrigues Jessie and Rhett James McLaughlin fans in this article as well as details of their love life and personal background.
 Jessie and Rhett James McLaughlin – Who are They?
Jessie Mclaughlin was born Jessie Lane in Southern Cali but had her growing up in North Caroline. While she was younger, she fell in love with music and through college, she took to singing with her base in classical music. Currently, it has been reported that she has a career in interior design, and blogging. However, she is quite a private person, hence details about her family and educational backgrounds have remained shrouded in mystery.
On the other hand, Rhett James Mclaughlin was born on October 11, 1977, in Macon, Georgia to Daine and Jim Mclaughlin. As a child, he moved with his family to Buies Creek where he attended the Buies Creek Elementary School as well as crossed paths with Lincoln Neal III (Link) who later became his friend and colleague. Furthermore, he attended the North Carolina State University where he obtained a degree in civil engineering.
After completing his studies and becoming a civil engineer, Rhett got a job but had to quit in pursuit of his dreams of becoming a comedian, actor, writer and YouTuber. This decision was made alongside his childhood friend, Link who had the same passion with him. In 2009, they were listed on the 25 most Creative Advertising List on Business Insider.
Throughout his career alongside Link, they've been able to attract people with their contents including Good Mythical Morning which is one of the most viewed shows on YouTube. Also, they have other YouTube Channels such as Good Mythical Morning where they upload content on weekdays; Good Mythical MORE, Mythical Ear Biscuits. The channels have successfully earned over 5 billion viewers with millions of subscribers.
Jessie and Rhett James McLaughlin and Link have explored other parts of entertainment including singing and acting. Rhett plays the guitar perfectly and has done a couple of song with his friend Link. Together, the trio released songs and albums which include: I'm Sorry, What Was That AND Just Mail Us The Grammy among others.
Jessie and Rhett Maclaughlin's Relationship
Jessie and Rhett's relationship went public in 2001, however, there is a limit of information available as regards how long they dated or how and when they met. So likewise, it has been quite difficult extracting these pieces of information from her husband. To date, Jessie and Rhett James McLaughlin have held their private life at heart. But has never relented in flooding their social media with fun pictures of their times together.
How Long Have They Been Married?
As mentioned earlier, Jessie and Rhett James McLaughlin has been together since 2001 and enjoy the bliss of sharing children – two boys, Locke and Shepherd.
Who are Their Children?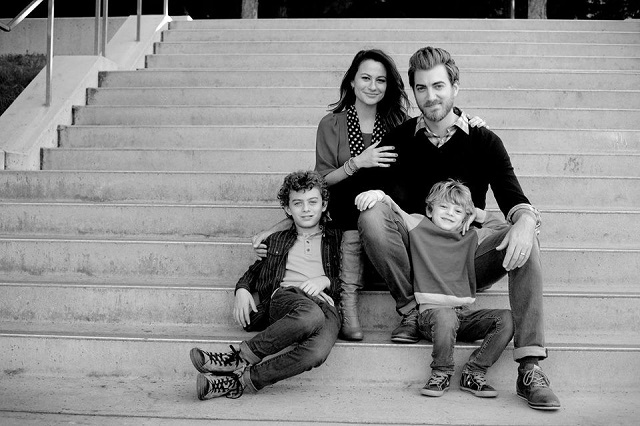 Jessie and Rhett James McLaughlin are parents to Locke McLaughlin and Shepherd McLaughlin. Locke was born on February 24, 2004. He got featured in his father's first viral video on YouTube called Wolfpack or Tarheels? Currently, he has taken the route to be a YouTuber like his father. Shepherd McLaughlin was born in Los Angeles in the year 2000 and even at a very young age, he has been able to start drawing attention to himself, especially because of the role he played on Star Bound (2014), as well as his appearances on his father's YouTube Channels including Rhett and Link, Good Mythical More, and Good Mythical Morning.
See Also: Who Is Zandy Reich? Here Are Interesting Facts About Lea Michele's Husband
Other Facts About Jessie and Rhett James McLaughlin
Although they've been married since 2001, there is no known fact about their net worth as a couple, however, Rhett McLaughlin's net worth lies around $3 million to $8 million.
A glance at Jessie and Rhett James McLaughlin would tell that the couple always dresses to kill. As regarding their height and weight, Rhett stands at a height of 6 feet 7 inches with a weight of 80kg, while Jessie is reported to be 5 feet 3 inches tall.