Jill Latiano is the other half of a Hollywood celebrity couple. The American model, dancer, TV personality and actress has an impressive list of screen credits and has gradually warmed her way into the hearts of many. Despite being a successful entertainer, Latiano is best known as the wife of songwriter, actor, film director and producer, Glenn Howerton. Find out amazing facts about the talented actress who shines more on the small screen.
Jill Latiano – Biography
Jill Latiano is a New Yorker born on September 17, 1981, in Manhattan. There is a scarcity of information regarding the actress' parents, family, early life and education. Latiano began her career in the entertainment industry in the late 1990s as a dancer, cheering athletes on to victory. As a performer, she danced for the New York Knicks and other top NBA teams. She made her screen debut in 2004 in an episode of Sex and the City. She followed up with both guest and recurring roles in series such as Rescue Me, Out of Practice, Heist, CSI: NY, Ugly Betty, The Glades, Drake & Josh, Roommates, and Dirty Sexy Money.
Her first lead role came in 2007 with the series The Virgin of Akron, Ohio. The next year, she appeared in an episode of the show Community and later The Chicago Code. In 2014, she landed a recurring role as Katie Knox in Legit and later a minor role in the series Casual.
On the silver screen, the actress then bagged roles in the films Lower Learning (2008) and Fired Up (2009). Jill Latiano is also a media personality who has hosted the NYC Media series Fashion in Focus for two years (from 2003 – 2005).
Family
Jill Latiano is happily married to Glenn Howerton. There's a dearth of information about how and when she and her actor, screenwriter, and producer husband met. Nonetheless, the couple who were engaged in 2008, officially exchanged marital vows a year later in September 2009. The family-oriented couple's union has produced two sons, the first Miles Robert, was welcomed in September 2011 while the second Isley Ray, was born in August 2014.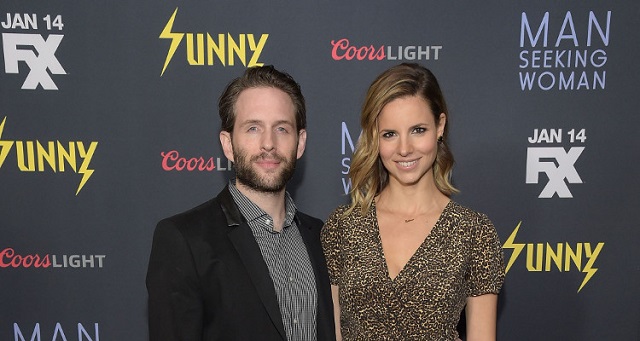 More than their romantic ties, Jill and Glenn are also colleagues who support each other. In fact, the Hollywood couple has appeared together onscreen in a minor scene on The D.E.N.N.I.S. System episode of It Always Sunny in Philadelphia. Despite both parties having careers in a demanding industry, the pair have so far done a good job at creating a balance between their domestic and professional lives. Jill and Glenn who have been together for over a decade are apparently going strong with no signs of discord in the nearest future.
See Also: Tess Sanchez – Bio, Age and Celeb Facts About Max Greenfield's Wife
Glenn Howerton is an American multi-hyphenate who has established himself as a successful songwriter, actor, film director and producer. He is perhaps best known for his role as Dennis Reynolds in Its always sunny in Philadelphia and as Mike in the 2008 movie The Strangers? Some of his other screen credits include a role as Lilac Young Tough in the 2005 movie Serenity, as well as a guest role as Dr. Nick Cooper in the hit medical drama ER (2003).
Facts about Glenn Howerton's Wife
Not much is known about Jill Latiano's mom. But the actress is known to have lost her dad, Bob, in 2016. She dedicated an episode of It's Always Sunny in Philadelphia in honor of her father's memory.
Jill Latiano's numerous endeavors in the entertainment industry have undoubtedly brought her financial rewards. While her exact salary figure is unknown, she is believed to have a modest financial portfolio that is pegged slightly above $1 million. However, Latiano whose net worth is nothing near that of her husband lives a luxurious lifestyle with her family in New York City.
The actress is perhaps not one of your tallest nor shortest screen favorites. The actress stands at an average height of 5 feet 9 inches and weighs about 55 kg. Her body measurements are bust – 35 inches, waist – 25 inches and hips – 25 inches.
Jill Latiano has an active social media life and is present on most popular sites such as Facebook, Twitter and Instagram where she shares family moments and her varied interests with teeming fans.
More recently, Glenn Howerton's wife has been involved in environmental and social justice activism. In fact, she has dedicated her Twitter page for the cause.