Actress Jillie Mack is popular among movie lovers not just because she has distinguished herself in the art, but mostly as the wife of talented American actor and producer Tom Selleck. Due to the number of admirers the actor has, she became a sensation when it came to light that she had become his wife after his first divorce. Her relationship with Tom Selleck was all that could be said to constantly put Jillie Mack on the spotlight as Tom has built a huge fanbase as an actor with many works to his name.
Besides her husband's many achievements, the actress has done well in making hers a well-loved family that many look up to due to its longevity in an industry where divorce is quick to come by. Here is everything you need to know about Mack's childhood and the sacrifices she made to keep her family together.
Jillie Mack's Age and Biography
Born Jillie Joan Mack on December 25, 1957, in Devizes, Wiltshire, England, Jillie's love for the performing arts came on pretty early. From her childhood years, she loved dancing and had attended dance classes first before she fell in love with acting. By the time she was graduating from high school, she was heavily involved in a good number of the school's theatrical productions. She danced in an English stage production of 'Cats' before starting her on-screen career.
Being that Jillie is pretty tight-lipped when it comes to details of her early life, details are not available about how she was raised or the names of the institutions she attended.
Jillie Mack's Net Worth
The actress has made a good fortune from back when her career was active and also from her marriage to Tom. Though her net worth is yet to be disclosed, it is sure to be a good sum as she shares her husband's wealth. Tom Selleck's net worth from his many active years as an actor of repute is estimated at $45 million.
Other Details About Tom Selleck's Wife
Career
After her fantastic performance in the musical, 'Cats', Jillie met Tom who was among the actors from America who came to watch the show. They became fast friends and she accompanied Tom to the United States, attending several occasions on his arm. This bold step landed her a meaty role in 'Magnum P.I', a series that Tom was playing a major role in at the time.
Apparently, Jillie Mack's career as an actress was not as successful as Toms', and this was major because after they welcomed their first child, she had to retreat from her career to take care of the baby and be the lady behind the success of her husband. That notwithstanding, Jillie featured in a few series such as, ER and Tales from the Dark side. She was also seen in hit television movies like Silverfox and Adventures of Nicholas at Roaring Camp.
When Tom's popularity soared after he appeared in the popular series 'Friends' Jillie Mack hogged the limelight too for being the loving wife of a famous American star.
Family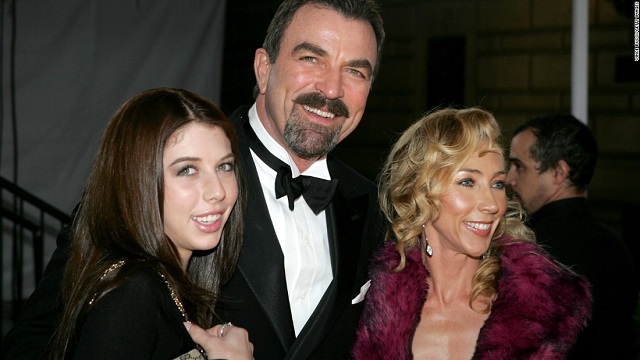 Jillie met Tom when he attended the showing of the musical Cats in which Jillie played the role of Rumpleteazer. Her brilliance caught the eye of Tom who was 38 and recently divorced from his first wife. After a shared dinner, the spark towards a long-lasting relationship began. Jillie and Tom began attending events together, a move that invited speculations from his teeming fans. Despite this, the two remained mum about the actual state of things between them.
In 1987, fans of the stars got a shocker when it was revealed by Tom's brother that the two had gotten married in a private ceremony. The union was blessed with a daughter they named Hannah Margaret Selleck in 1988. Tom from his previous marriage had a son whom he brought to his marriage to Jillie. To give their growing family a better upbringing away from the media spotlight, Jillie Mack and Tom Selleck relocated to a ranch house in the outskirts of Los Angeles. This made Hannah an avid horse rider from a very young age.
Theirs soon became one of the talked about celebrity families as there were little or no controversies attached to them. Many have attributed the peace they had to Jillie sacrificing her career to care for the family.
Height and Weight

Jillie Mack has a slim body type with an attractive personality. She stands at a height of 5 feet 5 inches (165 cm) with a sustained weight of about 50 kg (100 lb).