Despite just having only one major championship to his name, Jim Furyk is one of the most consistent and respected players on the PGA Tour after having managed a top-10 ranking position for over 430 weeks between 1999 and 2015.
Furyk, who has been nicknamed Mr. 58 by his peers, earned the name after becoming the first player to shoot 58 in a PGA Tour event, the lowest score in history. Read on to find out more about his career, earnings, and family.
Who is Jim Furyk and How Old is The American Golfer?
Jim Furyk was born James Michael Furyk on the 12th of May, 1970 in West Chester, Pennsylvania. He was born to Linda and Mike Furyk, who worked as an assistant golf pro before eventually becoming a golf pro at a number of golf courses in Pennsylvania. His father was responsible for teaching his son the game all through his formative years although the latter also had a keen interest in basketball which he was quite good at.
He attended Manheim Township High School in Lancaster County where he played on both the basketball and golf teams. Furyk notably won a state championship as a golfer before graduating in 1988 to enrol at the University of Arizona in Tucson. Here, Furyk was a two-time All American as he managed to lead his school to their first and so far only NCAA golf title in 1992. Following that victory, he decided to turn professional, first playing on the Nike Tour in 1993, winning the Nike Mississippi Gulf Coast Classic before joining the PGA Tour in 1994.
Jim Furyk's first victory on the PGA Tour came at the Las Vegas Invitational in October 1995. He followed that up with a victory at the United Airlines Hawaiian Open in February 1996. It subsequently took him five more tournament victories over 7 years before he was able to bag his first major at the 2003 U.S. Open.
In 2006, Furyk enjoyed a career-high second-place finish on the money list as he recorded two victories and four second-place finishes. He was also further named the Vardon Trophy winner which is awarded to the PGA Tour's leader in scoring average. After going through a winless streak that lasted for two seasons, Furyk returned to form in 2010 to win a career-best three PGA Tour tournaments which earned him the PGA Player of the Year and PGA Tour Player of the Year awards.
Get To Know Tabitha Furyk, Jim Furyk's Wife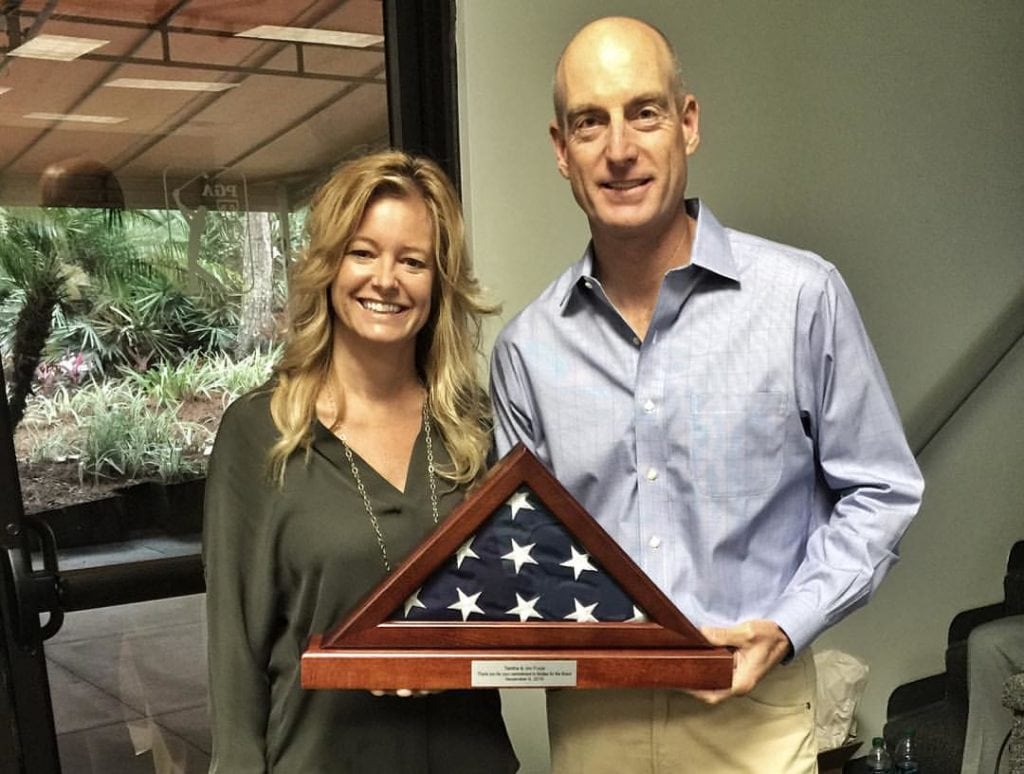 When going about his business on a golf course, Jim Furyk might not appear to have the skills to woo a woman but wait until you hear how he met and proposed to his wife Tabitha and you will see why the unorthodox golf swinger has been described as a ladies man.
Furyk met his wife when he was a young pro playing at the 1995 Jack Nicklaus Memorial Tournament. After completing his round of play, he moved off the course to play with some kids when he set his eyes on Tabitha. He was said to have made sure to keep an eye on his woman even though a reporter, who happened to be her boss, came up to interview him. When the reporter noticed what was going on, he introduced the future couple and they began seeing each other.
The pair dated for five years before Furyk pulled out all the stops to make sure his lady was not going to turn his proposal down. One night, during the 2000 U.S. Open at Pebble Beach on the Monterey Peninsula in California, the couple went out to dinner and then later opted to go on a stroll on the beach. It was during this romantic walk that Furky went down on one knee at the most picturesque of locations to ask for Tabitha's hand in marriage.
Jim and Tabitha got married a year later and have since then been blessed with two kids; daughter Caleigh Lynn who was born in 2002 and son Tanner James who was born in 2004.
Read Also: Phil Mickelson Wife (Amy Mickelson), Daughter, Family, Height, Bio
His Career Earnings and Net Worth
Jim Furyk, who as of September 2018, has managed four second-placed finishes but just one win in the four major golf championships in his career, is said to have a net worth estimated to be of $60 million. Furyk earned most of his money on the PGA Tour, with his highest earnings coming in 2006 when he took home over $7 million.