Popularly known as the Clean comic for his use of almost no obscene or profane language in his comedy, Jim Gaffigan has had a very long and fruitful career as a stand-up comedian. His brand of comedy borders on fatherhood, family, food, observation, and laziness. In his latest work Noble Ape, he took things to another level with a display of frankness and transparency as touching his personal life, wife's health and the future of his career.
Jim Gaffigan's Biography
James Christopher Gaffigan was born on July 7th, 1966 in Elgin, Illinois to father, Michael A.Gaffigan and mother, Marsha Mitchell. His father who was the first in his family to attend college and become a banker urged all his kids to do the same and opt for a career which guarantees job security.
However, little Jim Gaffigan at the age of 5 told his parents he wanted to be an actress (well, he meant actor). Young Gaffigan was enamored by the act of comedy in his teens watching Saturday Night Live. He was an athlete in La LumiereSchool, La Porte Indiana where he played in the school football team. Then he went on to attend Purdue University where he did only one year before transferring to Georgetown University School of Business. He also played in the varsity football team before graduating in 1988.
Putting school life behind him, Jim Gaffigan moved to New York in 1990 in pursuit of his dream of becoming a comedian, an ambition that was inspired by the likes of David Letterman. His first job was with an advert firm where he worked in the day and took comedy classes at night. He was urged and nudged by his one of his class buddies to take a seminar which included a live performance at the end.
Then began his move towards stand-up comedy which he completely fell in love with. He experimented on various brands of comedy without much success. Jim Gaffigan eventually found himself a niche in TV commercials which became quite profitable for the budding comedian. He developed his trademark observational zero-profanity tone which revolved around being a father, food, laziness, using various voices in the third person. His Hot Pocket got him notice and a place on The Late Show with David Letterman in the year 1993.
Thereafter, Gaffigan landed roles in gigs and movies like The 70's Show, Sex and the City (1998), 3rd Watch (1999) and Ed (2000). Jim also appeared in Just For Laughs in Quebec and Canada. He featured in Love Guru alongside Mike Meyers as well as in 3 episodes of Law and order.
Jim Gaffigan's comedy albums have been nominated for the Grammy Award more than a couple of times. Though Jim is yet to actually win one, he is no doubt ranked among the best comedians of his days.
Net Worth
According to Celebrity Net Worth, the American comedian's net worth is pegged at $16 million. Jim was also listed among Forbes' richest comedians due to the amount of money he made in his world tour Contagious. He pulled an impressive amount of audience around the world in cities like Oslo, Helsinki. Also, his role as Colonel Sanders in a KFC commercial is an endorsement that has fattened the Comedian's paycheck over time.
See Also: Is Martin Lawrence Dead? Who Is The Wife, Net Worth, Acting And Comedy Career
Jim Gaffigan's Family Life, Wife and Kids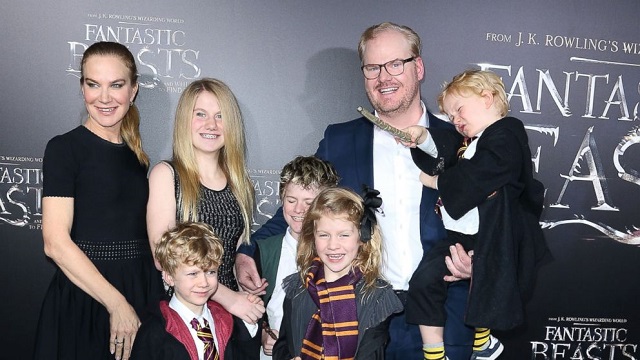 The Clean Comic is married to Jeannie Gaffigan an American actress, producer and comedy script writer. She was the producer of The Jim Gaffigan Show. They got married in 2003 and have five children together. The names of their kids are Marre, Katie Louise, Jack, Patrick and Michael and they belong to the Catholic denomination. Jim jokingly refers to his wife as a Shiite Catholic for her very strong devotion to the religion.
The Gaffigan family is a closely knit one, the whole family travels together on Jim's comedy tours and spends a good amount of time together on Weekends and Sundays. The Jim Gaffigan Show depicts the family life of Jim and Jeannie as they raise their kids. Jeannie was diagnosed with a Papilloma of the Choroid plexus (a kind of brain tumor).
She initially experienced dizziness and headache which she dismissed as an issue arising from the stress of her line of work. But after a visit to the doctor, it became clear to the couple that Jeannie had a tumor the size of an apple affecting her hearing. However, the tumor was surgically removed after a successful nine-hour surgery. In his 2018 release Noble Ape, Jim recounts how he and Jeannie tackled her health scare with comedy.