When it comes to comedians from the other side of the world who have come to America and made something of themselves, Jim Jefferies ranks among the most successful. The success in the United States also means he has become a part of the celebrity culture, one that involves a lot of interest in his personal life. Jefferies' journey to celebrity status needed a bit of help from an audience member who attacked him on stage. Since then, it has been one major project after the other for the Australian-American, including having a talk show.
Over the years, Jim has largely waded off the massive interest in his personal life. Because he is an observational comedian, his routines fail to provide insight into his love life. However, thanks to paparazzi, we know he has been in at least two relationships, one of which gave him a child.
The Comedian May Be Single At The Moment
Despite being a consistent fixture in the spotlight, Jim Jefferies is notoriously tight-lipped about his relationships and private life. We don't know much about his love life except for the fact that he had been in relationships with Ginger Gonzaga and Kate Luyben.
In September 2019, while appearing on The Tonight Show with Jimmy Fallon, he revealed that he was dating a British girl. However, he did not divulge her name, and she remains a mystery.
As of August 2020, it is unknown if they are still together, and the comedian is widely considered single.
The Love Story of Jim Jefferies and Kate Luyben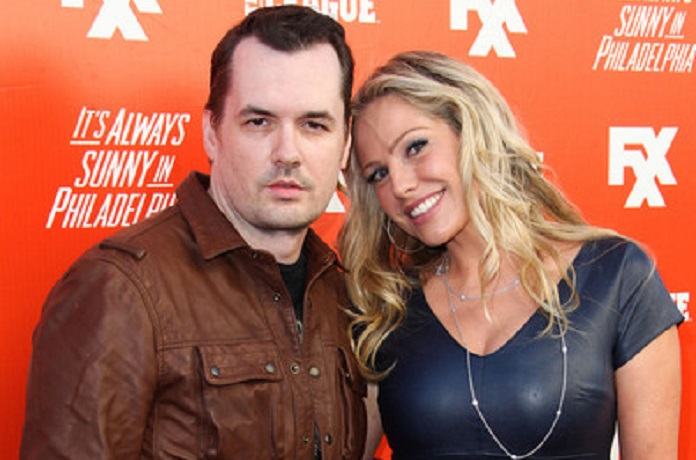 Jim Jefferies began dating actress Kate Luyben in 2011. Katherine Luyben was born on 30 June 1972, in Canada. She is an actress, probably best recognized from starring in the role of Fifi in the martial arts' western comedy film Shanghai Noon.
She played Santa Fe Tart in the romantic comedy Intolerable Cruelty, and featured as Dharma in the comedy film 3, 2, 1… Frankie Go Boom. The pair met while shooting the pilot for Jefferies' 2013 show, Legit. In the pilot, Kate played a prostitute.
They became good friends within a short time, and it wasn't long before they started dating and became a couple. Jefferies announced officially that he and Luyben were a couple and declared her his girlfriend at the premiere of Legit. It happened a couple of months after the couple had welcomed the birth of their son, Hank.
The Ex-couple Parted Ways Amicably
The couple separated amicably shortly after but have remained good friends and continue to raise their son together. Luyben lives close to Jim's residence and is currently dating a soccer player. Jefferies claims they have spent lots of time together and they've even gone on holiday together.
As for why Jim and Luyben parted ways, no one knows for sure. As expected, there have been a lot of speculations but the fact of the matter remains: we might never learn why the comedian's first major public relationship ended.
He Has Been a Doting Father to Their Son
Although he is not married and has never been engaged, one thing Jim Jefferies love is being a father. It was on the 7th of November 2012 that he welcomed a son with his ex-girlfriend Kate Luyben. The son named Hanks, came shortly before they agreed to separate. Despite parting ways before his birth, Jim shares joint custody with the mother and has been an active parent in Hanks' life.
He continuously juggles his professional responsibilities with fatherhood and seems to have done a grand job so far. It is, however, worth noting that he has been aided by having an amicable and pleasant relationship with his son's mother.
So good are things with Jim as a father that his son also has a good relationship with his mystery girlfriend. The comedian even features his son in some of his self-deprecating jokes. For instance, he once joked that the lad preferred the billboard of a new Minion movie to one about his show, The Jim Jefferies Show.
What We Know About His Relationship With Ginger Gonzaga
Many sources reported that Jim Jefferies once dated actress Ginger Gonzaga. However, there has never been an official confirmation from either party. It has remained a rumor, albeit a well-publicized one. Ginger, who is an improviser, actor, writer, and director, had her film debut in Seth MacFarlane's popular 2012 comedy, Ted.
The American actress and comedian is also famous for her performance in the 2019 series, Living with Yourself, in which she played Meg alongside Paul Rudd.
Ginger and Jim worked together in the 2016 movie Punching Henry. He subsequently shared some pictures of him with the actress on his social media platforms, this convinced some of his fans that they were in a relationship.
Meanwhile, Gonzaga dated a comedic great in the person of Jim Carrey. Carrey and Gonzaga dated for some months before they called it quit in October 2019.
Most of The Women The Comedian Dated Left Him
We know him for his vocal opinions on various controversial political and social issues, most notably religion and gun laws. Yet when it comes to his views about relationships and marriage, Jim Jefferies is notoriously secretive and private.
There is no official record of him discussing his opinions on marital union and if his beliefs align with the institution. Having had a track record and built notoriety on speaking about politics, religion, and societal issues in the past, it is perhaps strange that he has not made personal statements about relationships.
During his shows and skits, though, he is known for having a self-deprecating sense of humor when it comes to his failed relationships. Jim has also revealed during comedy sets that the women he has been in relationships with, mostly left him.
He hopes to eventually find one that will stick with him and never leave. If that is a question of his personality and character or his ill luck remains unknown, but time would tell what would become of the comedian in that respect.