Jimmy Carter's net worth is estimated at $8 million. He is an American retired politician who served as the 39th president of the United States from 1977 to 1981.
Everybody loves to talk about a president, especially a president of the United States. Although an ex-president of the United States, his name is still very much in the lips of people in the world as he is the oldest ex-president alive. Till this day, people wonder about Jimmy Carter and his net worth after leaving the White House.
Jimmy Carter ended his presidential tenure in 1981 and since then has remained quite active in the private sector. He founded the Carter Center which is a non-profit organization with a focus on areas such as conflict resolution, mental health, public health, and eradication of infectious diseases. He was awarded a Nobel Peace prize in 2002 for his work in the Carter Center.
Born James Earl Carter Jr. on the 1st of October 1924, the ex-POTUS was born in Plains, Georgia. His mother, Bessie Lillian, was a registered nurse at the Lillian G. Carter Nursing Centre and had delivered him in that same hospital. This made him the first president of the United States to be born in the hospital. His father's name is James Earl Carter Sr. and is a direct descendant of Thomas Carter who came to Virginia in 1635. He is also a direct descendant of the founder of Cornell University, Thomas Cornell.
We explore how the ex-POTUS made his money and Jimmy Carter's net worth after leaving the White House. Get all that information right here, right now.
How Does Jimmy Carter Make His Money?
When his father died, Carter took over running the family peanut farm. However, due to drought, his first-year harvest did not go as planned. Because of this, Jimmy Carter had to open lines of credit to keep the farm floating.
In addition to this, he took business classes and read up on agriculture to increase his skill set while his wife learned accounting to manage the farm's books. The couple grew the business and became successful in the end. By the time he got elected POTUS, Carter had to put the farm in a blind trust to prevent a conflict of interest.
While serving as the President of the United States from 1977 to 1981, Jimmy Carter earned an annual salary of $200,000 with an expense account worth $50,000.
Jimmy Carter's source of income is multi-dimensional as he reportedly makes money from multiple sources including writing. After his presidential tenure, he has published at least 46 different books which include a children's storybook and a reflection on his presidency.
He also receives an annual pension just like other past presidents of the United States and this stands at $210,700 every year. He receives allowances to cover expenses like travel and office space and as of 2017, this allowance was set at $230,000 annually as reported by the National Taxpayers Union Foundation.
Jimmy Carter is a simple man who enjoys living a simple life as he once said, "It's just never had been my ambition to be rich." He is a sharp contrast to other ex-presidents such as George Bush who typically makes between $100,000 and $175,000 for every appearance/speech and has made at least 200 paid appearances since 2009. Even Former President Bill Clinton made a total of $13.7 million within his first year after office as he gave 57 paid speeches within that year.
What is Jimmy Carter's Net Worth After He Became the Oldest Ex POTUS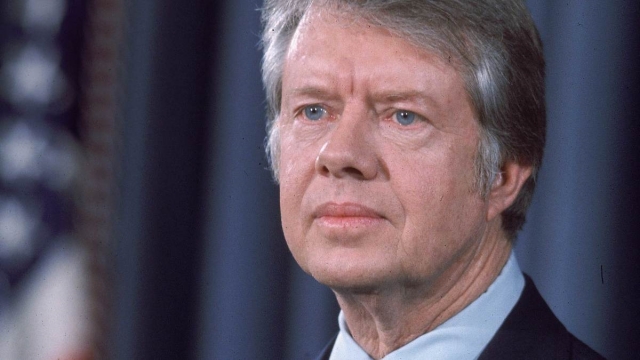 On the ranking of United States Presidents by net worth, Jimmy Carter ranks 26th with a net worth of $8 million along with the late Gerald Ford who also has a net worth of $8 million. Despite being worth a lot of money, he reportedly still lives a minimalist lifestyle as he continues to fly commercial class, buying his clothes from the local dollar store, and even makes his own yogurt alongside his wife, Rosalynn.
When a man is used to calling the White House his home, the world becomes extremely eager to know the next place he calls home after his presidential tenure. it turns out Jimmy Carter lives in a very modest home located in the rural plains in Georgia. He lives a very normal life and his two-bedroom ranch house is reportedly worth only about $167,000 which is even cheaper than the average house in Georgia.
Sources of Jimmy Carter's Net Worth
His political career
Writing
Pension