Sometimes, a child's passion for something is a pointer to what he/she would become in the future. As a child, Jimmy Fallon was literally obsessed with watching the late-night comedy program, Saturday Night Live (SNL). Then, his parents would tape the clean parts for him to watch and later, he and his sister would re-enact sketches from the show with their friends. It did not turn out to be a mere childhood obsession as his love for the show remained with him even until college.
With his eyes set on comedy, the then 21-year-old Jimmy abandoned his college degree in 1995 to pursue a comedy career and about three years later, his lifelong dream of being a part of his beloved Saturday Night Live show was fulfilled after he was commissioned to join the comedy program as a cast member. He remained on the show until 2004 and became a celebrity while doing his job.
Having decided to try his hand at acting, Jimmy left the program and starred in the 2004 and 2005 films, Taxi and Fever Pitch. He later returned to television in 2009 as the host of the NBC's Late Night with Jimmy Fallon and in 2014, he moved to The Tonight Show.
Jimmy Fallon's Age and Bio
Born with the full name James Thomas Fallon on September 19, 1974, in the Bay Ridge neighborhood of Brooklyn, New York, it was obvious what career path the talented young man would follow from the time he was a child. This was because he had always been good at impersonating other characters and was also music inclined.
He graduated from Saugerties High School in 1992 and while there, he took part in most of the stage productions and served as a class social director two times. He later moved on to The College of Saint Rose, Albany, New York, to study computer science major but that turned out to be a case of trying to fix a round peg in a square hole so Jimmy abandoned the course and switched to communications in his senior year.
As a college student, Jimmy Fallon would take stand-up gigs on the weekends and also perform sets at Caroline's comedy club in Times Square. However, when he was no longer able to suppress the urge to give full expression to his creativity, he dropped out of college not minding the fact that he had just one semester left to get his degree in 1995.
He moved to Los Angeles in pursuit of a full-time career in comedy. 14 years later, he went back to school to finish what he started and finally received his Bachelor of Arts degree in communications. The institution also awarded him his diploma after a portfolio of his television work was reviewed, earning him experiential learning credits.
His Net Worth
Apart from his comedy which primarily includes his Late Night Show hosting, the entertainer also makes his money from hosting high profile awards shows such as the MTV Video Music Awards which he hosted in 2016. In addition to that, Jimmy Fallon also makes money from the sales of his books and comedy albums.
When Fallon became a part of The Late Night Show in 2009, his annual salary stood at $5 million and by the time he eventually took over the show from Jay Leno, his paycheck rose to about $11 million every year. This, in addition to his other endeavors, grew his net worth to the range of $25 – $35 million.
Fallon's Mom
Jimmy Fallon is the son of James Fallon Sr. and Gloria Fallon. Both of his parents were present on his first episode of "The Tonight Show" in 2014, watching from the studio audience. His mother has been said to be his biggest fan from day one and they shared a very close relationship.
Sadly, Jimmy's mother died from undisclosed causes at NYU Langone Medical Center in Manhattan, New York, on November 4, 2017. Consequently, tapings of the following week's Tonight Show episodes were canceled. One week after his mother's death, Jimmy Fallon paid a tribute to her, describing her as the best audience.
His Family – What To Know About His Wife and Kids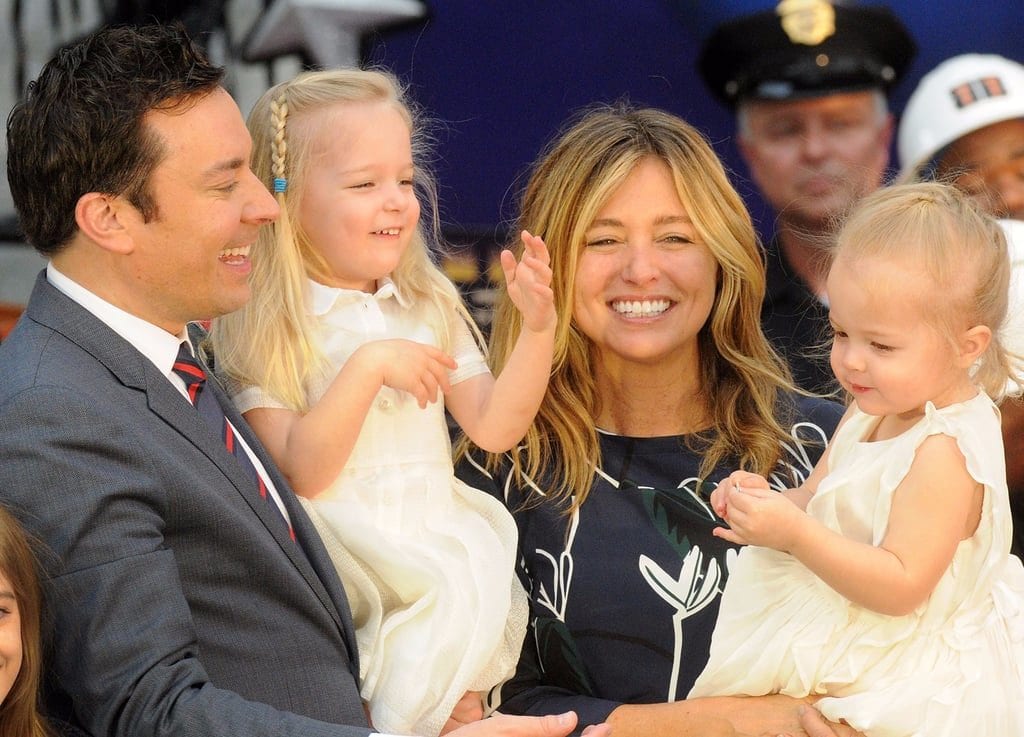 Fallon is married to Nancy Juvonen, a film producer and co-owner of the Flower Films production company. She was born on May 18, 1967, making her seven years and a few months older than her husband. Before she joined the movie industry, she studied at the University of California from where she bagged a degree in Sociology and Corporative Education.
Jimmy and Nancy met on the set of the 2005 film, Fever Pitch, and started dating in May 2007 after Drew Barrymore, who worked with Jimmy on the afore-mentioned movie, introduced them during a birthday party she (Drew) threw for Nancy.
Without wasting much time, Jimmy proposed to Nancy just three months after they started dating, with an engagement ring designed by Neil Lane. The engagement took place when they were at Nancy's family summer home in Wolfeboro on Lake Winnipesaukee, New Hampshire.
According to the comedian, he was so nervous about what the outcome would be that his face looked like he was smelling burnt toast. Fortunately, the night ended well for him as Nancy said yes to his proposal and they tied the knot on December 22, 2007.
Five years after their union, the coupled welcomed their first child, a daughter named Winnie, in July 2013, and in December 2014, the second daughter, Frances, joined the family. Both of the girls were born through a surrogate mother.
Before the kids came, most of their fans speculated that the duo was either not just ready to have children yet or do not want kids at all. However, after they welcomed their first child, Jimmy Fallon disclosed that he and his wife had been dealing with fertility issues all the while and finally settled for surrogacy after trying other options.
The power couple has been rumored to have almost broken up many times in the past few years but the rumors notwithstanding, they are still very much married and happily so too.
How Tall Is He?
The successful television star has an athletic body and stands at an impressive 6 feet (1.83 meters). This makes him 4 inches taller than the average American man. He wears shoe size 10 (US) and has a waist, chest and hip measurement of 34-40-40 inches respectively.