When you are married to a global superstar like Jackie Chan, it should come as no surprise that you get relegated to the background. It does not matter if you are a star in your own right. That is the case for Joan Lin Feng-Jiao, a legend of the Taiwanese and Chinese movie industry.
After noticeably disappearing from the public eye over time, she is now perhaps most famous for being married to Hong Kong movie legend, Jackie Chan. It is essential not to forget her achievements and contribution to the movie industry in her home country.
Joan Lin's marriage to Jackie Chan has understandably attracted a lot of public scrutinies. The two have not had a smooth marriage and have been rocked by a significant scandal in the past. Today though, it appears it is all in the past.
She made Her Film Debut at the Age of 19
Joan Lin Feng-Jiao was born on June 30, 1953, in Taipei, Taiwan as the second of five children. Joan had to drop out of school when she was 12 years old as her family was destitute and could not cope with the expense. After this setback, she decided to pursue a career as an actress. It was a long and rough journey, but it proved to be an exceptionally rewarding one by the time her career took shape.
Her breakthrough came in 1972 when she made her film debut at the age of 19. The debut came in the Kung-Fu movie The Hero of Chiu Chow also known as Hero of Waterfront. It launched Joa properly into the movie industry and became the foundation for her future success.
Most of Her Movies were Adaptations of Novels Written by Chiung Yao
Joan Lin became a superstar in the Chinese movie industry and was also a major box office draw. In combination with Charlie Chin, Chin Han, and Brigitte Lin, she became the biggest name in the Taiwanese and Chinese movie industry in the 1970s. The star group was known as 'Two Chins, Two Lins' and went on to star together in several box office hits.
A pattern emerged during her career, though. Several of her movies were adaptations of novels written by Chiung Yao. Chiung Yao is the pen name of Chiun Che, considered the most popular romance novelist in Chinese speaking regions. Her works have been adapted into over 100 films and TV series.
Joan Lin's career spanned ten years from 1972 to 1982, and she appeared in over 100 films in Taiwan and Hong Kong within this stipulated time.
Her Marriage to Jackie Chan and Pregnancy Motivated Her to Quit Acting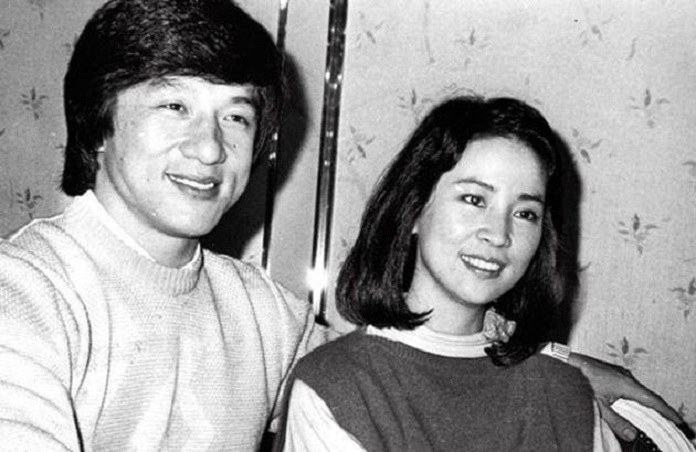 Joan Lin Feng-Jiao has been married to Jackie Chan since 1982 having met each other in January 1981. After Joan Lin informed Jackie Chan she was pregnant with his child, he decided to keep the baby. Jackie Chan has conceded that he had never considered marriage and the conception of the child was an accident.
Joan Lin relocated to Los Angeles after choosing to keep the baby. Jackie Chan, busy with work commitments, did not see her until she was due to deliver. The couple, however, resolved to get married before the baby was born. They hired a priest, and the whole ceremony was so low-key and rushed, it took place in a coffee shop in L.A during lunchtime.
The couple married on December 1, 1982. They welcomed the birth of their son just two days later on December 3. Jackie Chan has stated on occasion that he was forced to marry Joan Lin due to her pregnancy.
Joan Lin decided to quit the movie industry when it discovered she was pregnant and would be relocating to Los Angeles in the United States. Her marriage to Jackie Chan further solidified her decision, and it marked the end of a legendary acting career.
A Cheating Scandal in 1998 Threatened their Marriage
The most famous moment in the marriage came in 1998 when Jackie Chan engaged in an extramarital affair with former Miss Asia, Elaine Ng Yi-Lei. The affair led to the birth of a daughter in 1999 named Etta Ng Chok Lam.
The affair became huge news in the media and received comprehensive coverage. It also threatened to tear Jackie Chan and Joan Lin apart, but at the end of it all, the couple remained together.
Jackie Chan reportedly paid a significant amount of money per month to Elaine Ng Yi-Lei as support for her living expense. However, her lawyer has refuted this claim. Elaine then claimed she would raise her daughter without any help from Jackie Chan.
Chan expressed regret over the affair and claimed he made a mistake men make all over the world. Although Jackie's apology did not sound completely repentant, it is worth noting that Jackie Chan has largely stayed committed to his wife and son ever since the scandalous incident.
Joan Lin Initially had more Success than Jackie Chan as Actors
When Joan Lin met Jackie Chan in 1981, she was the more famous person in the movie industry. She was one of the biggest four actors in the Chinese and Taiwanese movie industry, having appeared in multiple commercially successful films.
Jackie Chan meanwhile was starting to make his mark on the movie scene having appeared in movies like Snake in the Eagle's Shadow and Drunken Master. Despite this, he lagged behind Joan Lin in terms of fame and success.
By the time Joan Lin left the movie scene after a decade, she had appeared in over a hundred movies. In 1977 alone, she appeared in a scarcely believable 17 films. Lin also appeared in 13 movies in 1979 and 10 in 1976. These numbers proved she was in high demand and was very much at the top of her game.
In 1979, she won the award for Best Leading Actress at the 16th Golden Horse Awards for her spectacular performance in the movie The Story of a Small Town.
Jackie Chan has However Grown more Successful and Famous over the Years
After Joan Lin's retirement in 1982, Jackie Chan exploded onto the scene. He became an international superstar and has gone on to become one of the most globally recognized movie stars of all time. Throughout his career, he has appeared in over 150 films and has won recognition both at home and abroad.
Jackie Chan successfully made his Hollywood crossover with the 1998 release of Rush Hour. He went to appear in two more Rush Hour sequels, building an identity in the United States.
His acting prowess and contribution, including his propensity to perform his stunts without a body double, have earned him numerous accolades. He has received stars on the Hollywood Walk of Fame and Hong Kong Avenue of Stars.
In 2016, he was presented with a lifetime achievement award at the Oscars for his outstanding achievement in film. He has been so successful that in 2016, he was the second-highest-paid actor in the world.
Joan Lin's son has had a Rough Lifestyle over the Years
Joan Lin's only child is Jaycee Chan, an actor, and singer. Since he was born just two days after his parents got married, Jaycee has maintained a close relationship with his mother. Jaycee, like his parents, ventured into the movie industry. He quit school  in 2003 and moved to Hong Kong to pursue acting.
He has appeared in movies like The Twins Effect, Mulan, and Railroad Tigers. These movies have mostly not seen commercial or critical success despite heavy promotions. He also tried his hands at music and has released three albums. Jaycee released his first album in 2004, and he performs mostly in Mandarin and Cantonese.
Jaycee Chan has a public reputation as a luxury spender and a playboy. He is also an ex-convict having spent six months in prison for distribution of marijuana and harboring drug dealers in his home. His father, Jackie Chan, refused to use his connections to lighten his sentence and made a public apology over his son's drug usage.
He Apologized to His Mother While in Detention and Stayed with Her After His Release
Jaycee Chan was remorseful for the actions that led to his arrest and subsequent imprisonment. He knew he had let his parents, especially his mother, down. To make up for his actions, Chan wrote a three-page letter of remorse to his mother acknowledging his wrongs and promising never to do them again. Having always been close to his mother, he knew she would be the one most affected by his recklessness.
After his release from prison, Jaycee Chan held a press conference. He went on to further apologize for his actions and promised to live on the right side of the law. He also commented that he would be spending more time with Joan Lin, his mother.
Jaycee Chan stuck to his words by flying to Taiwan to meet up with his mother before spending Chinese New Year with her. There were tears of joy shed during the reunion, and it seemed like they were on their way towards rebuilding a broken relationship.