Joanna Gaines is the co-founder of Magnolia Homes. She also doubles as the lead designer of the business which she co-owns with her husband. However, Lady Gaines gained massive popularity when she became a co-star with her husband on the HGTV's show Fixer Upper.
Joanna Gaines Bio (Age, Ethnicity)
Joanna Gaines was born on the 19th of April 1978 in Kansas. She was raised in the Lone Star State and after high school, she attended Baylor University from where she graduated with a degree in communications.
In transitioning to a life of design, she had gained inspiration from New York boutiques where she interned. As she has revealed, she initially had no experience in design although she had always had a desire to open a boutique. The question of what type of store she ought to open was answered for her during her first year of marriage.
She and her husband had come across a fixer-upper building which they had worked on together. It was the success of their collaboration on that project that then led her to open their Magnolia store where they began selling multiple products for homes and decors. Their store was opened in 2003 with Joanna Gaines taking her New York City inspired ideas and great eyes for design to Waco, Texas. Her initial inexperienced passion was complemented by her husband's experience and the two work well together remodeling and flipping homes.
While they were doing their thing with their business, they got a call from a production company which led to their show Fixer Upper on HGTV. The show is produced by High Noon Entertainment producers Scott Feeley and Jim Berger. The pilot episode of the show aired in May 2013 but the first full season actually started in April 2014.
Fixer Upper's second season began in January 2015, the third in December 2015 and the fourth in November 2016. The fifth season which was the last premiered on the 21st of November 2017.
For the show, another couple was shown three potential homes that they can consider for purchase in central Texas. All the homes would require some amount of repair and renovation. Following the couple's choice, Joanna Haines designed it with her husband as the lead contractor for the work. The buyer couple is typically to have a budget of about $200,000 with at least $30,000 budgeted for renovations.
Joanna Gaines has been said to have a design taste that inches to the simple and fresh but still timeless. She makes use of industrial pieces and has a specialty for making old things new. Above all, she is admired for seeing potential in projects no matter how hopeless they may seem.
See Also: Is Oprah Winfrey Married? Husband, Children, Biography, House, Facts
Her Parents and Siblings
Joanna Gaines has a mixed ethnic background as her mother Nan Stevens is Korean while her father Jerry is half Lebanese and half German. Joanna is, however, an American by birth. Her parents have been married for over 45 years and Joanna Gaines has pointed to their relationship as a strong inspiration for her own marriage.
While she was growing up, Joanna got a strong inclination for business as she helped her father manage his tire shop. The couple had only three daughters, so Gaines' only siblings are her sisters – one named Mary Kay McCall and the other Teresa Criswell. The designer has worked on a home for her sister Mary Kay which appeared in season five of the Fixer Upper show.
Joanna's Husband, Kids, and Divorce
Joanna Gaines seems to be very happily married to Chip Gaines with no divorce on the horizon. They tied the knot in 2003 and have been partners in every sense of the word since then. They had actually both attended Baylor University but never met while in school. The first time they met was at Joanna's dad's tire shop after Chip's car had a brake failure. They were soon dating and in love.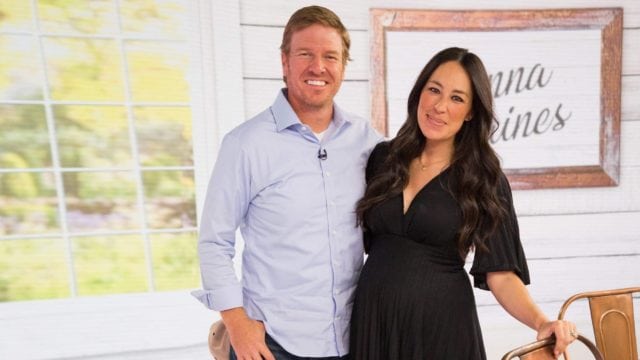 Every couple has their hard times, rumors of divorce crept up a long time ago when Chip Gaines left the business momentarily for a Spanish immersion program in Mexico. He was there for three months and in that time, Joanna Gaines had sole responsibility for their business. The rumors were however never confirmed and have since abated.
Together, they have five children named Emmie, Duke, Ella, Drake, and Crew. Crew Gaines, their current last born, was born in June 2018. With her sizable family, it is not surprising that besides running her business, Joanna Gaines enjoys a simple life on the farm where she spends time cooking family recipes and occasionally gardening which helps her relax.