Joanna Gaines is the co-founder of Magnolia Homes, a business she runs with one goal: converting houses to homes. She doubles as the lead designer of the company which she co-owns with her husband, Chip Gaines. Lady Gaines gained massive popularity when she became a co-star with her husband on the HGTV's show, Fixer Upper. The Magnolia brand has since metamorphosed into an empire, comprising much more than just construction and design.
Besides Magnolia Homes, Joanna and her husband owns a restaurant, a kids' furniture store, a realty business, a magazine, as well as an on-site and online market, all under the Magnolia Umbrella. So, Joanna hasn't only been busy making homes for people. But somehow, she manages to combine all the businesses she actively runs with being a loving wife and an amazing mother of five children.
Joanna Has Always Been Drawn to Doing Business
Joanna Gaines was born on the 19th of April 1978 in Kansas. She was raised in the Lone Star State and after high school, she attended Baylor University where she graduated with a degree in communications.
She has a mixed ethnic background as her mother Nan Stevens is Korean while her father Jerry is half Lebanese and half German. Joanna is, however, an American by birth. Her parents have been married for over 45 years, and Joanna lists their relationship as an inspiration for her marriage.
While she was growing up, Joanna got a strong inclination for business as she helped her father manage his tire shop. Her parents have only three daughters, so Gaines' only siblings are her sisters; Mary Kay McCall and Teresa Criswell. The designer has worked on a home for her sister Mary Kay which appeared in season five of the Fixer Upper show.
Before she started designing homes, she gained inspiration from New York boutiques where she interned. As she has revealed, she initially had no experience in design and had always had a desire to open a boutique. The question of what type of store she ought to open was answered during her first year of marriage.
She Has Been Married To Chip Gaines Since 2003
Joanna Gaines seems happily married to Chip Gaines with no divorce on the horizon. They tied the knot in 2003 and have been partners in every sense of the word.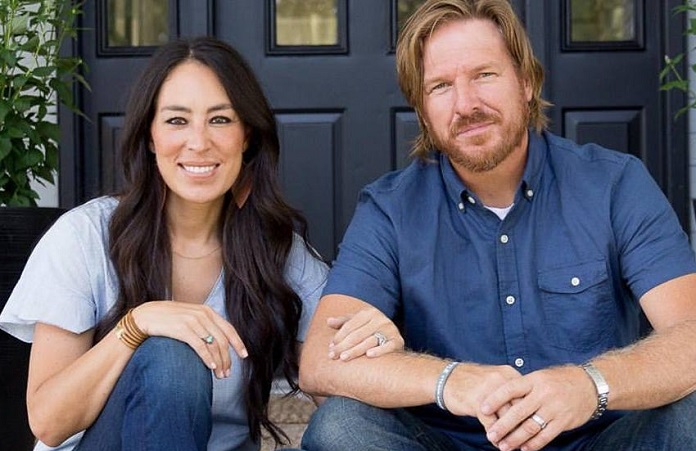 They both attended Baylor University but never met while in school. The first time they met was at Joanna's dad's tire shop after Chip's car had a brake failure. They were soon dating and in love.
Every couple has their hard times, rumors of divorce crept up a long time ago when Chip Gaines left the business momentarily for a Spanish immersion program in Mexico. He was there for three months, and in that time, Joanna Gaines had sole responsibility for their business. The rumors were however never confirmed and have since disappeared.
Won't ever happen.. you can take that to the bank! #loveOfMyLife https://t.co/tK3kkT6k3e

— Chip Gaines (@chipgaines) August 5, 2017
How Marriage Influenced Joanna Gaines' Career
Joanna and her husband had come across a fixer-upper building that they worked on together. It was the success of their collaboration on that project that led her to open their Magnolia store where they began selling multiple products for homes and decors.
Their store opened in 2003 with Joanna Gaines taking her New York City-inspired ideas and great eyes for design to Waco, Texas. Her husband's experience complemented her initial inexperienced passion, and the two work well together, remodeling and flipping homes. While they were at this, they got a call from a production company, High Noon Entertainment. The call led to their show Fixer Upper on HGTV. The pilot episode of the show aired in May 2013 but the first full season started in April 2014.
Fixer Upper's second season began in January 2015, the third in December 2015, and the fourth in November 2016. The fifth season which was the last premiered on the 21st November 2017.
Joanna Gaines has a design taste best described as simple and fresh but still timeless. She makes use of industrial pieces and has a specialty for making old things new. Above all, she is admired for seeing the potential in projects, no matter how hopeless they may seem.
The couple started Magnolia Markets in 2003. It was once a little shop but has now become a huge tourist attraction called Magnolia Silos. They also own Magnolia Kids, Magnolia Tables, Magnolia Realty, a line of lifestyle goods, among other projects.
Balancing Work With Family Life Has Been a Struggle for Joanna
Joanna and her husband have five children named Emmie, Duke, Ella, Drake, and Crew. The youngest, Crew Gaines, was born in June 2018. It is no surprise that the question the entrepreneur gets the most is how she balances doing what she loves and being there for her sizeable family.
Disregarding the foregoing, Jo Gaines is editor-in-chief and contributor at Magnolia Journals. She is also the author of Homebody: A Guide to Creating Spaces You Never Want to Leave. Gaines has a bakery, Silo's Baking Co. on the Magnolia Silos property. And she somehow still enjoys a simple life on the farm where she spends time cooking family recipes and occasionally gardening which helps her relax.
She and her husband closed Magnolia Market after their first two kids to focus on raising their family. But it doesn't count as a break because it was during that time that they honed in on Magnolia Homes and eventually, Fixer Upper.
She Has Learned To Flow With The Tide
On the secret to doing it all, Joanna Gaines revealed that she is still in pursuit of balance herself. She said she strives to focus on work while at work and resumes being a mom as soon as work was over. Unfortunately, the lines became blurred between projects, and all it took was a phone call to drag her from her work self to mama bear, and vice versa.
See Also: Is Oprah Winfrey Married? Husband, Children, Biography, House, Facts
It took her years, but Gaines finally realized that compartmentalizing doesn't work as well as it is portrayed in the media. Hence, instead of pursuing unrealistic balance, she focuses on throwing her entirety behind where she is needed at any point, be it at work, as a wife, or a mom.