Popularly known as Steven Harrington in the 2016 Netflix American science-fiction horror web television series Stranger Things, Joe Keery has gained fame playing as an actor and a music artist. He started acting way back at high school, graduated but struggled for a while in his career before he landed his big break in 2016 after he gained a spot in the Netflix series.
There is a paucity of information regarding this star, but like we know AnswersAfrica sure knows how to gather all the facts about anyone. So read on to find out more about this Netflix star.
Joe Keery Biography (Age)
Joe Keery was born on April 24, 1992, in Newburyport, Massachusetts and was named Joseph David Keery. He was born as the second of five children and the only son amongst four girls. His parents are Laura Keery (mother) and Thomas Keery (father).
Regarding his educational details, Joe Keery had his elementary and middle school education at River Valley Charter School before proceeding to Newburyport High School. After being influenced by one of his sisters who loved acting, Joe joined his high school theatre team and later performed at the Maudslay State Park known as Theatre in the Open. Having developed an interest in acting, the budding star decided to hone his skills at DePaul University where he studied arts and graduated in 2014.
Career
In his early days, Keery struggled with his career and attended a lot of auditions before landing his big break in the Netflix series Stranger Things where he played the character of Steve Harrington. Following that, he got smaller roles and acted out a few commercials for brands like KFC, Domino's, and Amiibo. In 2015, he featured in the first episode of the Fox drama series, Empire and also appeared in Chicago Fire. The first film where he played a major role is in the full-length movie Henry Gamble's Birthday Party.
While playing as a cast in Stranger Things series, he has also featured in other movies including; The Charnel House (2016), Molly's Game (2017), After Everything (2018) and Slice (2018).
Apart from acting, Joe Keery has also gained expertise as a musician. He is a guitarist for the Chicago-based garage and psych-rock band Post Animal. As a member of the band, he released his first complete album in October 2015. Regardless, Joe Keery previously released music under the stage name, Cool Cool Cool.
Brother
To the best of our knowledge, the actor was born as an only son alongside four daughters. There are no records indicating that the actor has a brother anywhere. On a few occasions, he has been said to be the brother of Ben Schwartz, read on to find out the facts on how they are related.
Does He Have a Girlfriend or Is He Gay?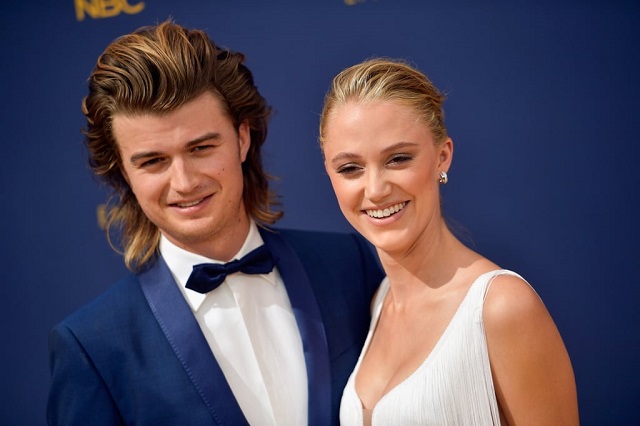 Followers of the drama series, Stranger Things would think that there is more between Steven Harrington (Joe Keery) and his on-screen love interest, Nancy (Natalia Dyer) in the show, however, it all ends on set. Joe is in a relationship with a professional kiteboarder, Maika Monroe.
It is not known how long they have dated but the couple was first sited together at the premiere of Stranger Things 2 in October 2017. Maika supports her boyfriend's career and has even gone ahead to act a movie with him as the two showed their acting stints in the movie, After Everything (2018).
There have been recent controversies regarding the actor to as being a gay. Well, to the best of our knowledge, the actor has a straight sexual orientation and is nothing close to being gay.
Relationship With Ben Schwartz
There is a school of thought who believe that everyone has a doppelganger and Joe Keery has his. The fact that Ben Schwartz and Joe Keery have similar looks have proven this fact (of course there are so many others like that). Ben and Joe are not anywhere related but they both share the same eerie facial looks and fluffy hairs.
In fact, their resemblance has brought a lot of rife on the internet, with many trying to link their roots. The two have also used their resemblance in movies. Joe Keery who plays Steve Harrington in Stranger Things is the father of Jean-Ralphio Saperstein portrayed by Ben Schwartz in Parks and Recreation. 
See Also: Daniel Sharman Bio, Movies and TV Shows, Age, Height, Girlfriend and Family
Body Stats – Height
Joe Keeery's eerie looks can make any lady look twice. He is a handsome fella who depicts charisma and carriage. He stands at 5 feet 9 inches and weighs 74 kg.