Popularly known as Steven Harrington in the 2016 Netflix science-fiction horror series Stranger Things, Joe Keery has gained fame for being an actor and a music artist. The talented entertainer started acting in high school but had to struggle for a while before he landed his big break in 2016 after he was cast in the Netflix series.
As a musician, the actor is a guitarist for a psych-rock band called Post Animal. He goes with the name Djo as a solo artist and has released an album in that capacity. Titled Twenty Twenty, Keery dropped the debut album on the 13th of September 2019.
What We Know About The Early Life of Joe Keery
The actor was born on April 24, 1992, in Newburyport, Massachusetts, and named Joseph David Keery. He is the only son of his family that has four daughters, including a set of twins. Kate and Emma are the twins and the other two are Caroline and Lizzy. The actor's dad is an architect who goes by the name David Keery while his mum has been identified as Nina Keery, a Professor of English.
Joe Keery had his elementary and middle school education at River Valley Charter School before proceeding to Newburyport High School. After being influenced by one of his sisters who loved acting, Joe joined his high school theater team and later performed at the Maudslay State Park known as Theater in the Open.
Having developed an interest in acting, the budding star decided to hone his skills at The Theatre School in DePaul University where he studied Fine Arts in Acting and bagged his degree in 2014.
The Struggles of Kicking-off His Career
Joe Keery struggled with kicking-off his career and attended a lot of auditions for different roles. While he waited for his big break to come calling, he featured in various commercials for known brands like KFC, Domino's, and Amiibo.
He made his acting debut in 2015 when he appeared in an episode of Sirens, an American show based loosely on a British series of the same name. He later appeared in two episodes of NBC's action-drama, Chicago Fire and Fox's musical drama series, Empire. 
The versatile entertainer proved to be equally good in cinematic roles, landing his first in Henry Gamble's Birthday Party, a 2015 drama. In 2016, he made an appearance in the horror-thriller, The Charnel House. He got the opportunity to share the screen with the likes of Idris Elba, Jessica Chastain, Michael Cera, Kevin Costner, Chris O'Dowd, and Brian d'Arcy James in the 2017 crime-drama, Molly Game, that was after Stranger Things dragged him into the limelight.
Stranger Things Remains His Most Significant Work
It was in late 2015 that Joe Keery did his first audition for Stranger Things, vying for the role of Jonathan Byers, a character that was later taken up by Charlie Heaton. According to producers of the show, Ross Duffer and Matt Duffer, Joe was more suited for Steve Harrington, a character modeled after the fictional 1980s' jocks.
When the first season premiered on the 15th of July 2016, his character wasn't a regular one but by the second season which premiered on the 27th of October 2017, he was promoted to a central character. He did a reprisal of the role for the third season released on the 4th of July 2019.
Since Stranger Things, Keery has also appeared in a few indie films like 2018's Slice and After Everything. You will also find him in How to Be Alone, Free Guy, and Spree. 
Joe Keery has also gained some clout as a musician. He is a guitarist for the Chicago-based band Post Animal. Other members of the band are Jake Hirshland, Dalton Allison, Wesley Toledo, Javi Reyes, and Matt Williams. The band released its first album in October 2015 and as a solo artist, the actor dropped Twenty Twenty in September 2019.
Joe Keery Is Dating Actress Maika Monroe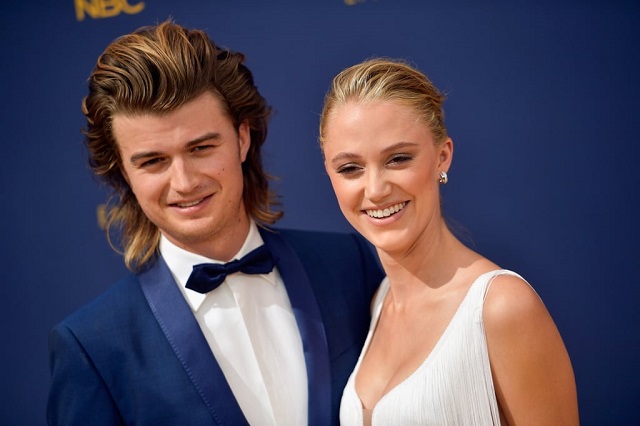 Stranger Things fans may assume there is more between Joe Keery (Steven Harrington) and his on-screen love interest Natalia Dyer, however, it all ends on set. Joe is in a relationship with an actress and professional skateboarder named Maika Monroe.
It is not known how long they have dated but the couple was first seen together at the premiere of Stranger Things Season 2 in October 2017. Maika supports her boyfriend's career and has even performed in a movie (After Everything) with him.
The loved up couple attended the premiere of the third season of Stranger Things. And were present at the Saint Laurent Men's Spring Summer Show on the 7th of June 2019. Keery and Monroe are having a swell time together and it remains to be seen what the future holds for them.
Why People Think The Actor Is Related to Ben Schwartz
There is a school of thought that postulates that everyone has a doppelganger and Joe Keery seems to have found his'. The fact that Ben Schwartz who is best known for his role as Jean-Ralphio Saperstein in Parks and Recreation has similar looks with Joe Keery has proven this.
Ben and Joe are not in any way related but they have the same facial looks and fluffy hair. Their resemblance has brought a lot of rife on the internet, with many trying to link their roots.
Nonetheless, the fact of the matter is that the two have no family ties whatsoever. This has not stopped them from milking the idea of them being relatives. They have appeared together in a Visa advert on The Late Late Show with James Corden.
The Actors Are Now Good Friends
Irrespective of the fact that Ben is over a decade older than Joe, the belief that they are related had some expressing that Ben is Joe's son. The American actors find this funny and have teased each other about it now and then.
Thank you my son

— Joe Keery (@joe_keery) June 17, 2018
Ben seems to be enjoying the misguided speculations as he had some fun on Father's day of 2018, sending Joe Keery a Happy Father's Day tweet.