The entertainment industry, as well as fans, were shocked as they woke up on the 4th of February 2018 to learn of the death of English-American actor John Mahoney. The stage, film, and TV actor who is popular for playing Martin Crane in the American sitcom Frasier, for eleven years died in Chicago while in hospice care at the age of 77.
In his career of almost four decades, John earned several accolades and awards which include two Emmy Awards nomination, two Golden Globe nomination for his performance in the sitcom "Frasier." which aired on NBC from 2003 to 2014. He also won a SAG Award for his role in the sitcom. For his theatre works, he is a recipient of the Tony awards in 1986 for his performance in "The House of Blue Leaves." He was also a member of Chicago's theatre community and of Steppenwolf for 39 years.
John Mahoney Bio
Mahoney was born on June 20, 1940, in Blackpool, England. He is the seventh of eight children his parents – Margaret and Reg Mahoney had. His family home was originally Manchester but they were evacuated to Blackpool after their home was destroyed during the second world war but they moved back to their home city after the war.
His baker father played classical piano, his mother was a full-time housewife and enjoyed reading. John didn't enjoy life in his home growing up because of his parents' unhappy marriage so he found solace at the Stretford Children's Theatre, where he was first introduced to acting.
In 1959 at the age of eighteen, John Mahoney emigrated to the U.S to pursue a career in acting. He lived in rural Illinois with his older sister Vera and soon enrolled in Quincy University, Illinois. After his graduation, he moved to Macomb, Illinois, and began teaching at the English Western Illinois University before he relocated to Forest Park and then Oak Park, both in Illinois.
He became a U.S citizen in 1971 and worked as an editor for a medical journal through much of the 1970s.
Career
Still dissatisfied with his job as an editor, John enrolled at St. Nicholas Theatre and soon resigned to pursue acting full time. After an amazing stage performance in 1977, director John Malkovich talked him into joining Steppenwolf Theatre and in no time he won the Clarence Derwent Award as the Most Promising Male Newcomer.
Mahoney would later perform in John Guare's The House of Blue Leaves, his performance in the stage play earned him the Broadway's Tony Award for Best Featured Actor in a Play. His first appearance in a film was Tin Men (1987). And for the rest of the late eighties and early nineties, he appeared in several other movies including Eight Men Out, Reality Bites, The American President, Say Anything, In the Line of Fire, The Hudsucker Proxy, Moonstruck, and Barton Fink.
In 1993, he began starring in U.S sitcom Frasier, as Martin Crane. He was on the show for eleven seasons receiving two Emmy nominations and two Golden Globe nominations and a SAG Award for playing the role of Frasier and Niles Crane's father in the NBC sitcom.  Mahoney also appeared as a priest in CBS sitcom Becker.
Also See: James Dean Biography, Cause Of Death, Age At Death, Was He Gay?
John was also a great voice actor, who provided a voice for several animated characters. He lent his voice in Antz, Atlantis: The Lost Empire, The Iron Giant, Atlantis: Milo's Return, Kronk's New Groove. In 2007, he voiced Dr. Robert Terwilliger Sr. in an episode of The Simpsons titled "Funeral for a Fiend." Mahoney's last role was in the play The Rembrandt, which staged from September to November 2017.
Was John Mahoney Gay?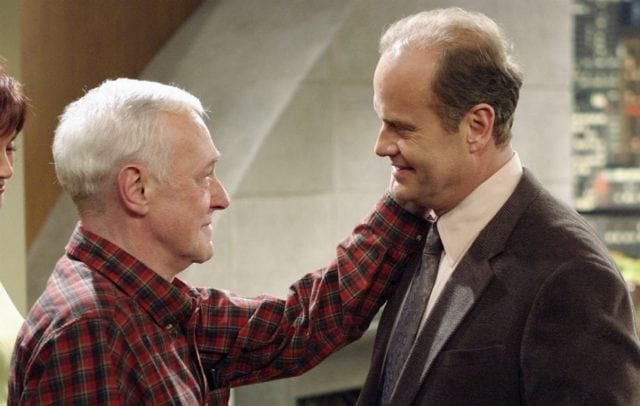 The fact that John was never married and had no children, had kept many wondering what his sexual orientation was. Although Mahoney never came out as gay nor left pieces of evidence that suggests he was, some biographers have reasons to believe that he was but was never proud of his identity enough to openly declare it.
What was the Cause of His Death?
John Mahoney died in Chicago on Sunday, February 4, 2018, while in hospice care. He died of complications resulting from throat cancer. John was first diagnosed with the disease in 2014.
Speaking after his death, his friend Anna Shapiro, revealed that he was clean of cancer as at the time he did The Rembrandt but that other health issues came up and that after beating Stage 3 of throat cancer, he was just too fragile and weak.
John reportedly left behind an estate worth more than $5 million with the names of 38 people who are likely to benefit from all he left behind. These potential benefactors are said to be from among his friends and family members.