The English media personality John Oliver is a combination of many talents; he is not just a comedian and a television host but also a producer, writer, and political analyst. He came into the limelight following his appearance on the show, Last Week Tonight With John Oliver. On the show, Oliver makes a daring, raw, and direct criticism as well as in-depth analysis of issues of great societal importance. His work on the show has become so significant and influential on the U.S cultural and political scene to the point that it has been labeled the "John Oliver effect".
As a result of his wonderful performances, the media star has recorded six Emmy Awards and two Peabody Awards in his name. Amazingly, he got a spot in Time's 2015 list of 100 Most Influential People in the World. Asides from his works on TV, John authored a book, Earth (The Book): A Visitor's Guide to the Human Race in 2010. Let's now take a more detailed look at John Oliver's life – his age, wife, family and so on.
John Oliver Bio (Age)
John William Oliver first came into this world on the 23rd day of April 1977. Although he was born in Erdington, Birmingham, England, Oliver is of  Liverpool, Merseyside origin. His father, Jim Oliver was a social worker and school headmaster while his mother, Carole was a music tutor.
Growing up, John Oliver attended the Mark Rutherford School in Bedford, England. After high school, he enrolled at Christ's College, Cambridge where he pursued a degree in English, graduating in 1998. While at Cambridge, Oliver joined the college's dramatic club, the Cambridge Footlights and rose to the position of vice president of the club.
His Career
Oliver started his media career in 2001 as a stand-up comedian, making his debut on The Comedy Zone at the Edinburgh Festival Fringe. From 2002 to 2003, he appeared on the BBC 3 television comedy series, The State We're In, alongside Anita Rani, Jon Holmes, and Robin Ince. Oliver's career breakthrough came about when he worked as HBO's senior British correspondent on The Daily Show with Jon Stewart between 2006 and 2013.
While still working with The Daily Show, Oliver created his own stand-up comedy special, John Oliver: Terrifying Times in 2008. He subsequently produced a comedy television series, the John Oliver's New York Stand-Up Show in 2010. It was after he represented Stewart on The Daily Show during 2013 summer that HBO decided to hand him a show of his own. He performed so well that viewers preferred him to Jon Stewart. This development gave birth to Last Week Tonight With John Oliver, a satirical late-night talk show that borders on politics and current affairs. The show first aired on 27 April 2014.
In addition to verbal comedy, Oliver also ventured into comedic acting on television. He portrayed the recurring character of Ian Duncan in the television comedy series, Community which aired on NBC from 2009 – 2015. Other TV dramas he has appeared on include Bleak House (1985), People Like Us (1999-2001), My Hero (2000-2006), Green Wing (2004-2007), Gravity Falls (2012-2016), Rick and Morty (2013-2017), Bob's Burgers (2011-present), and so on.
Salary and Net Worth
John has amassed a significant amount of wealth with his media career spanning close to two decades. His income is mainly sourced from his profession as a comedian, TV host and political commentator. Talking about his salary, he pockets up to $2 million per year. As for his net worth, it currently stands at an estimated value of $5 million.
Check Out: Jimmy Kimmel Age, Wife, Sons, Daughters, Family, Salary, Religion, Bio
John Oliver's Family: Wife and Son
The popular media star came from a lineage of clergymen and was born to Jim Oliver, the son of Osborne George Oliver and Charlotte Hester Girdlestone. John Oliver's grandfather, Osborne was an electricity board official while his grandmother, Charlotte was a religious education counselor. His name was inspired by his paternal great-great-grandfather, Reverend William Boyd Carpenter. Rev. William served as the Bishop of Ripon and was also a court chaplain to Queen Victoria. He also has an uncle, Stephen Oliver, the late English composer most popular for his operas.
John Oliver is happily married to Kate Norley, a U.S Army paramedic during the Iraqi war. Kate Norley was born on 25 May 1978 in Arlington, Virginia where she attended the Episcopal High School. She joined the U.S Army in the year 2001 at the age of 23. Kate who is now a veteran currently works as a rights advocate for the U.S political advocacy organization, Vets for Freedom. She also plans to establish a non-profit organization for women empowerment. Meanwhile, she is a member of Team Rubicon, a non-profit foundation that caters for victims of natural disasters across the globe.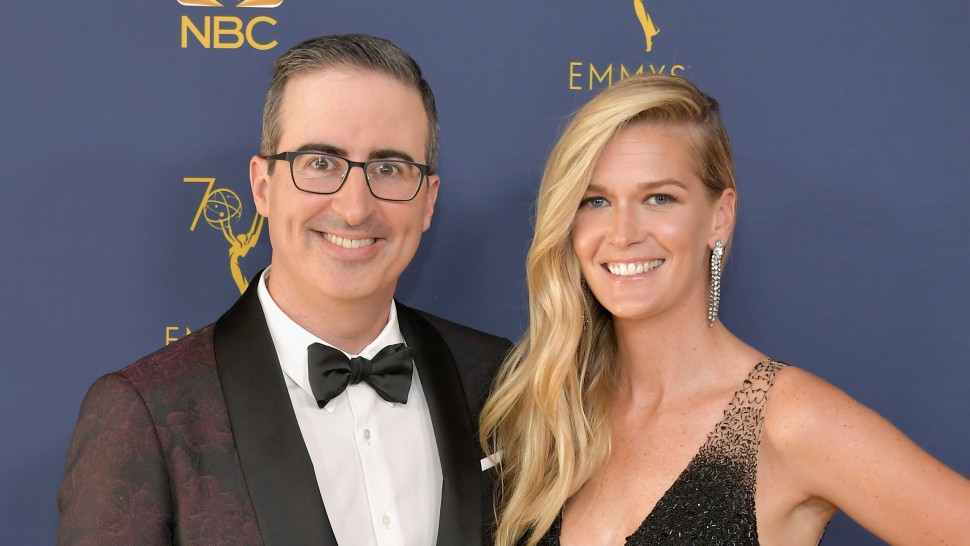 Oliver and Norley met in 2008 at the Republican National Convention where she saved him from the hands of security agents. They immediately became friends. Oliver later popped the big question in July 2010 and the pair sealed their love with a nuptial bond in October 2011. The couple presently has two sons together.
Their first son, Hudson Oliver was born on November 12, 2015, after five years of marriage. Hudson was born prematurely but healthy. Their second son arrived in 2018. The couple, however, kept his birth a secret until after 3 months.
His Height
In addition to his striking sense of humor, John Oliver has got the looks too. He stands at a towering height of 6 feet, an equivalent of 1.83 meters with a commensurate body weight of 170 lbs.