John Stamos is one of the men who knew early what he wanted to become and he had the right support system that spurred him on to attain what he has attained today, an American entertainer, actor, singer, musician who has to his credit works like General Hospital, Full House and the list goes on. He has been nominated for awards like the Daytime Emmy Awards and People's Choice Awards among others.
John Stamos Bio, Age and Ethnicity
Born as John Phillip Stamos in Cypress, California, the US on the 19th August 1963 to Greek father William Bill Stamos whose real name was Stamatopoulos which was later shortened to Stamos and English Irish mother Loretta Phillips. He grew up in a modest family with his 2 younger siblings. John Stamos hails from a mixed ethnic background of Greek, English, Irish, German and a bit of Jewish-Russian mix. As a young boy, he worked in his family food business (restaurant) in Orange County.
John Stamos was but a boy of 4 when his interest in music piqued, he was enrolled into a class where he was taught how to play drums and he later formed his own band called 'Destiny', they played in parties, amusement parks, and concerts. He later in 1994 released his first album titled 'Shades of Blue', the album was subsequently released on iTunes. He worked with Gary Griffin, Tony Guerrero, David Enos, Lanny Cordola among others.
The actor was educated at John F. Kennedy High School where he started honing his musical skills. At the age of 15, the lad was a part of an all-boys band where he played drums and vocals for them during tours and concerts. After high school, John was admitted to Cypress College but dropped out in just a semester to focus on building his career as an actor with his parent's blessings. It was not long before he clinched his first TV show in General Hospital; the medical soap opera which ran from 1982 to 1984 earning him a Guinness record as the longest-running production as at that time.
From thereon, he had a wonderful acting career starring in various television shows like the sitcom 'Full House' which was aired from 1987 to 1995. Stamos got another lead role in the Medical TV Show ER where he assumed the role of Dr. Tony Gates from 2005 to 2009, he made a quick appearance in the season 12 of the crime series Law and Order: Special Victim Unit as Ken Turner in 2011, Bye Bye Birdie (2015- 2016) and films such as Never Too Young To Die (1986), My Man Is A Loser (2014) and My Big Fat Greek Wedding 2 (2016) among many others.
He has also had the opportunity of producing films like the Netflix series of Fuller House a sequel of the Full House.
Moreover, the amiable actor has appeared in a few TV shows like Jimmy Fallon and Jimmy Kimmel shows, he even performed (July 2017) and hosted the Capitol fourth (July 2018).
For his outstanding performance in the entertainment industry, he has been nominated severally for awards, a few of which he carted away such as the 'Most Exciting New Actor' Soapy award in 1982 for his role in General Hospital, the Outstanding Supporting actor Drama series by Young Artist Awards, 1984 and of course the People's Choice Award in 'Favorite Actor In A New TV series' in 'Grandfathered' (2016). The net worth of the 6 ft tall actor is estimated to be within $40 million.
Who Is His Brother?
Some people do think that Richard Stamos is John Stamos's brother but in actual fact, he is not. Richard Stamos is fictional or a make-belief character who appeared in season 1 of Big Gay Al's Big Gay Boat Ride. His name got people talking that perhaps he was related to John Stamos but he is truly not a relative. John Stamos does not have any known brother but he has 2 younger sisters; Janeen and Alaina who are both school teachers.
Is He Gay?
The gay rumor was sparked after John Stamos starred in an LGBT romantic comedy film Wedding Wars (2006) where he took on the role of Shel Grandy. He was seen kissing a fellow man in the film and his strong support for the LGBT community also heightened the rumors that the veteran actor was indeed gay but we know for a fact that he is not because of his various personal romantic relationships were with women two of which he married in the course of his relationships.
John Stamos' Girlfriend Or Wife And Kids
As earlier stated the actor has been romantically linked to several beauties in the entertainment industry some of the notable names are Teri Copley, Denise Richards, Denise Matthews, Demi Moore, Paula Abdul, Ingrid Sthare, Amy Poehler among others.
He has also signed the dotted lines of the marriage register twice, his first attempt at marriage was with the beautiful blond Actress and model Rebecca Romijn, a victorian secret model whom he met at one of their fashion events, the duo started dating in 1994 and by Eve of Christmas in 1997 they were engaged then the knot in September of the following year 1998 at the famous Beverly Hills Hotel.
Unfortunately, their marriage was short-lived as the pair went their separate ways after John Stamos filed for divorce in August 2004, their divorce was finalized in March 2005.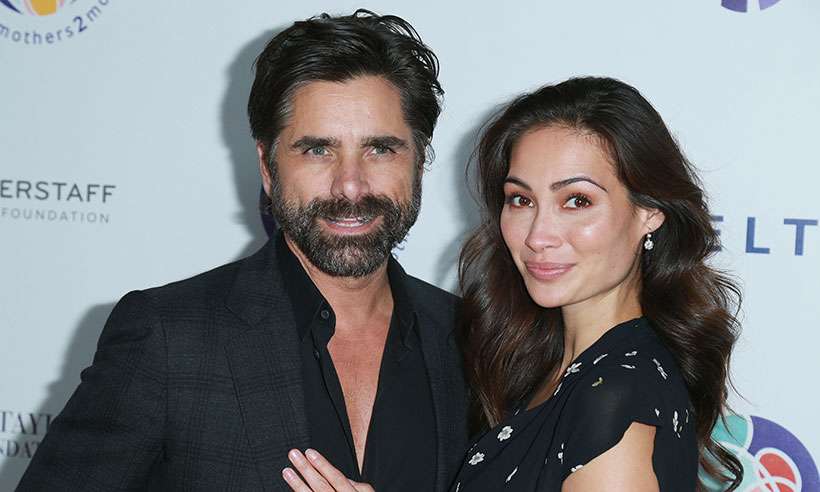 Luckily for John Stamos, he fell in love again, this time around with yet another model and actress Caitlin McHugh in 2016. The lovebird got engaged a year after in October 2017 and they signed the dotted lines of the marriage register in February 2018. The union produced a son whom they named Billy (born April 15, 2018) after John Stamos's father. He is the only child of John Stamos from both of his marriages and various relations.
The couple created a Jewelry line with the name 'St. Amos Jewelry' in May 2018 and the profits from the sales were given to the charity Childhelp foundation.