John Travolta is a legendary Award-winning actor and film producer who is best known for appearing in movies like Saturday Night Fever (1977), Pulp Fiction (1994), Face/Off (1997), Swordfish (2001), and Hairspray (2007). The Golden Globe Award winner is also a writer, singer, and dancer. Despite being raised a Roman Catholic, John joined the Church of Scientology in 1975.
Travolta experienced a recent tragedy when he lost his wife, actress Kelly Preston in 2020. Since then, there have been speculations that the actor might retire from the movie industry after he dropped hints on Instagram about taking some time off to stay with his children. However, fans still live in hope that the Saturday Night Fever star will still make more screen appearances in the future.
John Travolta Dropped A Hint About Putting His Acting Career On Hold In July 2020
From 2010 to the present time, the famed actor mostly starred in action movies and thrillers. However, he returned to television in 2016 to appear in the anthology series American Crime Story, there, Travolta played the role of a lawyer named Robert Shapiro.
The actor lost his wife Kelly Preston in July 2020 which led him to hint on Instagram that he would be shelving his career for now. Travolta's reason was that he needed some time to be there for his children following the death of their mother. He implored fans to forgive him in advance if they don't hear from them for a while.
If the tone of his post is anything to go by, the New Jersey native is far from retiring from movie roles. He is only taking a deserved break to console his bereaved children, but we expect to see him back on set very soon, doing what he knows best.
He Landed His First Significant Role In The Horror Film Carrie And His Star-making Role In Welcome Back, Kotter
When he went to New York City, John got a role in the touring company of the musical Grease. He also featured on Broadway in Over Here!, singing the Sherman Brothers' song Dream Drummin. With LA being the center of the entertainment industry in the US, it became inevitable that the aspiring actor goes there for professional reasons.
On getting to California, John landed his debut screen role in September 1972, playing a victim in Emergency! (S2E2). However, his first significant role was accomplished on the set of the horror film entitled Carrie where he was cast as a bully – Billy Nolan who was goaded into playing a prank on the character depicted by Sissy Spacek.
While Carrie was still on, John Travolta secured his star-making role in Welcome Back, Kotter – an ABC TV sitcom that cast him as Vinnie Barbarino. The situational comedy which lasted for four years from 1975 to 1979 also had john's sister Ellen on set, making sporadic appearances as Arnold Horshack's mother.
John Was Catapulted to International Stardom In The 1970s
After he dropped his hit single Let Her In in July 1976, the multi-talented artist went on to play a starring role in The Boy in the Plastic Bubble. During the latter part of the 1970s, Travolta recorded two of his most notable screen roles playing Tony Manero in Saturday Night Fever that came to light in 1977 and appearing as Danny Zuko in Grease which was released in 1978.
The two movies were later rated among the most commercially successful projects of the decade, catapulting Travolta to international stardom. For his effort in Saturday Night Fever, the actor was rewarded with an Academy Award nomination for Best Actor. At age 24, the nomination made him one of the youngest entertainers that ever became nominees for the Best Actor Oscar. Some of his family members had roles in the two movies; while his sister Ellen appeared as a waitress in Grease, John's mum and sister Ann had cameo roles in Saturday Night Fever.
For his role in Grease, John Travolta had to draw from his artistic talent as a musician to perform several of the songs in the soundtrack album. As the 1980s was ushered in, the versatile performer inspired a nationwide country music craze that followed on the heels of his hit movie entitled Urban Cowboy where he shared the screen with the likes of Debra Winger.
He Experienced A Downturn In His Career in the 1980s Which Led Him To Refuse Some Roles
Still basking in the euphoria of his success with Urban Cowboy, Travolta went on to star in a plethora of commercials. His acting career was later sidelined by quite a few critical failures, including the 1983 rom-com Two of a Kind which re-teamed him with Olivia Newton-John. Another of his critical failures during that period was in 1985 Perfect where he played the lead alongside Jamie Lee Curtis.
Also scorned by critics is his movie Staying Alive – the 1983 sequel to Saturday Night Fever for which he had to lose 20 pounds through rigorous training. The opinion of the critics notwithstanding, the production still became a financial success, grossing over $65 million.
We would not be far from the truth to say that John Travolta's zeal for acting was dulled by all the critical failures as the actor started refusing roles. Some of the roles he refused were in productions that went on to become box office hits, including An Officer and a Gentleman and American Gigolo. Both roles were played by Richard Gere.
His Resurgence Occurred in the Late 1980s and 1990s
As the 1980s were coming to end, John resurged, starring alongside Kirstie Alley on the set of Look Who's Talking (1989). The movie grossed $297 million, making it his most successful movie since Grease. It also sparked sequels like Look Who's Talking Too (1990) and Look Who's Talking Now (1993).
Travolta's career became completely revived after he depicted the character of Vincent Vega in Quentin Tarantino's hit Pulp Fiction in 1994. There, he shared the screen with Samuel L. Jackson and became an Academy Award nominee. Pulp Fiction was succeeded by notable roles which include playing a movie-buff loan shark in 1995 Get Shorty and appearing in White Man's Burden the same year.
Others are playing a corrupt U.S. Air Force pilot in 1996 Broken Arrow, appearing in Face/Off (1997) as an FBI agent and terrorist, showing up in A Civil Action (1998) as a desperate attorney, and in Primary Colors (1998) essaying the character of a Bill Clinton–Esque presidential candidate. John Travolta was also part of The General's Daughter (1999) as a military investigator.
He Added Movie Production To His Portfolio With The Advent Of The 2000s
In addition to starring in the science fiction film Battlefield Earth, Travolta also functioned as the co-producer. The movie which is based on L. Ron Hubbard's novel of the same name had him playing the role of the villainous kingpin of a group of aliens who enslaves humanity on a bleak future Earth. When Hubbard released the book in 1982, he wrote to Travolta to help make a film adaptation and since then, it has been the actor's dream project. For his effort in Battlefield Earth, the New Jersey native received a couple of Razzie Awards despite the fact that the movie was a box office flop and received almost universally negative reviews.
He remained busy throughout the 2000s with starring roles in movies like Swordfish in 2001, Ladder 49 (2004), Be Cool (2005), Lonely Hearts (2006), and Wild Hogs released in 2007. John Travolta did a voice role in Disney's computer-animated movie Bolt in 2008, voicing the title character. He was part of The Taking of Pelham 123 and Old Dogs both in 2009. John appeared in a second musical after Grease, playing Edna Turnblad in the remake of Hairspray.
John Travolta Was Married To Kelly Preston Until Her Death In 2020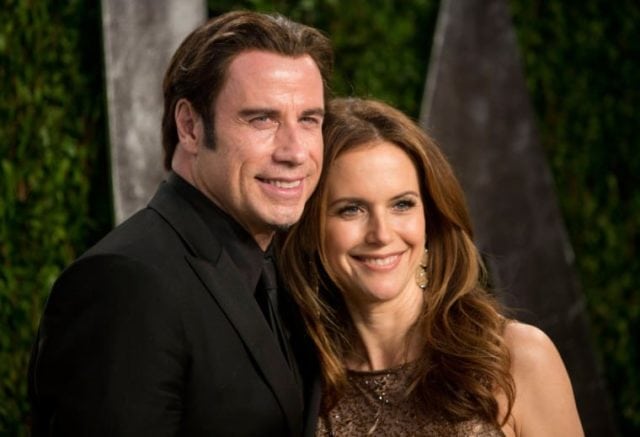 Despite all the gay rumors that have been making the rounds about John Travolta, the New Jersey native managed to stay married to his wife, actress Kelly Preston, who, like her husband, was also a bonafide member of the Church of Scientologist. The two first met in 1987 while filming The Experts that was released in 1989.
From what is visible, the duo dated for a couple of years before getting married in 1991. The celebrity couple had two ceremonies, one in France at the Hotel de Crillon on the 5th of September. Their second ceremony was more official and was held in Daytona Beach, Florida on September 12, 1991.
They Increased Their Small Circle With the Birth Of Their Three Children
Together, the couple has three children; Their first child, a son called Jett joined the family on the 13th of April 1992, Jett soon became a brother to their daughter Ella Bleu who announced her entrance on the 3rd of April 2000, and then another son Benjamin born on the 23rd of November 2010.
The Travolta family is no stranger to tragedy as their eldest child, Jett, died from what was said to be a seizure on the 2nd of January 2009. His death occurred while the family was on holiday in The Bahamas. It was later confirmed by the couple that Jett was also autistic. Reports surfaced claiming that he suffered from Kawasaki disease since the age of two.
The couple's two children Ella Bleu and Benjamin are already following a career path in the performing arts. Ella made her debut at the age of nine on the set of the 2009 film, Old Dogs. In July 2020, she shared the screen with her dad in the film The Poison Rose. On his own part, Benjamin made his debut in a 2015 episode of The Late Show and we expect to see more of him.
Both John Travolta And Kelly Tested Short-lived Relationships But Sustained Their Union Through Therapy
John was far from being Kelly's first husband as she first married actor Kevin Gage in 1985. Their marriage would last a couple of years before coming to an end in 1987. Kelly was equally an item with George Clooney in the latter part of the 1980s. She was engaged to Charlie Sheen in 1990 but they never made it to the altar.
On John Travolta's part, he dated actress Diana Hyland after they met on the set of The Boy in the Plastic Bubble in 1976. French actress Catherine Deneuve became part of his life in 1980 and he had an on-again/off-again dalliance with actress Marilu Henner but they separated for good in 1985.
On the reason why his union with Kelly Preston lasted for so long, John said that they were regular with marriage counseling and that therapy helped their marriage a lot. It seemed like Kelly was really ready to settle down when Travolta came into her life as their marriage was able to endure for all of 19 years without major issues. Their union was never shaken even when they lost their son, and with their busy schedules, the couple managed to parent their two children.
Let's Meet Kelly Preston
Just like her husband, Kelly Preston was an American actress but had a spell as a model before embracing the performing arts. Her heydays in the movie industry saw her appearing in over 60 movies and TV shows. Notable among her works are Jerry Maguire, Twins, and Mischief.
Though she was born in Hawaii, John Travolta's late wife spent part of her growing up years in Iraq and Australia. Upon her return to her home in Hawaii, Kelly launched her career with appearances in commercials and later developed a keen interest in acting, which she went on to pursue full-time.
Kelly Preston Battled With Cancer Prior To Her Death
Kelly Preston was diagnosed with breast cancer two years prior to her demise but the family decided to keep the details of her condition under wraps, consequently, it was not widely publicized. While battling with the disease, the actress received treatment at the MD Anderson Cancer Center in Houston, Texas, as well as other good medical facilities.
Her eventual death occurred on the 12th of July 2020 at their residence in Anthony, Florida, after which her husband took to Instagram to let fans and the general public know of his loss. The actress was 57 at the time of her death, Preston is survived by her son Benjamin, daughter Ella Bleu and husband Travolta. She was described by People as a bright, beautiful, and loving soul.
Preston's Death Really Affected Travolta As It Is Not The First Time He Is Losing A Love Interest To Cancer
We would not be far from the truth to say that lightning struck on the same spot for John Travolta as his wife's death was not the first time he is losing a loved one to the ravaging hands of cancer. The celebrated actor had a similar experience with his former girlfriend Diana Hyland.
Diana Hyland, who also earns a living in the movie industry as an actress met Travolta in the line of duty. Despite their huge age gap of 18 years with Hyland being the senior, they were able to sustain their love and remain an item until Hyland's death from breast cancer at the age of 41 on March 27, 1977. Hyland actually died in Travolta's arms and coincidentally, the mother of his children also went in a similar way. The famous actor was really devastated by the deaths of his love interests. From what is known, his relationship with Kelly was a lovey-dovey one.