Growing up, Jon Bon Jovi dedicated himself to music activities. From skipping classes in school, he ended up joining a local band with his favourite cousin and some of his friends. At the time, Jovi's cousin Tony Bongiovi owned a recording studio called The Power Station in New York City. So, it didn't take him much to learn some certain aspects of music.
By the time Jon was 16, he was already playing in clubs despite his poor academic grades. He would later hook up with keyboardist David Bryan Rashbaum (nickname David Bryan), who later became his bandmate at Atlantic City Expressway (a rhythm and blues band). According to records, he also performed with other bands such as The Wild Ones, The Lechers and Jon Bongiovi, and The Rest. He also had a brief stint with Scandal as the band's rhythm guitarist.
Jon eventually did his first professional recording – R2-D2 We Wish You A Merry Christmas, which was first recommended by his cousin. Today, the music star is the founder of the rock band, Bon Jovi, which he created in 1983.
Jon Bon Jovi Bio 
Jon Jovi is the son of Carol Sharkey and Jon Francis Bongiovi Sr. He was named Jon Francis Bongiovi Jr. by his parents after he was born in Perth Amboy, New Jersey, on March 2, 1962.
While growing, Bon used to visit his grandparents in Erie, Pennsylvania, during summer. It was there that he first got the knowledge on how to sell newspapers.
Born and raised in a Catholic family, he had his high school education at prestigious all-boys Roman Catholic preparatory school, St. Joseph High School, in Metuchen, New Jersey, from where he moved to Sayreville War Memorial High School in Parlin, New Jersey. The actor holds an honorary Doctorate in Humanities from Monmouth University, West Long Branch, New Jersey, which he received in 2001.
He has two brothers whose names are Anthony Bongiovi and Matthew Bongiovi.
Who Are His Wife and Parents?
Jon Bon Jovi's parents are Jon Francis Bongiovi Sr. and Carol Sharkey, as mentioned earlier. While Francis Sr. is a barber and former Marines, his wife was formerly a Playboy Bunny who later became a florist. Respectively, Jovi's mother and father are of German and Russian descent; Italian (from Sciacca, Sicily) and Slovak ancestry.
The actor is married to his high school sweetheart Dorothea Hurley. Born on September 29, 1962, in New Jersey, United States, Hurley is the daughter of Donald Hurley and Dorothy Pawlyk. She had her high school education at Sayreville War Memorial High School, where she supposedly met the actor.
The couple got married in 1989 at Graceland Wedding Chapel, Las Vegas Valley, Nevada, United States and their marriage is blessed with four amazing kids – sons Jacob Hurley (born May 7, 2002), Jesse James Louis (born February 19, 1995), Romeo Jon (born March 29, 2004) and a daughter – Stephanie Rose (born May 31, 1993).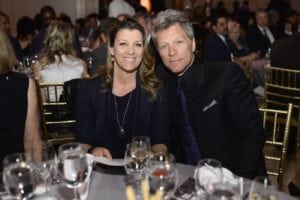 What Is Jon Bon Jovi's Net Worth?
Jon Bon Jovi is one of the wealthiest celebrities right now and he deserves every penny he receives as payment. The star's wealth basically came from his tours, sold concerts, and other business channels. In 2017, he reportedly bought a sprawling apartment in Greenwich Village, New York City, valued at $18.84 million. He previously lived in a penthouse in SoHo, Manhattan, and later sold it for $34 million. As of 2018, his net worth is put $410 Million.
Being a philanthropist, Bon has two charity organizations with his wife. The first is two Soul Kitchen restaurants, which takes care of people in need and then the Jon Bon Jovi Soul Foundation which provides affordable housing units for people.
Death Rumour
Jon Bon Jovi is still much alive and living the best moment of his life with his beautiful family. Like so many celebrities, he was once a victim of death hoax sometime in 2011 when a website reported that the singer passed away in a hospital after he suffered a cardiac arrest at a hotel in New Jersey.
In response, the philanthropist shared a picture of himself holding a message that reads "Heaven looks a lot like New Jersey". His band also took to its Twitter and Facebook accounts to quash the rumours, writing: "Rest assured that Jon is fine – this photo was just taken." This message eventually brought to an end his fans' concern and confusion.
Check Out: Is Michael Douglas Dead, Who Is The Wife
Facts to Know About the Musician
1. The singer attributes his ability to separate his career from his home life as one of the key factors that have kept his marriage going.
2. Jovi's father has a pastry shop called Bongiovi Pasta Sauces. It was modelled after his Italian family's favourite recipe.
3. Some of his movie credit include Moonlight and Valentino, No Looking Back, The Leading Man, Row Your Boat, Destination Anywhere, Vampires Los Muertos, Homegrown, Little City and others.
4. As one of the World's Best-Selling Music Artists, the A-lister has released 12 studio albums with his band and 2 solo albums.