Most actors portray roles and character traits that are far from what they are in reality. Jon Hamm is popular for being Don Draper, a casanova and unfaithful playboy in Mad Men, ironically, he is the opposite of this character in real life. Jon Hamm's girlfriend Jennifer Westfeldt, now ex, was in a long and live-in relationship with him for over eighteen years. Although there have been several speculations about the real reason behind their breakup, the duo seems to have soldiered on in their separate lives with amicable respect for each other.
While nothing much has been heard concerning Jennifer's dating history since their breakup in 2015, Jon, on the other hand, has been linked to different women, so much that it's difficult to glean the truth out of the constant rumors that trails his love life.
Jon Hamm's Dating History
Jon Hamm's childhood was dysfunctional. He has admitted in a series of interviews that it is impossible for any individual to grow up how he did and remain unscathed. With his parents' divorce when he was just two years old, he lived with his mother until he was ten. And after she dies of colon cancer, he moved in with his father, who also died when he was twenty years old.
All his childhood experiences left an indelible mark on Jon. While studying at John Burroughs School, he dated Sarah Clarke who has grown to become a successful actress. According to Jon's account of his formative years, he had to sleep on people's couches in their basements because he lacked funds. All the problems he was battling might not have afforded Jon Hamm the luxury of having a girlfriend.
After he relocated to Los Angeles permanently in 1995 to pursue his acting career, he met Jennifer Westfeldt at a mutual friend's birthday party in Los Angeles. They were both struggling and up and coming actors at that time. These two got to know each other better when Jennifer needed someone to run some of her audition lines with. They became friends first before they began dating a year later.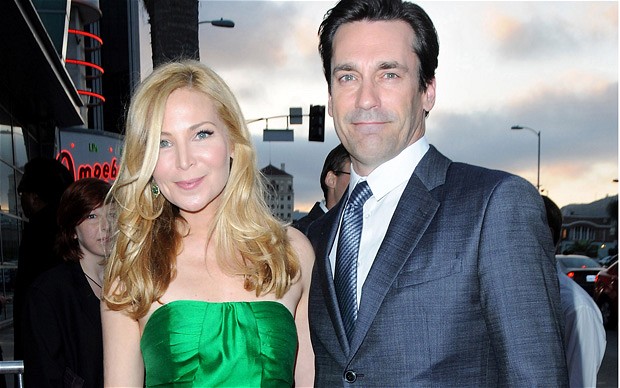 Jennifer was Jon Hamm's girlfriend when he was a struggling actor and this continued all through his successful acting career. During the course of their relationship, especially when posed with questions about marriage, Jon revealed that they might not have a piece of paper that calls them husband and wife, but Jennifer was more than a girlfriend as what they share is much deeper and they considered themselves life partners. Jon also revealed that he thinks people get married when they are ready to have kids. Although he isn't ruling kids out, nevertheless, it wasn't in their plans at that moment.
The year 2015 was a loaded one for Jon Hamm's dating history. The Mad Men series concluded it's seven-season run, he finally won an Emmy for 'Outstanding Lead Actor in a Drama Series' after his twelve Emmy nominations throughout the show. Jon also sought help for his alcoholism. He checked himself into an institution and got sober.
It is possible that all this changed the dynamic of things in his relationship with Jennifer, who is reportedly used to 'mothering' him. After several months of speculations, they finally released a joint statement to confirm their breakup.
There have been different speculations about what caused their breakup. While some believe Jon sobriety made him realize he wanted to have kids and Jennifer wasn't in the same space, others believe Jon no longer needed mothering after he got sober.
Read Also: Does Colin Jost Have a Wife or is He Dating Someone Now?
Who Is Jon Hamm's Girlfriend Since Breakup From Jennifer Westfeldt?
Jon has revealed that it is hard putting himself out there again, especially after being in a relationship for that long.
While nothing has been confirmed, he has been linked with several women since his breakup. Some of them include January Jones, Dakota Johnson, Anabella Wallis, Jenny Slate, and Kate Beckinsale. Although Jon and his representatives have declined to comment on the nature of his relationship with any of these women.
In recent times, it has been rumored that he is dating a producer for Saturday Night Live named Lindsay Shookus. They have been spotted hanging out on different occasions. Lindsay, who was linked with Ben Affleck in 2018, has a kid with her ex-husband. She also won the 'Outstanding Variety Sketch Series Award' in the 2019 Emmys where they were both in attendance. It's still early to predict how things will go with the duo. We can only wish Jon Hamm and his girlfriend the 'best of love'.