Jessie Moses is the longtime partner and fiance of Jon Jones, an American professional mixed martial artist with the Ultimate Fighting Championship (UFC) promotion company. Jessie Moses's partner is the current UFC Heavyweight Champion, and the two are parents to three children even though they are not legally married. She was born on September 12, 1987, and is 36 years old.
Being the spouse of an MMA fighter is no easy feat, especially when he has to move from place to place for his work several times a year – but Jessie Moses seems to handle it all so well. She has been extremely supportive of Jon's career, and the MMA champion repeatedly gushes over her and has even mentioned that she makes up a large percentage of his success.
Jessie Moses Profile Summary
Full Name: Jessie Moses
Gender: Female
Date of Birth: September 12, 1987
Jessie Moses's Age: 36 years old
Zodiac Sign: Virgo
Ethnicity: White
Nationality: American
Education: Broome Community College, Broke County
Religion: Christianity
Sexual Orientation: Straight
Marital Status: Engaged
Jessie Moses's Partner: Jon Jones
Children: Three Daughters (Olivia, Carmen, and Leah Haven)
Jessie Moses's Parents: Sheila Ryan (mother)
Jessie Moses's Height in Inches: 5 feet 9 inches
Jessie Moses's Height in Centimetres: 175 cm
Weight: 69 Kg (152 lbs)
Famous For: Being Jon Jones' Partner
Jessie Moses was Born in New York City in 1987
Jessie Moses was born in Endicott, New York City, on the 12th of September, 1987. Being a private person, there isn't a lot of information regarding her parents or even her siblings; if she has any. However, we do know that her mother is named Sheila Ryan, and the pair have a close relationship.
Ryan has always been extremely supportive of her daughter and her relationship with the MMA fighter. She even accommodated the couple at some point in their relationship.
It is reported that Jonj and Jessie once lived in Ryan's basement when the going got tough. Jessie's mother was not just supportive of her daughter but also to Jon Jones and his career. The MMA fighter once said in an interview that she taught him how to focus, how to be positive, and how to set goals.
Jessie Moses and Jon Jones Began Dating in High School
Jessie Moses attended Endicott High School, which is also the same school that Jon Jones attended. The two met each other in high school, and their love story began from there. When they met, she was a junior while he was in his senior year, but this did not in any way stop them from becoming a couple.
After high school, Jessie gained admission to Broome Community College, Broke County, where she obtained a degree in political science. While she was in college, she was still in a relationship with Jon Jones when she got pregnant with their first child. It's admirable how she managed to be a student and nurse her baby. She eventually graduated from Broome Community College in 2009.
They Got Engaged in 2013 But Have Not Gotten Married
After several years of dating each other, Jon popped the big question with a ring on Easter day in 2013, and the world was excited for them. He posted a picture of the family after the proposal on his Twitter page, saying that it felt so good and that he was ready to "man up."
In 2014, Jon Jones, when describing his relationship with Jessie, said that she is a phenomenal mother and they make a great team. Jones went on to say that they are a happy family, however, they have not been able to get around to sealing the deal legally.
This has not stopped the MMA fighter from often referring to Jessie as his wife, as he frequently does so on social media. There are reports that the pair might have opted for a private wedding ceremony, but there are no actual indications that prove this to be true. Regardless of the situation, the pair are very happy together. They had briefly ended things in 2022 but found their way back to each other.
Jessie Moses and Jon Jones Have Three Kids Together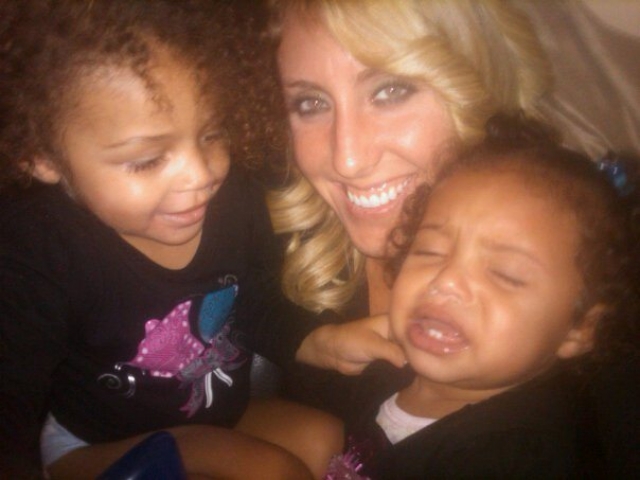 Jessie Moses became a first-time mother in 2008, a year before she graduated from college. She and her partner Jon Jones welcomed their first daughter Leah in July 2008, making her 15 years old. The following year, the couple welcomed another daughter, Carmen Nicole, born in 2009. She is 14 years old. Their third and final child together, another daughter named Olivia Haven, came about four years later in 2013, making her 10 years old.
Interestingly, Jessie's second daughter Carmen was named after Jon Jones' sister, who had suffered brain cancer and died at a young age. All five members of the Jones family live together as a happy family in Ithaca, New York, even though Jon Jones is mostly absent due to his job, which requires him to travel to different cities. He mostly shuffles between Albuquerque, New Mexico (where he receives his training) and New York (where his family resides).
What Does Jessie Moses Do For a Living?
Despite graduating from Broome Community College with a degree in political science, it appears Jessie Moses has decided to be a housewife and mum. In fact, on her Facebook page, she lists her job as "Full-Time Mommy."
Even Jon Jones has talked about the dynamics of their relationship, saying that while she is a phenomenal caretaker and mother, he is a good provider. The couple seems to have found a system that works for them!