He has only been in the industry as a professional actor for a little over a decade but Jon-Michael Ecker has quickly become one of the most recognizable acting talents from Latin America. The actor has roles in Netflix's Narcos and USA/Netflix's Queen of the South to thank for his rapid fame.
But for all the success of his rising career, Jon-Michael Ecker has kept the public at bay, giving us only a taste of his presence onscreen. But we went digging, and there is plenty to learn about the Texas-born actor, starting with the fact he is the son of a famous actor.
Jon-Michael Ecker Grew His Brand Under The Influence Of His Father
Jon-Michael Ecker is a Texan, born on March 16, 1983, in San Marcos. He was born to Guy Ecker, a Latin America acting legend known for his work on telenovelas. The same thing applies to his mother, Nia Peeples, who, aside from being an actress, is equally a singer and former member of The Young Americans.
Jon-Michael Ecker had a regular education, completing his high school and even went to UC Barbara, where he studied Marine Biology. However, having been exposed to his father's life since he was a child, acting eventually came calling.
Although he sought to make his own way, Ecker learned the art of acting at his father's feet, so much that he has proclaimed himself his biggest fan. Not only did he teach him how to act, but how to behave when the camera is off. Thus, ensuring when Jon-Michael eventually made his debut, he was ready for the path ahead of him.
That debut came in 2010 when he was 27 years old. He made his small screen debut with a role in the TV series Niña de mi corazón. The show broke his acting ice, and things went into higher gear the following year.
He Found Consistency and Experience on Television
It doesn't matter if your father is a Latin America acting legend. You still need the experience to build your career. Jon-Michael Ecker began collecting experience in his sophomore year as an actor, starring in the Colombian telenovela, Popland! as Ari Morales.
He starred in all seventy episodes of the show's only season. In the same year, he also made appearances in other TV shows like El Equipo, and The Power of Destiny. He had one TV role in 2012, in an episode of Fearless Heart. Ecker returned to playing a regular role in the Mexican version of the hit young adult show, Gossip Girl: Acapulco.
Jon-Michael Ecker made his first film appearance in Cantinflas, as Marlon Brando, in 2014. In the same year, he featured in a talent showcase organized by ABC and expanded his onscreen presence to the United States.
Jon-Michael Ecker Found Fame With Narcos And Queen Of The South
Ecker's first role in a US production was in an episode of Major Crimes in 2015. Things got interesting quickly afterwards, when he played The Lion, in the hit Netflix series, Narcos. He starred in only four episodes, but he left an impression big enough to secure another role in a major project, Queen of the South.
The latter is where Jon-Michael has played a more formidable role as an actor. As El Guero, he plays the charming drug dealer and the love interest of the protagonist, Teresa, played by Alice Braga. The show has received over 13 award nominations, including Ecker's only award recognition so far, for Best Supporting Actor by the Imagen Foundation Awards.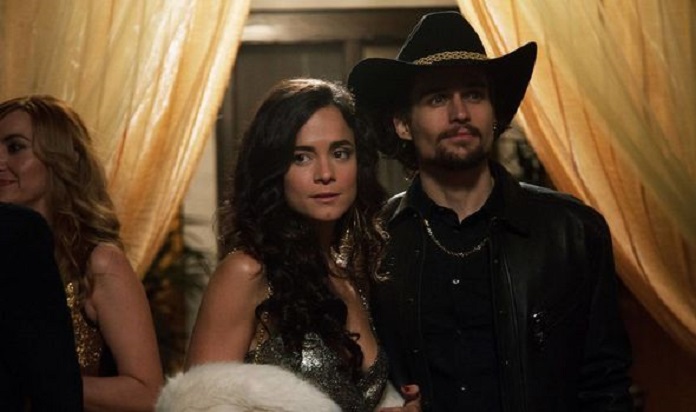 In between his rise to fame via Queen of the South, where he has appeared in 21 of the show's 50+ episodes, he starred on other US shows. Helped by his bilingual skills, He played Bobby Garcia in Sideswiped, Zeke Daniels in Criminal Minds, and Ramon Morel in NCIS: New Orleans.
With his name on the rise, Ecker has been cast in future projects like For Love and Firefly Lane. In the latter, he will play Max Brody, one of the show's prominent supporting characters.
He Lives A Simpler Life Off-screen
Perhaps there is a level of success in Jon-Michael Ecker's future where he lives a more public life and becomes a mainstay in gossip tabloids. However, for now, the actor maintains a significantly quiet life offscreen, so quiet that there are very few interviews of him with the media.
One of the few is an interview with E! News, where he shares a rare insight into his personality and life off-camera. He gained fame for playing charming men with highly dangerous lifestyles, but his real-life is way less exciting.
When he is not studying for a role or attending auditions, he enjoys spending his time outdoors, in a remote location. His favourite place is on water, which informed his decision to study marine biology and a five-year career as a research diver before starting his acting career.
Jon-Michael Ecker loves sailing and camping; thus, he lives most of his life beside or on water. When he is not in or around one, he travels around the country on his motorcycle. Ecker is also a cat person, with a kitten who is part of his modest life.
Jon-Michael Ecker Has Been Married Since 2014? Not Really
Given his low-key lifestyle, Ecker's love life was shrouded in mystery in the early career days. However, in recent years, there have been highly visible rumours that the actor is married to a longtime girlfriend, Barbara Mori.
The story started with a Mexican newspaper and has become the default truth. According to the story, the two got married in 2014, after two years of dating. However, it might not be so true.
The reported girlfriend, Barbara Mori, is an Uruguayan Mexican actress who began her career as a fashion model in 1992. Since then, she has appeared in notable projects like Cantiflas, Kites, Insignificant Things, and My Brother's Wife.
However, news from the more reputable People Magazine shows she got married in 2016, to Kenneth Ray Sigman, a baseball player. The marriage did not last, and it ended within a year, in 2017.
So far, there is no report of a similar short-lived marriage with Jon-Michael Ecker, and there is a likelihood their reported marriage never happened. Based on these available facts, Ecker's romantic life remains a mystery.