Jordan Peele is a multi-faceted Hollywood entertainer. The actor, comedian, writer, producer, and director was only 12 years old when he realized that there was no limitation to what a person of color like him could achieve. The realization of this fact came after he watched Whoopi Goldberg accept an Oscar Award for her comic role as Oda Mae Brown in the 1990 romantic fantasy thriller movie, Ghost. This left a long-lasting impression on him and today, he has received three Oscar nominations, winning one in addition to many other awards.
Jordan Haworth Peele was born on February 21, 1979. The celebrity entertainer featured in Mad TV for five seasons and also starred in the sketch series Key & Peele alongside Keegan-Michael Key. In 2014, he appeared in the first season of the black comedy–crime drama anthology TV series, Fargo. He was also among the creators of the comedy series, The Last O.G. and the comedy series Weird City which airs on YouTube.
Mad TV was His Break Out Role as an Actor
Jordan Peele has always been a creative fellow, his career has been traced to when he dropped out of Sarah Lawrence College for a comedy duo with his colleague Rebecca Drysdale. He became a professional in 2002 and had a stint with Chicago's The Second City and Amsterdam's Boom Chicago. His performances with these groups earned him enough clout that facilitated his joining of the cast of Mad TV which marked his breakthrough.
It was in 2013 and the ninth season of the sketch comedy television series that Peele joined the show. Keegan-Michael Key joined the cast of the show at the same time and it was the comedic compatibility they oozed in the show that birthed their existence as creative partners.
In years to come, from 2012 to 2015, Jordan and Keegan-Michael would create and star in the sketch comedy series Key & Peele. They played FBI agents in the first season of Fargo and after that; wrote, produced, and starred in 2016's Keanu.
Jordan Peele Became a Bonafide Filmmaker in 2017
In between 2003 when he recorded his breakthrough and 2017 when he pulled off his first film as a solo director are a plethora of projects that Peele was a part of. He played various roles in a good number of movies and much more in works made for the small screen. He received a lot of nominations for prestigious awards and bagged a good measure of the gongs.
So by 2016, Jordan Peele was already an accomplished actor with an increasing desire to explore more of his creative abilities. This was what nudged him towards becoming a filmmaker. Although he had gained some expertise in this regard, he wanted to exercise full control over his creativity so he ventured into a solo effort.
The fruit of that effort was shown to the world in February 2017, it was the hit horror movie, Get Out. It earned him his first Academy Award for Best Original Screenplay and two nominations for Best Picture and Best Director. The movie made its way into history books as Jordan Peele became the very first black writer cum director to earn over $100 million at the box office with a debut feature. The 2017 movie which was made with a modest budget of $4.5 million, made well over $177 million at the box office, placing it among the most profitable films of that year.
In 2019, the movie BlacKkKlansman which he co-produced, earned him another nomination for Academy Award's Best Picture.
Has Filmmaking Inspired Him to Quit Acting?
Get Up was a big bang for Jordan Peele. Apart from the records it made for its Academy Award nominations and win, he received a nomination for the Director Guild of America Award and BAFTA for Best Original Screenplay. That's not all, Jordan also won the Writers Guild of America Award for Best Original Screenplay, amongst other recognitions.
It is widely held that the massive successes of his efforts as a filmmaker was what inspired him to state he would retire as an actor. According to reports, Peele told CBS Sunday Morning that acting is not as fun as directing. Since he said that in 2018, he has acting roles in The Twilight Zone and in upcoming projects like Abruptio and Wendell and Wild.
Meet Jordan Peele's Wife, Chelsea Pretti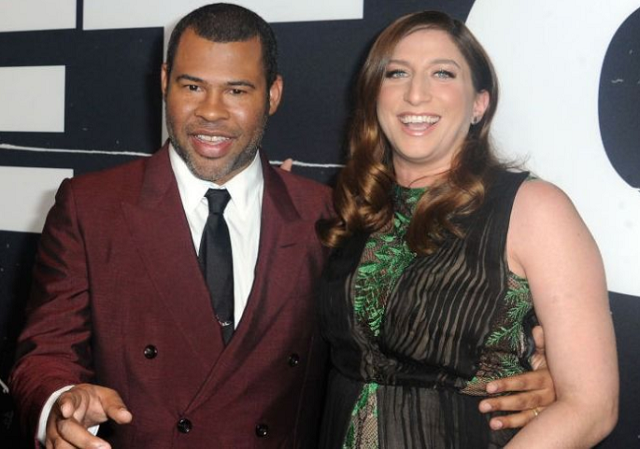 The popular comedian is married to his colleague, Chelsea Pretti. She is an actress, comedienne, writer, and star of the Fox police television sitcom, Brooklyn Nine-Nine.
Chelsea was born in Contra Costa County, California, on February 20, 1978, to a Jewish mother and an English-Italian father. She, alongside her three siblings (two boys and a girl), grew up in Oakland, California, where she attended The College Preparatory School before moving on to Barnard College, New York City in 1996.
Jordan started dating Chelsea in 2013 after he watched a web series she made and eventually connected with her on Twitter. Before this time, he had already fallen in love with her when she and her Parks and Recreation co-writers appeared as guests on a podcast episode of Comedy Bang! Bang!. Even without ever meeting her, Jordan told his friends then that there was a 10% chance he was going to marry her.
They Got Married in April 2016
True to his words, he got engaged to Chelsea in November 2015, and in April of the following year, they eloped and got married. According to Chelsea who made the announcement on her Instagram, the only witness to their wedding was their dog. Later in an interview with Conan O'Brien, she revealed that they eloped to Big Sur in California and were married by a woman named Soaring.
Although the couple's wedding was nothing compared to what is typical of Hollywood weddings, Peele's co-writer and director, Peter Atencio, applauded them for keeping it straight and simple.
The couple's first child, a son named Beaumont Gino Peele, arrived on the first day of July 2017.
What We Know About Jordan Peele's Family
Jordan Peele is the son of Hayward Peele and Lucinda Williams. His father was an African American while his mother is a white woman.
The actor's father left him and his mother when he was just six years old, abandoning the sole responsibility of raising him to his mother. Although he did not have a very close relationship with the man who eventually died in 1999, Jordan always remembers the little time they spent together with pleasure.