Jordy Nelson, who is popularly known as White Lightning, is a former American football wide receiver selected in the 2008 NFL Draft where he joined the Green Bay Packers. He is best described by sports analysts and commentators as one of the best elite and he has won the Super Bowl and other notable awards in the NFL during his time in the league. Some of his notable awards are; The First Team All-Big 12 in 2007, Pro Bowl Mention in 2014, The NFL Receiving Touchdown Leaders in 2016, and Best Comeback Athlete ESPY in 2017, to mention a few.
It hereby came as a surprise to many when it was announced that the American football player was hanging his helmet. However, Jordy Nelson seems to be doing so on a good note and seems very excited about his life after the NFL.
Jordy Nelson's Early Retirement Happened Because Of His Family
After playing for the Green Bay Packers for 10 years, Nelson joined the Oakland Raiders on a two-year contract in March 2018. However, his contract did not pull through as it was terminated on March 14th, 2019. What this meant was that the Nelson would have to move once again to the location of any team that would sign him. The Nelson family had to bare all the facts on the table as they decided on what step to next step – Nelson had even wanted to play one more if his contract had not been terminated.  Finally, he had to make the decision to end his career as he did not want his family to move again after moving into a new neighbourhood barely 2 years earlier.
Well, many were not too excited that the notable wide receiver was going to retire when he was still in his prime with more prospects in the coming years. On a brighter note though, Nelson does not regret his decision as he believes it to be a blessing to leave the league as a healthy person. He also knew his time in the NFL was coming to an end as he had already made up his mind to play for only one more season with the Oaklands but as fate may have it, his retirement came a year earlier.
He Signed A One-day Contract To Retire As A Packer
A couple of months after revealing that he was going to retire, Jordy went on to sign a one-day contract with the Green Bay Packers on August 4th, 2019. According to the player, it was his desire to retire as a Packer. Jordy has a lot of good reasons for his action as he started playing for the Green Bay Packers after being drafted in the 2008 NFL Draft. He was selected third wide receiver alongside Donnie Avery as first and Devin Thomas as second in the draft. It is known that Jordy was not just an ordinary player on the team at the time but he recorded remarkable strides right from his rookie season which he finished with a 33 pass reception for 366 yards rushes.
During the 2011 season, he recorded several career highs which include, 15 touchdowns, 68 receptions, 1263 receiving yards, as well as a career-high of 18.57 yards per reception. These statistics earned him 3rd place for most receiving touchdowns in a season in the history of the Packers' team. A couple of years later, in 2014, he got named among the NFL Top 100 Players by other players.
Although Nelson missed the entire 2015 season due to a torn anterior cruciate ligament, he returned in the next season very vibrant. He was able to pull off 97 receptions for 1,257-yard rushes and 14 touchdowns which saw him cart away the NFL Comeback Player of the Year in 2016 and was ranked 48th NFL Top 100 players.
By the time he was released by the Packers on March 13, 2018, he had made history as the second person to finish with career-highs which include 550 receptions and 69 touchdowns, and as the third player to record 100+ yards in 25 games, and the fifth to cover a career-high of 7,848 yards. He also broke the receiving yard record set by Max McGee for receiving yards in a single Super Bowl when he recorded 140 receiving yards.
The Former NFL Star Is Turning To His Farming Roots To Explore More Opportunites
According to Jordy Nelson, he revealed in an interview with ESPN that he sees himself 'more as a farmer than a football player'. Well, this does not come as a surprise as the talented player was raised by parents who were in the farming business back in Kansas. His birth facts reveal that he was born Jordy Ray Nelson on 31st May 1985 in Manhattan, Kansas, to parents, Alan and Kim Nelson.
They were Swedish people who immigrated to the United States and it is known that Jordy's great grandfather had started the family's farming business when he acquired farmland in Riley which has remained a family property down to his generation. As a boy, Jordy spent a good part of his years alongside his siblings, Kelsey and Mike Nelson on the farmland.
Even as an NFL player, he has made it known that he usually spends his off-seasons at the family farmland. In a day, it is possible for him to spend close to 12 hours working on the farm. More so, now that he has retired, he has mentioned that one of the things he enjoys doing is spending time on the farm and he would be teaming up with his brother, Mike to take care of their farmland, as well as care for the animals.
Jordy Nelson Has A Beautiful Family Life With His Wife, Emily Nelson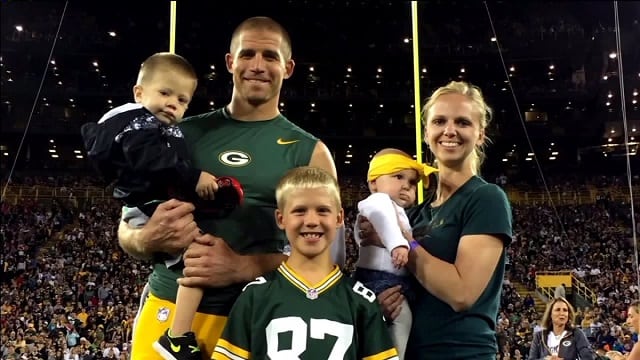 Nelson is married to Emily Nelson who worked as a teacher but she is now a full-time stay-at-home mom. The pair grew up in the same town and attended the same schools right from kindergarten. They started dating in 6th grade but broke up in 7th grade and according to Jordy, it was Emily who dumped him back then. However, they reconnected, and all through college, they were inseparable.
They got engaged in Cancun, Mexico, sometime in 2007, and went on to exchange marital vows that same year. They welcomed their first child, Royal Nelson shortly after their marriage but following his birth, they could not have other kids for reasons unknown to them. The couple went on with the adoption plan and now have 2 more kids, a son, Brooks Nelson, and a daughter, Adda Jo Nelson.
With his retirement, Jordy has been spending quality time with his family in Riley, Kansas City. He intends to raise his little ones in his birthplace which also happens to be where Emily also grew up.