The name Jordyn Woods made headlines on so many news outlets as an American plus-size model who became famous as a result of her popularity on the 6-second video making app; Vine. She also garnered more popularity when she featured in a few episodes of the Kardashians' reality television series; Keeping up with the Kardashians, Life of Kylie and others. She is best known as Kylie Jenner's best friend.
As a result of her talks about self-confidence and acceptance on her social media handle along with the uploads of her stunning pictures, she has amassed a good number of fans on her social media handle. In that regard, she has been rated as one of the prestigious Instagram celebrities with over 5.3 million followers.
Read on as we uncover other interesting facts about the talented model's life, career, earnings, and personal relationships.
Biography
The reality television star was born in Los Angeles, California, on the 23rd of September 1997 into the family of John and Elizabeth Woods. She has two siblings namely; John and Jodie woods. John her older brother is a tattoo artist while Jodie is her younger sister. She completed her basic education in one of the schools around her vicinity.
She started with her modeling career at a very young age, when she was just six. She was ushered into the glamorous life of being a model when she landed a deal to work for the Ford Modeling Agency. A few years later when she was 13 her family relocated to Calabas where she came in contact with former bestie Kylie Jenner at a mutual friend's house party.
A few years down the line, she launched her social media accounts which she floods with jaw-dropping pictures and videos of herself doing what she does best; looking pretty and relaxed in her plus-size body. As a result of this, she has over 5.3 million fans following her on Instagram and also more than 250,000 Twitter followers.
As soon as her social media superstardom was established, she landed a contract with a prestigious modeling and talent agency; Wilhelmina International. There, she worked for the agency's division for plus size models named Wilhelmina International Curve.
Beyond her work as a model, her self acceptance and confidence as a plus-size lady has been an inspiration to many plus-size women across the globe and has fetched her an Ambassadorship for a famous plus-size brand; Lovesick. Jordyn Woods has also starred in a good number of the Kardashians' reality television series as she was a close friend of the family before things went sour when it emerged that she had an affair with Khloe's then love interest Tristan Thompson.
Jordyn Woods' Parents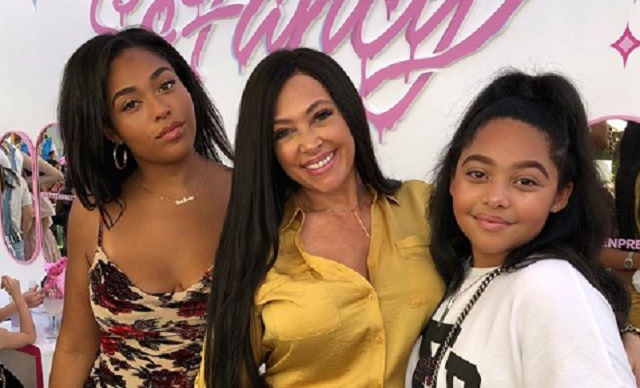 As mentioned earlier, Jordyn's parents are John and Elizabeth Woods. Sadly in January 2017, Jordyn's father passed away after suffering from cancer for a long time. At the time, it was very depressing for her family as they had spent a fortune in the course of his treatments. Surprisingly, people responded to their plea for support and made heartfelt donations. During that time, Kylie demonstrated the true value of their friendship as she gave the family a support fund of $10,000.
When her father was alive, he worked as a television sound engineer, while her mother was a professional photographer and also a brand manager.
Cheating Scandal With Tristan Thompson
Jordyn is so endeared to Kylie Jenner that she was introduced to the entire Kardashian/Jenner clan and was taken in as one of them. However, the relationship went sour when the famous model's illicit relationship with Khloe Kardashian's then-boyfriend and baby daddy; Tristan Thompson came to light.
It was revealed that Jordyn Woods was sighted with Tristan in a romantic atmosphere during a party which held on 17 February 2019. Thereafter, Khloe confirmed the rumor by confronting Woods who denied the allegations at first but later owned up to the truth. As a result of this, the whole Kardashian/Jenner clan put a stop to their friendship with the American model. Every one of them except her best friend Kylie has unfollowed her on their social media handles. Although everyone is expecting Kylie to follow suit, she did not.
See Also: Who is Emma Glover? Here Are 5 Things To Know About The Model
Net Worth
The Lovesick Ambassador has assembled huge earnings for herself as she has transitioned into a reality television star, aside from being a prominent model and an ambassador. She has also established her own clothing line. With all this, Jordyn Woods' financial value is estimated to be about $100,000 as of 2018.