Joseph Kony should have been long dead according to many. The ICC number one wanted man has been out of sight for a long time now. He is wanted for atrocities of murder, recruiting children into the military, rape and countless cases of eviction of persons. But is the Lords Resistant Army (LRA) commander really dead? It's a question that many ask but only a few are ever willing to commit to.
Below we take a look at 10 proofs that points to the possibility of the Ugandan war lord still breathing somewhere under the shelters of a well guarded home.
1. There has been no information coming out saying he is dead. The biggest confirmation that Joseph Kony is actually alive and kicking is the fact that he has not been pronounced dead anywhere. Until there is credible news from a reputable news agency confirming the same, Kony cannot be said to be dead.
2. The LRA has continued to operate in Uganda. Could they do so without the commands of their lord? Anyone following the turn of events in Uganda can tell of a coordinated continuation of LRA activities in the East African republic. There have always been movements; LRA did this, LRA did that. If Joseph Kony have been long dead as claimed, there would have been a few murmurs within the LRA leadership, it's normal. A CNN report of June 5th 2013 actually claims "Joseph Kony" and his "military are poaching elephant ivory to get funds." He must be alive then.
3. According to the sentiment of the Ugandan government, they will catch Kony "dead or alive". This means they know that he is not yet dead. How would you talk about someone as being dead or alive when indeed you are sure that he is dead? They would have instead put it before the public that the man is no longer in existence.
4. Information about him is scanty. This can only be so because he is still in hiding and is yet to be found by anyone. If you look at the scenarios surrounding Saddam Hussein, Gaddaffi and Osama bin Laden, all of whom were also highly sought by the International Criminal Court at some point in time, when they died the whole world was told about it. You can read it everywhere; Osama is dead; with pictures videos and everything.
5. The search is still on – the Voice of America posted just a few days ago that "capturing Ugandan rebel leader Joseph Kony is "a US interest." If they are well aware that the runaway war monger was already dead, then it would only be inappropriate to make such touchy remarks.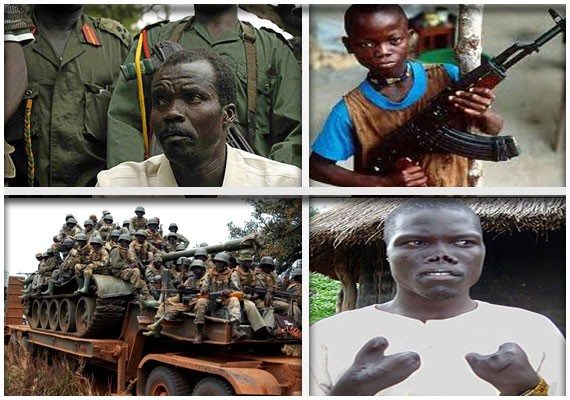 6. Invisible children: Civil organisations have come up with means and ways of trying to catch Kony; one of the most famous being Invisible Children which was viewed by over 100 million internet users worldwide. Could they be going on such campaigns knowing that the man was dead? Surely these are wise men.
7. Pictures, videos, blogs show he is alive. If all the videos we have watched and all the pictures we see on social media are all pointing to him being alive somewhere then we can't just start wishing he is dead. The man is alive somewhere we may not know but he is certainly not dead yet.
8. The Ugandan military suspended their search not because they thought he was dead but because there was external interference. Initially you would have thought of an abortion to the search coming out of a capture or murder of the rebel leader but when the Ugandan military came out on 3rd April 2013 blaming hostility from the Central African Republic rebels for the discontinuation, its easy to see that the man is actually very safe somewhere.
9. Some of his men claim he is still in charge. According to various reports, allies of the war lord believe that their leader is still very much alive. They believe that the spiritual leader, that is Joseph Kony, still cares about his empire and is keenly following on proceedings back home.
10. Finally, reports claim that Kony is actually enjoying his moments in a Sudanese controlled territory. According to the Huffington Post dated November 10th 2013, Mr. Kony is living very comfortably at Kafia Kingi in South Sudan!
It seems most people wish Joseph Kony dead. Even the military guys out there hope he is dead by now because they are growing tired of the search. But you can only talk of somebody being dead when there is evidence of the same. For now, instead of arguing about whether Joseph Kony is dead or alive, why don't we put structures in place to prevent a recurrence of such inhuman deeds as the ones perpetrated by Kony?