More than being an American actor, Josh Radnor has ingrained himself as a part of the entertainment industry in various capacities. He is also an author and a musician but has thrived more as a filmmaker in recent years. It was in 2010 that he made his writing and directorial debut; he wrote and directed Happythankyoumoreplease, a dramedy that was nominated for the Grand Jury Prize and earned the actor the Audience Award of Sundance Film Festival. As remarkable as that may seem, it is not the project that the actor is most known for.
As Radnor has been active since his career took off in 2000, it is not difficult to see why people pry into his personal life as much as they keep up with his career. An aspect of his private life that has always captivated the interest of his plenty fans is his love life. Josh had been open about it until his romance with Minka Kelly collapsed in 2017.
How He Prepped for a Hollywood Career
The actor was born on the 29th of July 1974 in Columbus, Ohio to a mother who was a school counselor (Carol Radnor) and a lawyer dad named Alan Radnor. He is the first son in the family of five which includes his sisters Melanie Radnor and Joanna Radnor Vilensky.
Joshua Thomas Radnor was raised in a traditional Jewish family and attended Columbus Torah Academy, thereafter he schooled at Bexley High School from where he graduated and enrolled in Kenyon College, bagging a Bachelor's degree in Arts.
Radnor's passion for acting became obvious while he was at Kenyon, he was even honored with the Paul Newman Award in 1995 by his school's drama department. Josh would later bag a Masters in Fine Arts from New York University's graduate acting program at the Tisch School of the Arts; this was in 1999.
Josh Radnor Made His Pro Acting Debut in 2000
To the best of our knowledge, his first screen debut was in 2000 when he played Doug in an episode of Welcome to New York. The next year, he played Mike Platt in an unaired pilot of the WB network sitcom titled Off Center. Also, he portrayed a Tour Guard in the parody film, Not Another Teen Movie.
In 2002, Josh Radnor was seen as Robert Kitson in Law & Order and Dylan Hirsch in The Court. The few years that followed were quite busy for him as he was seen in ER, Six Feet Under, Miss Match, and Judging Amy.
How I Met Your Mother Remains His Most Popular Project
In 2004, Radnor was featured along with Neil Patrick Harris in the play The Paris Letter before starring in what is presently his most popular screen project, How I Met Your Mother.
Josh played a major role as Ted Mosby in 208 episodes of the popular sitom that aired from 2005 to 2014. For a show that gained over 13 million viewers for an episode, and had Josh play its central character, it is not difficult to see why the series created by Craig Thomas and Carter Bays remains the actor's most notable work.
In the years that followed, he has had lead roles in several projects but none of them has been able to match the success of How I Met Your Mother. They include playing Dr. Jedediah Foster in Mercy Street, Lou Mazzuchelli in Rise, and most recently, Lonny Flash in Hunters.
His Exploits as a Director and Musician
His very first effort as a director came in 2010 when he directed and starred in the comedy-drama Happythankyoumoreplease. He followed that up with his second titled Liberal Arts which had him star alongside Elizabeth Olsen.
The multi-talented actor and film director ventured into music in October 2016 when he partnered with the Australian actor-musician and former Noise Addict band member, Ben Lee. Their debut album titled Radnor & Lee was released on the 10th of November 2017. They are working on their second album at the moment.
Exploring Josh Radnor's Dating History
Radnor isn't off the market yet as to the best of our knowledge, he is single. The actor has never been married but has been romantically linked in the past to a few actresses; the include:
Lindsay Price (2008 – 2009)
A singer and television actress, Lindsay is popular for playing Victory Ford in Lipstick Jungle and Janet Sosna in Beverly Hills. Josh started dating the actress in 2008 after she played Cathy in an episode of How I Met Your Mother.
They started dating in August 2008 after meeting in 2007 but the relationship wasn't meant to last as it emerged they have parted ways in November 2009.
Julia Jones (2011 – 2013)
After his breakup with Price, Josh Radnor found love in the arms of Julie Jones. An American actress admired for her roles in The Twilight Saga films and the HBO series Westworld, Julie, and the actor reportedly started dating in late 2011.
Like what he had with Lindsay Price, it wasn't meant to last; they parted ways around February 2013 for reasons that remain unknown.
Marisa Tomei (2013 – 2014)
Marisa Tomei is probably the most popular and accomplished actress that the actor has dated. While details of what they had are hard to come by, we can tell that people started suspecting they were lovers when they attended the Bloomberg Vanity Fair White House Correspondents' Association dinner afterparty in Washington, D.C., this was in April 2013.
They were spotted together on several occasions after that but whatever they had fizzled out before people could properly define it.
Minka Kelly (2016 – 2017)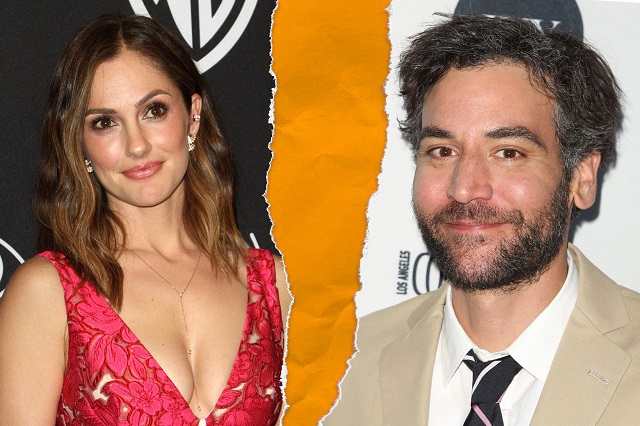 The actor then started going out with actress Minka Kelly famous for Friday Night lights and Charlie's Angels in December 2016 but they parted ways in February 2017.
Like the relationships he's had before Minka came along, no one knows why they fell apart. Since this relationship failed, the creative film director has been discrete with information about his love life. Because of this, many have come to assume he is single but it is very possible the actor only decided to keep his love away from the public.