The American gospel entertainment industry has seen the rise of many gifted musicians, including Josh Turner, who possess terrific vocal prowess. Armed with a charming baritone voice, Turner has endeared many people of different races and backgrounds to himself.
The country music singer earned his spot in the corridors of fame with the release of 'Long Black Train', which also served as the title track of his debut album in 2013. From then onwards, it has been hit upon hit from the talented South Carolina native who reportedly honed his skills in music as a young Christian boy.
Josh Turner's Upbringing Ignited His Passion For Gospel Music
The widely celebrated singer was born in Hannah, South Carolina, on November 20, 1977. He was christened Joshua Otis Turner by his parents, Joe and Karen Turner, who were devoted Christians, so it's safe to say that his dedication to the Christian faith started from a tender age.
The veteran country singer was also raised alongside his two siblings; a brother named Matt Turner, and a sister known as Carrie Turner. Josh spent most of his growing years in the church, owing to his Christian background, and at the age of 5, he picked up interest in music. The first song he ever sang was attributed to 'Arky Arky' in the choir and later went on to form a singing gospel quartet known as Thankful Hearts.
For his high school education, the singer was enrolled in the Hannah-Pamplico High School in Hannah, South Carolina, and upon graduation, he got admitted into Francis Marion University, Florence, South Carolina. However, Turner's spell at Francis Marion University was brief due to his desire to move to the popular music city of Nashville, Tennessee. He switched to the prestigious Belmont University, a private Christian university in Nashville.
During his time in college, Josh's bass prowess was evident to everybody who came across him. He was often recruited by Christian groups to sing the bass and baritone parts for their choirs. However, his journey to becoming the star that he is did not go without some hitches as in 1996, at age 23, the prolific singer sustained a lesion injury on his right vocal cord. Doctors at Vanderbilt voice clinic later advised him to lay off singing for a while to allow his vocal cords to heal naturally. Although his healing process lasted for about a year, Josh maximized the time to master the classical vocal technique and how to effectively manage his voice.
He Hit Fame With The Release Of Long Black Train
Shortly after graduating from Belmont, Turner opted to take his music career to the next level by featuring at the glamorous Grand Ole Opry concert. The acclaimed singer and guitarist performed 'Long Black Train' on the country music stage concert held on December 21, 2001. He revealed that he got inspired to write the song after listening to songs by the famous Hank Williams Sr. back in college.
With the success he recorded through the release of the song, Josh Turner decided to make an album with the name which he dropped in 2003. The album received a gold certification from RIAA and peaked at #13 on the Billboard country charts. About 3 years later, the country singer went on to release his second album, 'Your Man', on January 24, 2006. 'Your Man' was even more successful than his first album as it peaked at #2 on the U.S. Billboard 200 chart and at #1 on the Top Country Albums chart upon its release. The album was later given a Gold certification by the RIAA barely a month after its release and by mid-year of 2006, RIAA certified 'Your Man' Platinum.
More so, Turner's hit single 'Long Black Train' was adjudged the Song of the Year by the Inspirational Country Music Awards in 2004. The awarding body also presented him the award for Songwriter of the Year and Mainstream Country Artist for the year under review. The singer repeated the same feat in 2006 by snatching the award for Song of the Year, Songwriter of the Year and Mainstream Country Artist Awards. Within the same period, the Josh Turner received 2 Grammy Awards nominations, although he is yet to win any.
Josh Turner Is Worth A Fortune
Josh Turner is signed to MCA Nashville record label and the music label has released and distributed all of his singles and albums. Currently, his discography comprises of 17 singles and seven studio albums. Asides doing music, Turner has also proven his mettle as an actor. He starred as George Beverly Shea in Billy: The Early Years. The film is a biopic about foremost American evangelist Billy Graham. Josh's role in the film is as a soloist for the evangelist during his crusades. It is reported that he was paid handsomely for his appearance in the film.
As of 2020, the award-winning country music singer is believed to have an overall net worth of $17 million. A significant portion of his fortune is gotten from his career as a musician as the talented singer has reportedly sold over 12.5 million albums across the globe. The singer is also notable for having a soft spot for humanitarian and charitable ventures. Turner established The Josh Turner Scholarship Fund in a bid to help teenagers who have passion and talent for music.
Meet The Country Music Singer's Large Family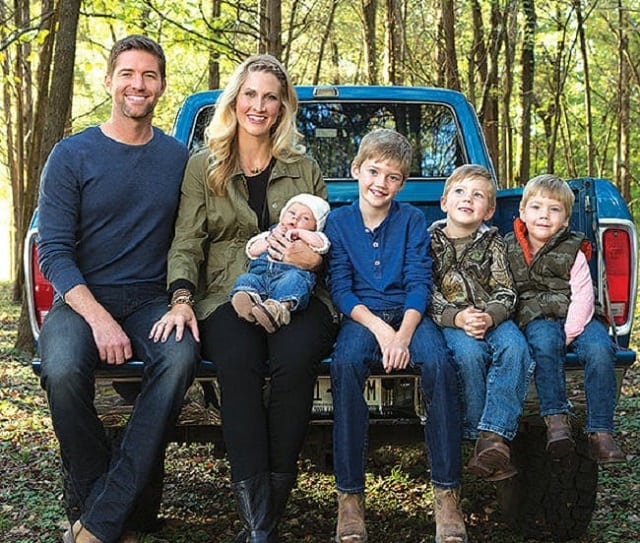 The widely acclaimed singer is happily married to Jennifer Ford. The lovebirds first met at Belmont University where they were both students at the time. They began dating shortly after they met and little did they know, it will lead to marriage. Turner proposed to Ford in November 2002 at Percy Priest Lake in Nashville, Tennessee. In 2003, after a couple of years of being a couple, the pair walked down the aisle together and exchanged marital vows in 2003. The union has produced four lovely boys – Hampton, Samuel, Crawford and Colby.
Jennifer has been overly supportive of Turner's career. Ever since they got married, she accompanies him on tours, singing background vocals and occasionally playing the keyboard. From all indications, they are a pair made in heaven.