The erosion of the sexist idea that women have no business in sports broadcasting created a host of women celebrities who attained fame outside of modeling and acting. One of them, Joy Taylor, a radio personality and TV host for Fox Sports 1, has been in the industry since 2009, becoming one of the most recognizable faces of journalism.
But like models and actresses, her personal life has also become a subject of interest, particularly her marriage to Richard Giannotti, a now-retired MLB player. Along with her connection to former NFL Defensive End, Jason Taylor, we took a look at Joy's personal life, starting with her marriage to the MLB player.
Joy Taylor and Richard Giannotti Had a Short Marriage
Joy Taylor had been involved in sports for the majority of her life, from her college years to adulthood. So, it came as no surprise that her first major public relationship involved someone within her industry. Richard Giannotti was a baseball player drafted by the LA Angels and spent the bulk of his career between 2004 and 2006 playing in the minor leagues.
At the end of his career, he transitioned to financial advising at Global Wealth Management Sports and Entertainment, his profession when he met Joy Taylor. There are currently no details on the exact month or year they met, but they reportedly met at a conference in 2014.
Their fateful meeting morphed into a relationship, and two years after, they got married in a beautiful ceremony on February 13, 2016. They held their wedding at Coral Gables, Florida. While they were together, the couple kept their affair off the spotlight.
Unfortunately, they dated for longer than they were married. About a year into Joy and Richard's marriage, the couple parted ways. Neither party has confirmed the cause of their divorce. However, Taylor's career move to Los Angeles after three years at 790 AM The Ticket in Miami is considered a probable cause.
The two of them had a relatively amicable divorce and have since moved on to other relationships.
She Was Once Engaged to Earl Watson
Joy Taylor's return to the dating scene saw her begin another relationship with a sportsman, former NBA point guard, Earl Watson. There isn't a lot of details about the early days of their relationship, but a closer look at the timeline suggests they met sometime in 2017 or 2018.
Earl played in the NBA for thirteen years between 2001 and 2014, for seven teams, including the Oklahoma City Thunder and Indiana Pacers. He was also a coach, post-retirement, for the Austin Spurs and Phoenix Suns.
By September 2018, the couple had gotten engaged. Joy announced their engagement on her Instagram page on September 16, 2018, receiving congratulatory messages from fans and colleagues. Their engagement was the second in their respective lives. Taylor was once engaged to Richard Giannotti while Watson was initially married to the actress, Jennifer Freeman.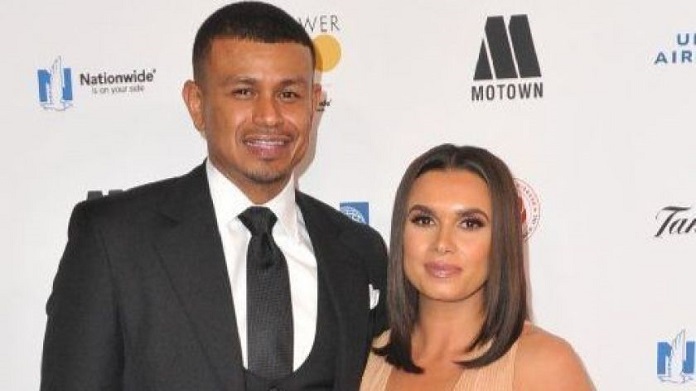 In what seemed like a readiness to start their lives together, Joy Taylor and Earl Watson bought a house in Encino, California, worth $2.75 million in January 2019. However, later in November of the same year, the couple called off their engagement. Like her marriage to Giannotti, the exact cause of the break up remains unknown.
Taylor Might Be Single Now
Short of disclosing significant news, Joy Taylor has often kept her relationships out of media attention. Thus, the absence of a public boyfriend might not mean the lack of one. But, since she parted ways with Earl Watson and deleted their pictures from her social media pages, there hasn't been a known boyfriend of the journalist. At the moment, she is presumed to be single.
The Sports Journalist Once Suffered Domestic Abuse from Her Partner
Simply put, Joy Taylor hasn't had the best track record when it comes to romantic relationships. But beyond the pain from a breakup, she has also suffered the pain of domestic abuse. The FS1 sports host once revealed that she was a victim of domestic violence in an episode of Undisputed.
In the episode, she revealed her attacker, choked and suffocated her, threw her down the stairs. He also kicked her in the chest and dragged her out of the car in multiple instances during the relationship. The sports journalist did not disclose the identity of her abuser, but her ex-fiancé, Earl Watson, has been ruled based on the timing of the alleged incident.
Joy revealed the story in September 2017 during a national conversation about domestic violence after TMZ released a video of Baltimore Ravens' Ray Rice punching his then-fiancé, Janay Palmer, in the face during an elevator ride. The incident resulted in an indefinite suspension from the NFL for the Ravens' running back.
See Also: Betsy Woodruff Parents, Married, Husband, Is She Related To Bob Woodruff?
Joy Taylor Has a Prominent Family Member
There is a paucity of information on Taylor's childhood. However, it is no secret that she is one of three children born to Georgia and Anthony Taylor. She shares a tight bond with her two siblings, Jason and Noah, and they were all raised in the suburbs of Pittsburgh.
It is no surprise how Joy Taylor pays attention to sports; she came from an athletic home. Had it not been for an ACL injury, perhaps she would have become an athlete in her own right too. However, where her body failed her, it helped her brother, Jason, to national stardom.
Jason, her older brother, is a footballer who played Defensive End and Outside linebacker in the National Football League between 1997 and 2011. He joined the league as a third-round 73rd  pick by the Miami Dolphins.
He played for the majority of his career with the team from 1997 to 2007, 2009 and 2011. While he was there, he earned a place in the Pro Bowl team six times and was a First-team All-Pro thrice in 2000, 2002, and 2006. Joy Taylor's brother was also the league's Defensive Player of the Year once and was the AFC Defensive Player of the Year twice.
Following additional stints at the Washington Redskins, and New York Jets, he retired from the NFL. Since retirement, Jason has been named in the NFL Pro Football Hall of Fame, and before that, named in the NFL 200s All-Decade Team.