To some people, Juanita Vanoy is a naturally stunning lady who modeled in her heydays while for others, she is a philanthropist with a passion for helping those in her community. Yet for so many out there, Vanoy will always be known as the former wife of Basketball legend, Michael Jordan.
A native of southside Chicago, Vanoy and Jordan tied the knot in 1989 and enjoyed a relatively stable union. There were however troubles along the way and the couple's marriage ended in a divorce 17 years down the line. Vanoy walked away with the highest celebrity divorce settlement at that time and has since kept a low profile. She has avoided toeing the path of tell-alls and reality TV shows but has instead, focused on her kids and charitable works
How The Couple Met and Got Married
Juanita Vanoy was born on the 13th day of June 1959 in Chicago, Illinois, of the United States of America. She spent her teens and early 20s working as a model. She later took up a job as the executive secretary of the American Bar Association before going on to work as a loan officer for the Heitman Financial Services. It was during her time at Heitman that she met her future husband.
Vanoy and Jordan were first introduced to each other by a mutual friend at Bennigan Restaurant, Chicago, in 1984. They exchanged pleasantries but nothing else happened until they ran into each other at a party a few weeks later. This time around, the two got to know each other better and subsequently started dating. They remained together for about three years and got engaged on December 31, 1987.
Following the engagement, many expected the couple to shortly walk down the aisle but this did not materialize. Jordan developed some sort of cold feet and the already-pregnant Vanoy put aside her hurt feelings and hired a lawyer to institute a paternity action against the NBA star in July 1988. Her lawyer got down to negotiations with Jordan's team and by November 1988, the couple's first child arrived.
Throughout this negotiation period, Vanoy continued dating Jordan. Their love for each other rekindled once more and they went on to tie the knot on the 2nd day of September 1989 in Las Vegas. The former model then instructed her lawyer to drop the paternity suit and focus on drafting a post-nuptial agreement for them to sign.
A Married Life Filled With Kids, Charity Works, and Public Spotlight
Following their nuptials, Vanoy and her superstar husband settled down to family life with their infant son, Jeffrey Michael. They also went on to welcome two more children: a son named Marcus James (b. December 24, 1990), and a daughter, Jasmine Mickael (b. December 7, 1992).
The couple provided a luxurious life for their kids, they resided in a 25,000 square feet mansion, but also made efforts to keep them grounded. Vanoy also protected her kids from the pressure of living up to their father's name and encouraged them to develop their own identities.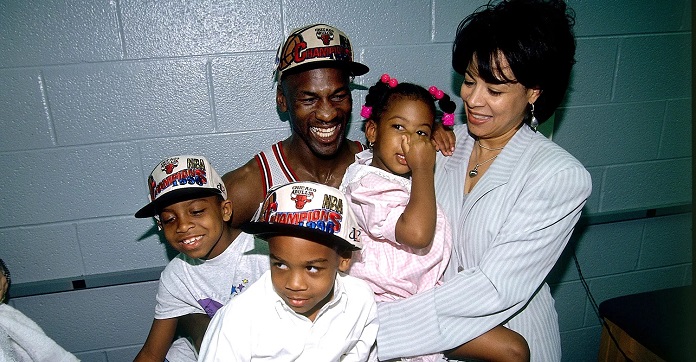 Away from the family front, Juanita Vanoy deployed her celebrity status for the greater good. She served as the honorary chairperson of various charities and cultural societies. She also became a social justice advocate, adding her voice to issues such as the allegations of racial profiling against their local Highland Park Police Department.
The indefatigable Vanoy also served as the head of the charitable foundation that she and her husband set up, The Michael and Juanita Jordan Endowment Fund. In this capacity, she and her husband did much good in the city of Chicago
First Divorce Petition and The Couple's Reconciliation
Given the picture painted above, it is easy to assume that Juanita Vanoy and Michael Jordan had a perfect marriage but this was not the case. First, there was the issue of his busy NBA schedule which meant that he was often away from home. Then, there was also the constant media attention as well as the groupies who were always milling around the basketball star.
Vanoy stomached all this but the proverbial straw that broke the camel's back was her husband's decision to resume his playing career with the Washington Wizards in 2001. Another factor that pained her was the revelation of the fact that the NBA star had cheated on her, from 1989 to 1991, with a musician named Karla Knafel.
This infidelity only came to light in late 2001 and Vanoy filed for divorce in January 2002. Shortly after her filing, her husband came out to say that it would not be in the interest of the family to save the marriage. Given such sentiments, many thought that the divorce was a done deal but the couple surprised everyone when they announced that they were reconciling and Vanoy withdrew her petition in February 2002.
Walking Away With The Highest Celebrity Divorce Settlement of Her Time
Following their reconciliation, Juanita Vanoy and her husband refocused their attention on doing right by their kids. She also took up her numerous charitable activities and the now retired-Jordan concentrated on taking his Jordan Brand to greater heights. All was well and good in the couple's kingdom and it, therefore, came as an abrupt shock when they once more announced that they were divorcing in December 2006.
What's more, the way the divorce played out indicated that the erstwhile couple had taken their time to reach that decision and made their peace with it. For instance, the whole divorce proceeding was largely amicable and there were no squabbles over who gets what. The process also took a very short time, unlike other celebrity divorces which can be quite drawn-out.
All in all, Juanita Vanoy walked away with a settlement worth $168 million, the highest celebrity divorce settlement of that time. Her ex-husband also paid for her legal fees while he got to retain the couple's suburban mansion. Vanoy's substantial divorce settlement made her a multi-millionaire overnight but this did not affect her enterprising spirit. She works as a real estate agent and has also been able to make sound investments over the years. She also lives a modest lifestyle and all these have helped her grow her fortune to $200 million.
Juanita Vanoy's Life Away from The Spotlight
Following her divorce from her superstar husband, Juanita Vanoy made a conscious decision to move away from the public glare and concentrate on her children. She stepped down from most of the boards that she served on. She also cut down on her public outings and focused on seeing her kids through school.
Her efforts have paid off as her children are all grown up and doing well in their respective fields. Jeffrey played some years of basketball but now works as the head of the digital innovation unit of the Jordan Brand. Marcus is a businessman who has founded a boutique store named Trophy Room while Jasmine works at Nike as a Jordan Brand executive.
Juanita cherishes spending time with her kids as can be seen on Jasmine's Instagram account. The Chicago native also continues to make an impact through her charitable activities. She hosted a fundraiser for her alma mater, Christian Fenger Academy High School, in 2013. She also helps out on the board of Reel Beauty, a Chicago non-profit that mentors teenage girls.
The former Mrs. Jordan makes her home in the Kingsbury Estates Section of River North and spends her time collecting art or doing yoga. She also loves to travel and European destinations such as London, Italy, and France are her favorite. Juanita remains ostensibly single. She was however romantically linked to the musician Key Reynolds in 2006, but that has never been confirmed.
Her ex has moved on and is married to the beautiful Cuban Model, Yvette Prieto. They tied the knot in 2013 and welcomed their twin daughters, Ysabel and Victoria, the very next year.