AY's marriage to his better half, Mabel Makun, has been one of the few marriages in the Nigerian entertainment arena that has lasted more than a decade and the years are still counting. Both the comedian and his interior designer wife have been successful in their individual careers and they have been able to extend that feat to their private and family life together. In 2016, there was a rumor that AY and his wife were heading for divorce but before long, Mabel was out to state she was still with her husband for life.
Blessed with a daughter, they have amassed a great fortune through the years and now enjoy all the bliss and luxury that life has to offer. A trip down memory lane would shed more light on how the couple started their journey together, the challenges they surfaced, and the things they have achieved so far.
AY And His Wife Met While They Were Sudents
Like many other love stories, the romance between the comedian and his wife began when they were students of the Delta State University (DELSU). When they first met, AY, whose real name is Ayodeji Richard Makun, was a famous name in the university while Mabel was a fresh student.
AY was the organizer of The Most Beautiful Girl in DELSU pageant and when his path first crossed with Mabel, his motive was to get her to enter for his pageantry. He succeeded in getting her to do just that. When he first asked her out, he revealed that she turned him down because she was trying to get on with her activities as a new student.
Mabel, on the other hand, had already heard of Ayo because he was the organizer of the university's pageantry, as well as DELSU Achievers Merit Awards. When she finally got to meet him, she realized there were so many other interesting things about him; he's hardworking, intelligent, and talented.
From working together, the two became friends and everything grew naturally and they became lovers. Mabel Makun stated that when she realized the irresistible characters of Ayo and also the fact that he lost his parents while he was still in school but continued to work hard to provide for himself and his siblings, she became attracted to him.
AY's Marriage To Mabel Was Sealed In 2008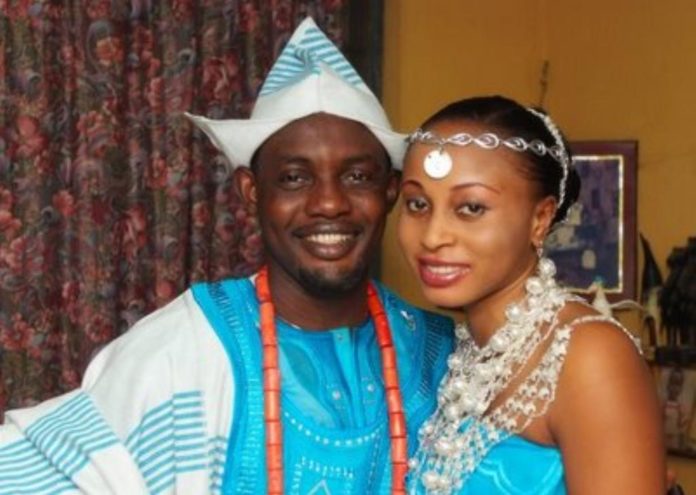 AY and his wife dated for some time before they finally got married on the 29th of November in 2008. The ceremony was held at the Household of God Church where the comedian was often described as a pastor. It was not surprising that the union was solemnized by Chris Okotie as AY was often called the son of the pastor.
It was also graced by many celebrities, including fellow popular comedian Bovi. Other big names in comedy such as Gbenga Adeyinka and Ali Baba were also there, as well as entertainers such as Richard Mofe-Damijo, Faze, and Stella Damasus.
According to him, he got attracted to his wife and decided to marry her because of her straight legs among many other things.
AY And Mabel Are Blessed With A Daughter
More than 10 years after they got married, Ayo Makun and his wife have been blessed with a daughter named Michelle Makun. Michelle was born even before the couple got married and has continued to be raised as the only child of the duo.
Michelle graduated from junior high school in July 2019. She attended Lekki British School. Both her father and mother took to their Instagram accounts to announce and share the good news with followers to celebrate their daughter, tagging her the latest graduate in town.
The ace-comedian has revealed that he has continued to enjoy the support of his wife and daughter. More than their unflinching support, he stated that they are his first and greatest critics. If they laugh at his jokes, he makes use of such material.
There Was A Rumor That The Comedian's Marriage Had Crashed
Something that has come to be almost an expected end for many celebrity marriages, there was a time when it was rumored that the marriage of AY and Mabel had seen its end. The reports claimed that Mabel had decided to walk out on the marriage and had packed out of the house in 2016.
The report which was first broken by Nigerian popular blogger, Stella Dimokokorkus, claimed that the comedian's wife decided to pack her things out because of some reasons too dirty to be published. It was around that period that Mabel deactivated her Instagram account and that gave some more fuel to the rumor.
Amidst the entire storm and buzz that the report generated, AY kept his silence before he later stated that his wife had actually packed out of the house, but that was because he fumigated the place when he was traveling for a show and so she decided to pack her things and spend some time somewhere else.
Although Mabel soon returned to make it clear that all was well in her marriage and Ayo was her man crush for life, Stella insisted that her report was nothing but the truth. AY and his wife have since then, not had any such rumor about a divorce or splitting up, but that was not the end to their problems as soon, another woman, Freda Francis got in the mix.
Did AY Really Father a Child With Freda Francis?
In 2017, AY and his wife got into the news for yet another scandal, after the comedian shared an Instagram photo with Lagos socialite and celebrity big girl named Freda Francis where he was congratulating her on her push party. His wife was not happy about this. She took to her Instagram to share the same picture while calling on Freda who was also a graduate of DELSU to stay out of her marriage.
Not done, Mabel shared some screenshot messages believed to be between her husband and Freda. The message suggested something out of the ordinary might be going on between the two. This got fans to start asking questions if the comedian was responsible for Freda's pregnancy at the time as she maintained a silence on the person behind the pregnancy. His name was the most mentioned, even though she also dated Inyanya in the past.
Before long, it was later revealed that AY was not the father of Freda's baby. It was alleged by many online platforms that the man who fathered the child was Seyi Tinubu. Interestingly, neither Freda nor Seyi has taken the time to dispel the rumor.
Ayo Makun Lives In A Large Home And Enjoys Luxury With His Wife
AY is one of the richest and most successful comedians in Nigeria. Apart from comedy, he has made a huge fortune from organizing comedy shows and other events and also earns from movie productions among other things. A former banker, his first film, "30 Days in Atlanta", became a success both on local and international stages.
One of his first houses known to the public is his Haven Home duplex built-in 2014. According to him, he built the house with millions of naira to celebrate his family. Although the features of the house are not known, one of his neighbors is 2Face Idibia. Before then, he had another property in Lekki which he said he had turned to corporate world entertainment office and production studio.
In 2019, he completed his breathtaking mansion in Lagos. The property which was valued at hundreds of millions of Naira has great interior and exterior. Some of the features of the property include a cinema, studio, walk-in closets for the ace-comedian and his wife, a game room, and much more.
Apart from that, the comedian also has other luxurious items, including cars such as a Mercedes-Benz G-Wagon valued at over N50 million, a Lexus LX570 valued at ₦65 million, and Jaguar XJ.