For South African singer, actress, and dancer, Kelly Khumalo, relationships have always been a complicated matter. The entertainer made headlines in the past when stories of her suffering torment in an abusive relationship with a fellow entertainer named Jub Jub swarmed the press. This is why when the actress finally left Jub Jub and kick-started a relationship with South African professional footballer, Senzo Meyiwa, all eyes were on her to see how that fresh romantic path will lead her.
Kelly Khumalo's relationship with Senzo Meyiwa was largely controversial especially because of the fact that the footballer was already married to another woman at the time he started his romance with the singer. While some pointed fingers at Khumalo for trying to wreck a home, others blamed Meyiwa for not respecting his family by remaining faithful to his wife. Eventually, things came to a tragic end when Meyiwa died a controversial death in 2014.
Kelly Khumalo's First Contact With Senzo Meyiwa Was Through A Phone Call
The story of how Kelly Khumalo and Senzo Meyiwa first got in contact is quite interesting. The actress spoke about this in a blog post she made in 2016. According to her, she had her first contact with Senzo Meyiwa after the man put a call through to her. She didn't mention Meyiwa's name in the blog post and also did not reveal when the events happened, but it was clear she was referring to the late footballer.
Khumalo explained that she was with her best friend, having a really good time watching the TV one day in March when Meyiwa's call came in on her friend's phone. Her friend spoke with Meyiwa for some time before handing the phone over to her. Khumalo revealed that Meyiwa told her he admired how beautiful she looked on TV and that he would like to meet her in person.
Khumalo claimed that, at first, she did not take him seriously and brushed him off politely. However, about a week later, she had physical contact with Meyiwa when she and her friend went on a mini-vacation on the coast and found out Meyiwa was there too. They got talking and she found him quite interesting. A month later, she decided to give in to his request to go on a date with him. Khumalo confessed that she had fun and finally fell in love with the man.
Meyiwa 'Hid His Marital Status' From Khumalo
Kelly Khumalo explained that when she started dating Senzo Meyiwa, the footballer didn't tell her he was married. In fact, he actually took her to his house a number of times and claimed that he had a baby mama and that he was not on speaking terms with her. Khumalo also told him that she already had a child from a previous relationship and he was cool with that.
Their romance progressed really fast as they fell head over heels for each other. They were so in love that Meyiwa moved into Khumalo's home which she described as a 'lover's paradise'. She explained that they vowed not to allow their past to get in the way of their love as they kept things going smoothly. She was ecstatic with her romance with the footballer.
Khumalo, in her blog post, revealed that she and Meyiwa did all the things that lovers do and it was not too long before she found out she was pregnant.
How Did Khumalo Find Out Meyiwa Was Married?
According to Kelly Khumalo, she found out Senzo Meyiwa was married to another woman on the same day she found out she was pregnant for him. This shattered her entire world but she realized that despite everything she was still in love with the man.
In another interview that she granted after the footballer's death, Khumalo went into details about how she found out Meyiwa was married. According to her, she realized Meyiwa was a married man when a strange woman began to stalk her. The strange woman even went as far as trying to push her off the road one day and it was clear to her what was going on.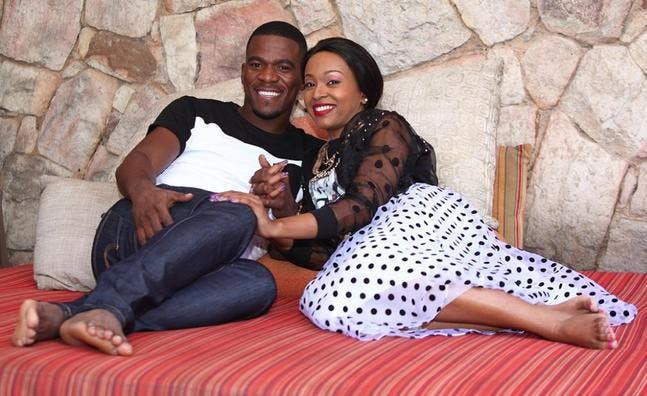 The Storm Their Relationship Stirred
As expected, the media soon caught up with the gist about Kelly Khumalo and Senzo Meyiwa, and hell was let loose especially because it was known that Meyiwa was a married man. While many people attacked Khumalo for allegedly trying to break up Meyiwa's marriage, others blamed Meyiwa for being an insensitive man who had total disregard for his wife and the institution of marriage.
Meyiwa's family was not left out of the mix. When the press reached out to Meyiwa's wife, Mandisa Mkhize, just days before the man died, she explained that she had given up and had accepted the fact that she had lost him to another woman. Mandisa Mkhize claimed she warned her man to leave Khumalo alone because she was going to be his end However, the footballer never listened to her.
She Was Present When Meyiwa Was Brutally Murdered
In the midst of all the storm that was raised by their relationship, another devastating incident occurred in 2014 that changed Kelly Khumalo's life forever and cut short Senzo Meyiwa's sojourn on earth. It was on the 26th of October 2014, both Khumalo and Meyiwa were together in Khumalo's house when armed men broke into the house and shot Meyiwa dead right in the presence of the singer. Also in the house at the time of the killing were Khumalo's sister, her son, and mother as well as three of Meyiwa's friends.
The news of Meyiwa's death spread like wildfire because of his status as one of the most recognized faces in the South African national football team. Fans were deeply aggrieved and the police quickly jumped into the case to investigate the gruesome killing.
As expected, Khumalo was devastated. The murder was something she had never experienced before and it left her deeply shaken. But, she would be even more shaken when people began to think she was involved in Meyiwa's murder.
Some People Think Khumalo Killed Meyiwa
After Senzo Meyiwa's brutal murder, fans of the footballer and some members of the public began to blame Kelly Khumalo for the man's tragic passing. Rumors flew all over the place that she had collaborated with the shooters to kill off the footballer and then clean up the murder to look like it was an attempted robbery. Furthermore, some of the rumors claimed that Khumalo arranged to have Meyiwa killed because the man had promised to marry her but then reneged on the promise. Others say it was because he hid his marriage to another woman from Khumalo. Of course, all these are unfounded.
For years after Meyiwa's murder, no arrests were made by the police even though the investigation was intense. Also, there has been no concrete proof whatsoever to link the singer to the footballer's death. However, this did not deter rumors about Khumalo's alleged involvement in the killing. Meyiwa's family claimed that powerful personalities are trying to mess with the investigation and Meyiwa's mother, Ntombifuthi Meyiwa once claimed that she was afraid of Khumalo, fueling rumors about the singer's alleged involvement in Meyiwa's death.
Things got so bad that, in 2019, when she stormed Durban to stage a performance, the crowd began to chant Senzo Meyiwa's name when they saw her. Khumalo got so angry that she walked off the stage.
Finally, in 2020, about six years after Senzo Meyiwa's death, six suspects were arrested in connection with the murder. Kelly Khumalo was not one of those arrested. So far, the investigation continues.
The Singer Maintains Her Innocence
Kelly Khumalo has since denied being involved in Senzo Meyiwa's gruesome killing and has continued building her career. According to her, she loved Meyiwa too much to even dream of something like that.
She also pointed out that even if she wanted to kill Meyiwa, she would not be foolish enough to kill the man in her own house and in front of her kids.
In 2017, Khumalo spoke about why people blame her so much for Meyiwa's death. She claimed that the country was looking for whom to blame when the footballer died and so she was made the scapegoat because she was with him when he died. She, however, said despite everything people are doing, she remains strong.