His career may not be turning the spotlight on him more often but Kevin-Prince Boateng is still making headlines, albeit via his marriage to Melissa Satta. The Ghanaian footballer has been married to the Italian celebrity since 2016, and they have become quite the A-list couple.
Known for reveling in their attractiveness, the couple has become regular staples on tabloids and gossip sites, most notably for their sex life and its impact on the footballer's career. Despite the attention, including the negative and positive ones, they have remained together, committed to making their marriage last.
Kevin-Prince Boateng and Melissa Satta Met in 2011
The former Tottenham player and Melissa met in 2011 at the Milan Fashion Week. They met in November after Satta had been involved in relationships with high profile figures like Kobe Bryant and Gianluca Vacchi earlier in the year. In the same year, she had also ended her four-year relationship with Italian footballer, Christian Vieri.
Satta is an Italian television presenter who is also a model. She worked as a showgirl on the Italian satirical series, Striscia la notizia. She also appeared in magazines like Sports Illustrated swimsuit and Maxim.
The relationship between Satta and Boateng has been a whirlwind. They have produced a child, gotten married, separated, and reunited all in nine years. There's also the controversial sex comment that threatened the Ghanaian footballer's career.
Melissa's Sex Comment in 2012 Put Kevin-Prince Boateng's Career in Jeopardy
Ask anyone familiar with football about its unspoken rules and sex is bound to be among the top five. That is why it became a massive controversy in 2012 when Melissa Satta unwittingly shared that she and Kevin-Prince Boateng have sex about ten times a week.
While the fact is inspiring for most couples, for a footballer, it was frowned upon. Many experts in the industry recommend that footballers limit the amount of sex they have during an active season to preserve their fitness. Thus, her comment became a lightning rod for trouble, especially as Boateng faced recurrent injury problems at the time.
Her innocent comment brought scrutiny that many presumed would break their relationship, particularly as the footballer's career was on the line. However, it did not. They got through that episode and she has admitted to learning her lesson.
The Couple Had a Child and Got Married in Two Years
In 2014, two years after their sex life became international news, it produced something other than the controversy – a son. They gave birth to their first child, Maddox Prince in April 2014.
Two years afterward, in June 2016, they got married in a private ceremony. They had their wedding on the 25th in Porto Cervo, Sardina, with the church ceremony held in the Stella Maris parish, where Satta and Maddox were baptized.
As expected, the wedding was attended by their family and friends, including Satta's brothers, Maximilian and Riccardo.
Other guests in attendance include the Ghanaian footballer, Sulley Muntari, Edoardo Stoppa, Renzo Russo, and Andrea Bocelli, who provided the evening's entertainment.
Kevin-Prince Boateng and Melissa Satta Separated Briefly in January 2019 and Reunited in July
Three years after they got married, the Sattengs separated, ending their affair unceremoniously after the 2018 holidays. Despite their tendency to court controversy and feature in gossip websites, the couple never announced their separation.
Their fans only got to know after they were pictured in January without their rings. Further investigation also revealed she had deleted the Boateng surname from her Instagram profile, confirming what fans suspected. Melissa Satta also relocated from Spain, where Kevin was playing for Barcelona at the time, to Milan, with their son.
In no time, rumors began to swirl that they were headed to court for divorce, but it was the final piece of their separation that never came. About six months after the first evidence of separation broke, at the start of summer, their relationship appeared back on track.
On Instagram, Kevin-Prince Boateng posted a photo of his ex-wife with their son, captioning it, 'My monkeys'. Melissa also shared an image, via her story, of the footballer and captioned it 'date night with this one.' With those images, the couple announced they were back and have remained together ever since.
His First Marriage was to his Childhood Sweetheart, Jennifer Michelle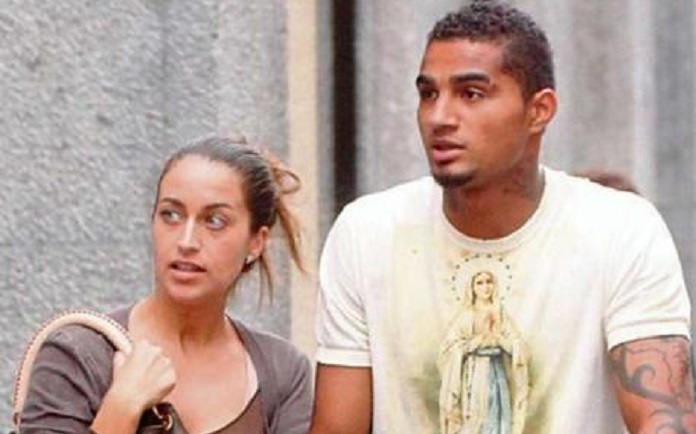 Although she was a regular fixture in his life and career during their time together, there is still a lot left unknown about Jennifer Boateng, Kevin-Prince's first wife. Jennifer Michelle, who was born in 1984, is reportedly a childhood sweetheart of the Ghanaian footballer. They began their relationship in 2003.
After less than a half-decade together, Kevin-Prince and Jennifer walked down the aisle, in an elaborate ceremony held in 2007. Two years after, they gave birth to their only child, Jermaine-Prince Boateng, in 2009. Sadly, after eight years of being together, the couple parted ways in 2011.
They Broke Up Over Endless Incidents of Infidelity by the Player
The life of a footballer is often glamourous and a player of Kevin-Prince status attracted a lot more attention than most. The result was a party-hard lifestyle that affected his personal life above everything else. In his autobiography, Boateng revealed that he and Jennifer Michelle got divorced after several incidents of cheating on his part.
According to him, he spent a lot of their married life partying, drinking a lot, and engaging in extramarital affairs with other women. As a result, he rarely spent time with his family. On one evening, after returning from his outings, the former Schalke 04 player got into an argument with his wife, and they ended things for good.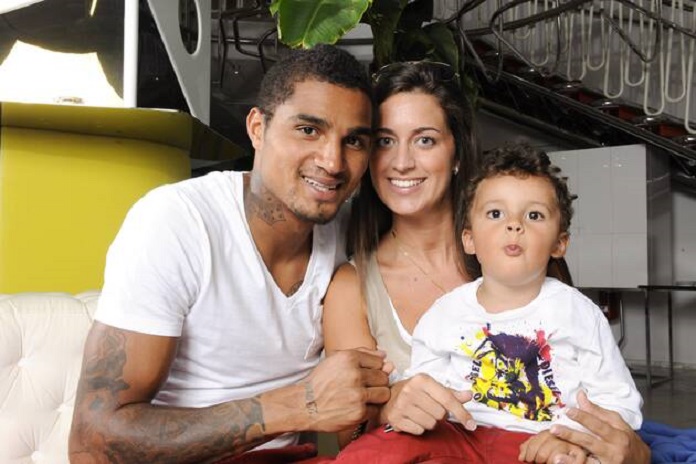 Kevin-Prince moved out of their house in Milan and Jennifer, who is German, later got custody of their son and relocated to Berlin to live with her mother. Despite being responsible for the end of the marriage, it had a devastating emotional effect on the footballer, and it led to some angry and rash decisions.
He quit the Ghana National Team a few weeks after his marriage ended, not long after he played for the team in the 2010 World Cup. Ultimately, Kevin-Prince Boateng did not stay single for long, and he began his long-running relationship with Melissa Satta after. Though his current marriage is not a bed of roses, the two have found ways to live with each other's flaws.