Julia Roberts is the actress who dominated the silver screens for the most part of the 90s and early 2000s. This also made her one of the highest paid actresses in the world at the time of her peak as a result of her big Box Office numbers which are reported to be well over $2 billion at present date. Some of her greatest works in Hollywood include; 'Steel Magnolias,' 'Pretty Woman' and 'Erin Brockovich.' Such movies, as well as her striking beauty and charm, made her a highly sought after and successful actress whose works have influenced the new generation of actresses present in the movie industry today. More about what makes Julia tick are contained below.
Julia Roberts' Bio 
Julia Fiona Roberts was born in Smyrna, Georgia on the 28th of October 1967 to parents  Walter Grady Roberts and Betty Lou Bredemus. After her parents separated in 1971 after 16 years of marriage, Julia lived with her mother in Smyrna, Georgia. Her mother later re-married, this time to Michael Motes, however, Roberts never liked him because he was abusive and jobless for most parts of the union with her mother. The marriage also ended with Betty Lou stating that marrying him was one of the biggest mistakes of her life.
While she was in high school, she played the clarinet for her school's band. Upon graduation from high school, Julia Roberts gained admission to Georgia State University but soon dropped out and moved to New York to pursue an acting career.
Acting Career
Her debut movie happened when she got a role in the 1988 film, Satisfaction, alongside Justine Bateman and Liam Neeson. In February 1987, she made her television debut when she was cast as a teenage rape victim in the first season of the series, "Crime Story," in the episode named "The Survivor". Her fame started to rise when she gave a stellar performance in the critically acclaimed movie, Mystic Pizza, which was released in 1988. She was featured in the fourth-season finale of Miami Vice the same year. Her first Golden Globe Award win (Motion Picture Best Supporting Actress) and  Academy Award nomination (as Best Supporting Actress) came in 1989 after she starred in another critically acclaimed movie, Steel Magnolias, where she played the role of a newlywed bride battling with diabetes.
Other Laudable movies of hers include; Pretty Woman in 1990, Sleeping with the Enemy (1991), The Pelican Brief (1993), My Best Friend's Wedding (1997), Notting Hill (1999), Runaway Bride (1999), Ocean's Eleven (2001), Ocean's Twelve (2004), Charlie Wilson's War released in 2007, Valentine's Day (2010), Eat Pray Love (2010), Money Monster (2016), and Wonder released in 2017. In 2014, Roberts received an Emmy Award nomination for, Outstanding Supporting Actress in a Limited Series or Movie for her performance in the film, Normal Heart.
Who Are The Parents, Brother, and Sister?
Roberts comes from a very creative family as her parents Walter Grady Roberts and Betty Lou Bredemus were once famous actors and playwrights who co-founded the Atlanta Actors and Writers Workshop in Atlanta. Her older brother Eric Roberts is an actor as well. He is popularly known for his role in the movie, King of the Gypsies in 1978 among other notable movies. Julia's sister, Lisa Roberts Gillan, is also an actress and producer who appeared in the 1999 hit movie, Runaway Bride, with her. Interestingly, a rising actress, Emma Roberts, who plays a lead role in the television series "Scream Queens," happens to be her niece, the daughter of Eric Roberts.
Facts About Her Family – Husband, Kids & Divorce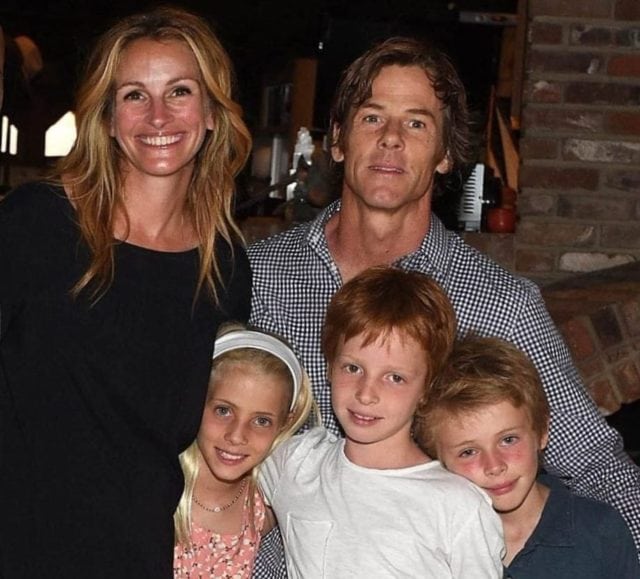 Julia has been in a good number of romantic relationships with famous actors some of which include; Dylan McDermott, Kiefer Sutherland, Jason Patric, Liam Neeson. Though she got engaged to Kiefer Sutherland after dating for a while, they called off their already scheduled wedding just three days before the planned date being June 11, 1991.
Her first marriage was to country singer Lyle Lovett. This union took place on the 25th of June at the St. James Lutheran Church in Marion, Indiana. Well over two years after their marriage, a divorce followed in March 1993. After this divorce, she focused more on her career until 1998 when she met Benjamin Bratt with whom she entered into a relationship with till 2001. She would later meet Cameraman, Daniel Moder, while she was on set filming the movie The Mexican in 2000. At this point, Roberts was still dating Bratt while  Daniel was still married to his wife, Vera Steimberg.
After Daniel filed for a divorce from his wife, he and Julia got married at her ranch in Taos New Mexico on the 4th of July 2000. Thankfully, the pair are still together to date and they are blessed with 3 adorable children, twins, Hazel Patricia and Phinnaeus Walter Moder (born November 28, 2004) and their only son Henry Daniel Moder who was born on the 18th of June 2007.
See Also: Cameron Diaz Age, Height, Married, Husband, Twin Sister, Net Worth
What is Julia Roberts' Height?
One of the most striking features about Julia Roberts is her looks and pearly white teeth but many may not realize just how tall the celebrity is. One thing is for sure, friends and fans become awestruck when they meet Julia in person and one of these pertinent reasons is because of her height. Julia is a very tall lady who stands at an enviable height of 1. 75 m (5 feet 7 inches.) We are quite sure she intimidates a lot of girls and guys with her height and sheer presence. Hopefully, her husband, Daniel, doesn't feel inferior when he stands with her because she is visibly taller than he is. You can also imagine just how tall she gets with her heels on. Your guess is as good as ours.