Julian Assange, born Julian Paul Assange is an Australian publisher, journalist, internet activist, computer programmer and the editor of WikiLeaks. He is one of the greatest hackers ever to be in his time and for this, Julian made himself an enemy of several governments. Find out how and why he grew to become what we know him for today and whether or not he is dead.
Bio of Julian Assange
The computer guru was born on the 3rd of July 1971, in Townsville, Queensland, Australia to Christine Ann Hawkins and John Shipton. After his birth, his parents parted ways and when he was just one year old, his mother got married to an actor, Richard Brett Assange. Julian took Richard as his father and consequently, choose to bear his surname, Assange.
His mother's marriage to Richard later ended in a divorce and she got involved with Leif Meynell (aka Leif Hamilton). The relationship produced a son prior to their eventual break up in 1982. From the time Julian was born until he reached fourteen, he had lived in thirty-seven towns in Australia before he finally settled in Melbourne, Victoria, with his mother and half-brother. Although much is not known about his father, it has been established that his mother was continuously running away from a former lover who had turned into a stalker.
The small cement bungalow where they lived in was located in a peaceful environment which provided Julian the serenity he needed to learn how to use his first computer. It was not long before he developed an obsession with computers. According to the house landlady who lived next to the single storey property, the young man did not go out much, he rather spent most of his time with his Commodore computer and hardly left his bedroom. Unknown to anyone, the time he spent on the computer was spent learning how to hack into other computers.
At the age of 18, Julian met a girl named Teresa and they started dating. Shortly after, he left his family's house and moved into a cottage with the 16-year-old girl. She became pregnant and gave birth to their son, Daniel Assange (now a software designer), in 1989. Even while his girlfriend was pregnant, he still spent long hours on his computer every day, perfecting his art of hacking as the world began to use the web more. The birth of their son was not also a strong enough reason to drag the immature hacker away from his computer screen.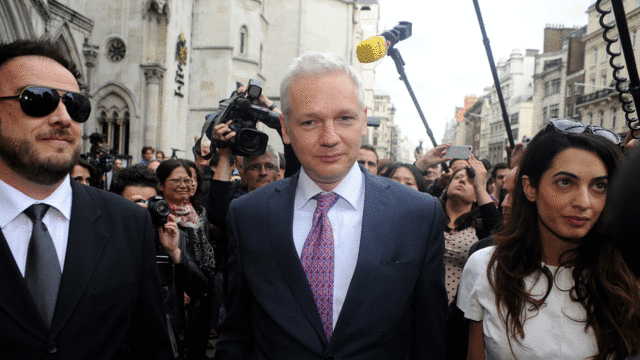 In 1987, Julian Assange began hacking under the name Mendax and founded a hacking group called the International Subversives, alongside two others. He hacked into the Pentagon and other US Department of Defense facilities, including MILNET (military network), the US Navy and The National Aeronautics and Space Administration (NASA). He also hacked his country's Overseas Telecommunications Commission, Citibank, Lockheed Martin, Motorola, Panasonic, Xerox as well as different Australian and US academic and research institutes.
In October 1991, Assange's home was raided by the police. He was caught with a £350 Amiga 500 computer and over twelve discs filled with the access codes of websites. The police also found details of hundreds of passwords for networks all over the world which he stole. Consequently, he was charged in 1994 with thirty-one counts of offenses relating to computer hacking. For his baby mama, this was the last straw that broke the camel's back – she ran away with their son. A nine-year-long custody battle over their son ensued. The court case ended in 1999 in favor of Daniel's mother.
The case against Julian Assange was finalized five years after the police raid, in December 1996. He pleaded guilty to 25 charges (the other six were dropped) and was fined $2,100 and released on a good behavior bond. According to the judge, his lenient penalty was due to the fact that there was no malicious or mercenary intention perceived and also because of his disrupted childhood.
Because of his nomadic childhood, Julian attended many schools and was also home-schooled at some point. Thus, he was marked out as a loner from an early age. He enrolled at Central Queensland University in 1994, where he studied programming, mathematics, and physics. He also started a degree program at the University of Melbourne between 2003–2006 but abandoned the program to set up WikiLeaks with others in 2006.
Where Is Julian Assange Now, Is He Dead?
Julian Assange gained wide recognition in 2010 after WikiLeaks published a series of classified/unclassified but sensitive, military and diplomatic documents made available by a former US Army soldier, Chelsea Manning. The published leaked materials included the Collateral Murder video, the Afghanistan war logs, the Iraq war logs, and Cablegate. Sequel to the leaks, the US government kicked off a criminal investigation into WikiLeaks, asking for assistance from allied nations.
Meanwhile, before the leak, Julian Assange had an ongoing case of sexual assault and rape in Sweden but in the course of questioning him three months earlier, he denied the allegations. Because of the case, he was afraid that the government of Sweden would hand him over to the United States as a result of the obvious role he played in publishing highly confidential American documents.
Sweden issued an international arrest warrant for Assange in November 2010 and he handed himself over to UK police on 7 December 2010. After being held for ten days, he was released on bail. Following an unproductive challenge to the extradition proceedings, Julian jumped bail and fled. The government of Ecuador granted him asylum in August 2012 having determined that he meets the requirements enshrined by the 1951 convention and 1967 protocol relating to the status of refugees. Since then, he has been in the Embassy of Ecuador in London and has not stepped outside the heavily surveilled confines of the building since he entered it almost six years ago. Despite the allegations against him, Julian Assange became a citizen of Ecuador on 12 December 2017. 
From all that we have gathered, Julian Assange is very much alive within the safety of the embassy of Ecuador in London. His British arrest warrant is still valid while the Swedish government has since dropped theirs (sexual assault) against him. However, more revelations are coming out about who Julian really is and what his intentions are.
There have been reports from authoritative sources following the investigations of special counsel Robert S. Mueller III, U.S. intelligence agencies and the international media that Jullian Assange was a key player in the alleged Russian undermining of the United States 2016 presidential elections. He is accused of helping eventual winner Donald Trump by undermining the belief of American's in their democracy. With this, many people are beginning to give a second thought to who this initially good-willed Julian Assange really is. Nevertheless, as earlier stated, he is very much still alive as you read.
What is His Net Worth?
The founder of WikiLeaks and America's most wanted man has a net worth of about $400,000. His life has been one filled with many unanswered questions and career-wise, we can't pinpoint any legal thing we have known him for doing consistently over the years.