Julian Edelman is an American wide receiver who plays for the New England Patriots of the National Football League (NFL). He also has his own clothing brand, JE11. He has collaborated with Joe's Jeans on a line of shirts and jeans, and with Cutters Sports on a line of football gloves. He was selected by the Patriots in the seventh round of the 2009 NFL Draft. Read more about him below.
Julian Edelman's Age and Early Life
Julian Edelman was born on the 22nd of May, 1986 in Redwood City, California, to Angela and Frank Edelman, a technician and the owner of A-1 Auto Tech in Mountain View, California. He's got two siblings, Jason and Nicole. Julian was raised as a Christian, and his heritage is a mixture of Greek, Ashkenazi Jewish, English, Scottish, Irish, and German. Edelman describes himself as a Jew and observes Hanukkah.
He was the quarterback for Woodside High School in Woodside, California. After high school, Edelman spent a year at the College of San Mateo playing as a quarterback before transferring to Kent State University, where he majored in Business Management. He was drafted by the Patriots in the seventh round of the 2009 NFL Draft.
Career
Despite setting a school record for total offense, Julian Edelman didn't make it to the 2009 playoffs. He wondered if, after graduation, he could find work as a firefighter and started visiting firehouses in Cincinnati. Eventually, the New England Patriots decided he was worth the gamble and drafted him in the seventh round of the 2009 NFL draft.
He was convinced that his chances of making the team were slim, so he kept from the medical staff that his groin was in pain. He believed the team would simply give him an injury settlement and release him. Later he found out that he completed the season nursing multiple hernias.
Edelman has been given several nicknames by both fans and teammates. Patriots legend and quarterback Tom Brady nicknamed him "Minitron" after a spike in Edelman's performance. The nickname is a play on "Megatron," the nickname for former Detroit Lions star wide receiver Calvin Johnson. Cornerback Darrelle Revis nicknamed him the "Energizer Bunny," because of his tenacity and perseverance. Edelman himself has said his favorite given nickname is "The Squirrel".
Justin Edelman has won both the Super Bowl XLIX and Super Bowl LI with the Patriots. On the 21st of May 2019, with $12 million assured, Edelman agreed to a two-year $18 million extension deal with the Patriots, keeping him under contract through the 2021 season.
Julian Edelman's Wife, Girlfriend, Daughter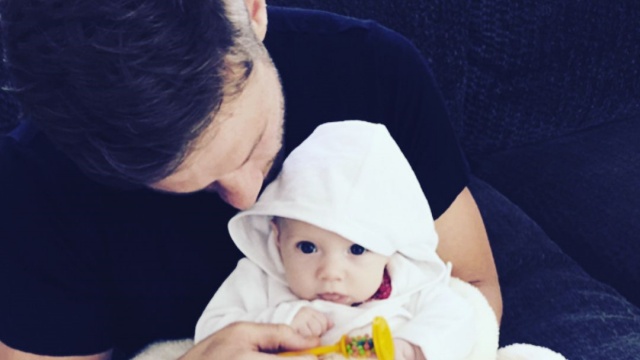 Julian Edelman has never been married so there is no wife or ex-wife anywhere. But then, the handsome sportsman has dated a couple of women in the past.
He dated the model from Sweden, Ella Rose, with whom he had a daughter called Lily. She was born on the 30th of November 2016. Edelman was romantically associated with AnnaLynne McCord prior to Rose, and that happened in 2014.
Meanwhile, it is known that The Pats' star was in a relationship with the Brazilian model, Adriana Lima from 2016 to early 2017. Rumor has it that the relationship fell apart when Lima wished for a child and Edelman refused. It is said that he specified that he doesn't want to have more kids. Lima wasn't happy with that, and the love collapsed. As at the time of writing, there are no reasons to doubt that Julian Edelman is single.
His Net Worth, House, and Cars
Although Edelman may not pocket enormous salary as much as some of the league's celebrity recipients, he is definitely not broke. The American football champion has an approximate personal value of $9 million. As at 2014, his annual salary was $1 million. It later increased to $3 million in 2017. Edelman has earned over $9 million from his endorsements deals with companies like Puma, Google Glass, and many more.
Julian Edelman definitely knows how to spend his money by giving himself a well-desired treat after each season. In 2015, he bought himself a luxurious condo in Boston's Back Bay. With 2000 sq. ft of living space, the condo comes with three bedrooms and two baths. While the exact price of the condo is not known, it has commonly been assumed that the star acquired the home for $2.2 million. Edelman owns an Audi Q7, BMW, Porsche, and Ferrari.
Height and Weight 
Edelman himself has stated that he is 5 feet 10 inches and weighs 90 kg as was measured at his Pro Day. He maintains this by living the life of a football monk, insisting on eating nothing but edamame and drinking ice water (with lemon) during the offseason.