Julie Ertz is an American soccer player who began her professional career after she was selected in 2014 by the Chicago Red Stars of the National Women's Soccer League (NWSL). She has since then grown her career in leaps and bounds and is even a FIFA Women's World Cup champion with the United States women's national soccer team.
Julie plays as a midfielder for both her club and the national team. Her club happens to be the oldest, most successful team in the highest division of United States women's professional soccer club. So far playing for the Red Stars, Julie Ertz has played in 79 games for the team and scored 18 goals.
Julie Ertz's Age and Early Life
Born as Julie Beth Johnston on April 6, 1992, in Mesa, Arizona, the midfielder is one of the two daughters born to Kristi and David Johnston, the other being Melanie Johnston.
Julie Ertz and her sister played soccer for Sereno Soccer Club in Phoenix but while she played for 1992, her sister played for the 1990s. She played first on the clubs' U13 team from 2004 before moving on to join the U19 team and subsequently leaving in 2010. While there, Juli Ertz emerged winner of the state title on nine different occasions and also served as the team's captain.
As a student of Dobson High School in Mesa, Juli voluntarily offered to be a student athletic trainer throughout the four years she spent there, from 2006 to 2010. Because of her deep involvement with Sereno Soccer Club, she never played for her school's soccer team. She was, however, a member of the nationwide organization for high school students in the United States known as the National Honor Society.
After her graduation from high school in 2010, Julie Ertz continued her education at Santa Clara University, where she majored in communications while playing as a midfielder for the school's women's soccer team, the Santa Clara Broncos.
Due to her excellent performance in her first college year, she was named West Coast Conference (WCC) Freshman of the Year. She also received NSCAA All-West Region Second-Team, Soccer America All-Freshman First-Team, All-WCC Second-Team, and WCC All-Freshman team honors. In the years that followed, the soccer player never slowed down and as a result, earned many more accolades. By the time she was done with her college soccer career, she had appeared in 79 games, scoring 31 goals with the Broncos.
On January 17, 2014, Julie Ertz was selected by the Chicago Red Stars in that year's NWSL College Draft, with the third overall pick in the first round. After signing with the team for the 2014 season, She made her debut on April 19, scoring the only goal of the match against the Western New York Flash in the 59th minute.
In week 2 of the 2017 season, the talented player played for the first time in attacking midfield position and scored the only goal which earned her team a 1-0 victory over FC Kansas City.
Julie Ertz has gone on to play at the international level in the youth national teams, senior national team, 2015 FIFA Women's World Cup, and the 2016 Summer Olympics.
Salary
There are different conflicting reports about Julie's salary but judging by them all, it is obvious that her annual salary is not below $1 million. She also has a net worth of about $1.3 million, a large chunk of which comes from her soccer career
Meet Julie Ertz's Husband
Julie Ertz is married to Zach Ertz, an American professional football tight end, who as of 2019, plays for the Philadelphia Eagles of the National Football League (NFL). First, among his parent's four children, he was born in Orange, California and decided to tow the path of his father who also played football.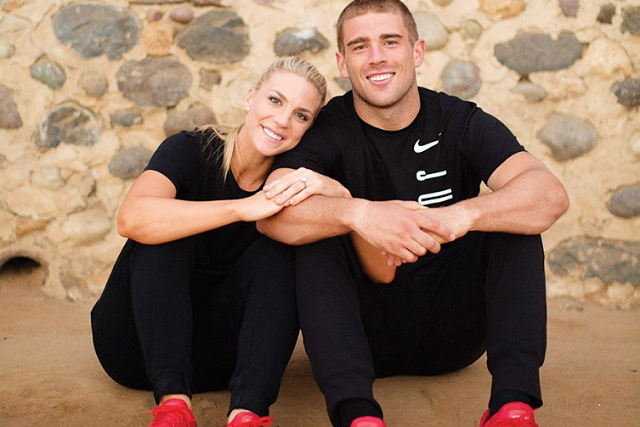 Zach attended Monte Vista High School in Danville, California, and later moved on to Stanford University where he played for the Cardinal from 2009 to 2012. At the end of the 2012 season, he announced that he would enter the 2013 NFL Draft. He was eventually picked in the second round by the Philadelphia Eagles.
The athletes met at a Stanford baseball game at Klein Field in 2012 and started dating. After four years of dating, Zach proposed to his girlfriend on February 26, 2016, at the same Stanford University baseball stadium where they met for the first time. The following year, they got married, precisely on March 26, 2017.
The marriage ceremony which held outdoor at the Bacara Resort & Spa in Santa Barbara, California, was attended by the couple's family and friends, including several of Julie's national and NWSL teammates.
Other Facts About Zach Ertz Wife
1. Julie Ertz stands at 5 feet 7 inches and weighs 61 kg. She has a pair of hazel blue eyes and blonde hair.
2. She is active on different social media platforms with almost 82k followers on Facebook, over 201k followers on Twitter and more than 509k followers on Instagram.
3. For her engagement ring, Zach gave her a round cut, prong set, platinum diamond ring.
4. When considering colleges for her university studies and soccer career, Julie Ertz was focused on schools that would give her full scholarship because she did not want to burden her parents with tuition fees.
5. According to the athlete, she makes up stuff every time she is asked what she would do if she were not playing soccer and this is because she loves soccer so much that she has never thought about not playing.
6. Julie comes from a sports-centric family. Apart from her elder sister, Melanie, and herself, her father also played football at Louisiana State.
7. According to her mother, Julie Ertz had a bit of an emotional start with soccer and was popular for melting into tears on the field.