Julius Peppers is an American football defensive end who has been playing the game professionally since 2002. Before then, he was already a star player for the North Carolina Tar Heels football team and during his time at the University, he was unanimously recognized as an All-American athlete.
Following his draft by the Carolina Panthers in 2002, the talented young man was named NFL Defensive Rookie of the Year and was also named to the NFL 2000s All-Decade Team. So far in his career, he has been named to the Pro Bowl nine times and has also been named to both the first and second All-Pro teams, thrice for each.
From the time he was drafted till now, the defensive end has played for three different teams. He played for his draft team from 2002 to 2009, played for the Chicago Bear from 2010 to 2013 and for the Green Bay Packers from 2014 to 2016. He was signed again by the Carolina Panthers in 2017.
Julius Peppers Age and Early Life
Julius Peppers was born as Julius Frazier Peppers on January 18, 1980, in Wilson, North Carolina. He was, however, raised in Bailey, North Carolina. He attended three different high schools, including Hunt High School where he did his freshman and sophomore years, Fike High School, and Southern Nash High School.
At Southern Nash High School, coach Ray Davis, because of his impressive stature, recruited him into the school's football team even though he had never played football before. Luckily, he turned out to be a natural and was considered to be one of the most formidable defensive linemen in the state.
During his junior year, Julius was recognized by Parade Magazine for his all-purpose sports talent. As a senior, he was named Male Athlete of the Year by North Carolina High School Athletic Association.
His Net Worth
Julius Pepper currently has an estimated net worth of $60 million. He has played in the NFL for more than seventeen seasons and has made a career earning of $164.97 million which ranks 13th among active NFL players entering 2018. His 2017 cap hit of $3.75 million ranked 35th among defensive ends and 304th overall in the NFL.
In 2017, Julius signed a one year contract to return to the Panthers which is his home state team and the team that drafted him. On March 14, 2018, he signed a one-year $5 million contract extension with the team, including a $2,500,000 signing bonus, $2,500,000 guaranteed, and an average annual salary of $5,000,000.
With that, his 2018 base salary will be $2.250 million, a signing bonus of $2.5 million and a workout bonus of $250,000. His cap hit will be $5 million while his dead cap hit will be $5 million too.
Brother and Family Details
Julius Pepper is the son of George Kearney and Bessie Brinkley. His parents met in 1979 and got into a relationship which went sour after Julius was born. His father became uninterested in building a relationship with his son and by the time Julius clocked 7, he was almost completely inexistent.
During his hay days, George was an athlete and Julius took after him in that regard, developing similar speed, strength, and coordination. Julius father was also a basketball fan and as a result, he named his son after two of his favorite players, Julius Erving and Walt Frazier.
With his father out of their lives, the player's mother, Bessie, took up the responsibility of raising Julius and his step-brother (Stephone), the product of her former marriage to Clarence Peppers (which ended in divorce in 1978). She raised her children with love and also with the rod, demanding that they treat her and others with respect.
Later, the family relocated to Bailey, a one-diner town located in East Chapel Hill. In 2011, it was reported that Mr. George had lost his law enforcement job after being charged in North Carolina with felony possession of cocaine. He was arrested sequel to a joint state-local investigation and was eventually dismissed.
Julius Peppers' Wife and Children
The defensive end is not married at the moment but he is in a very serious relationship with Claudia Sampedro, a Cuban-born renowned glamour model who became popular after she appeared on the E! reality television series, WAGS Miami.
Meanwhile, Julius was in a relationship with Lia Ames before Claudia came on board. The footballer surprised everyone when he announced that he was breaking up with Lia who was pregnant with their son, Elijah at the time. Subsequently, Claudia and Julius Peppers started dating in 2014.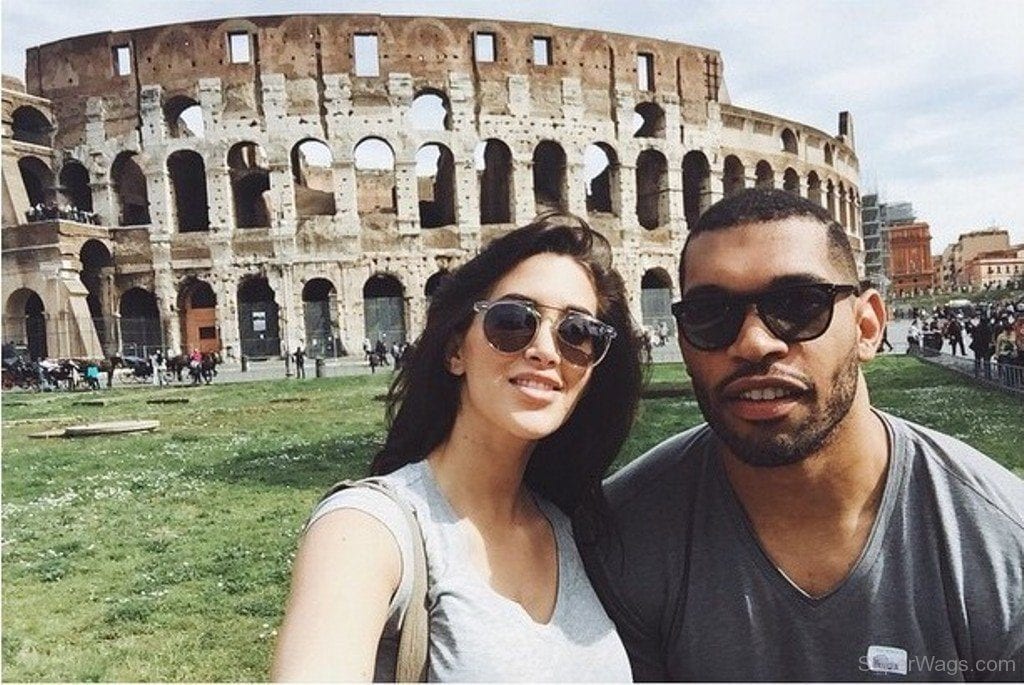 Claudia Sampedro was born in Havana, Cuba on 27 October 1989 and apart from being a reality TV star, she is also a fitness model and an actress. She became an internet sensation as a result of her striking resemblance with Kim Kardashian but apart from looking alike, the ladies had also dated the same man. Claudia Sampedro got involved with Reggie Bush after he broke up with Kim.
The undeniably beautiful lady has two children – a daughter, Keena Skye (born in 2009) from the previous relationship and a son she had with Julius.
Julius Peppers has two children, both sons. The first named Elijah Peppers was born by his former girlfriend, Lia while the second named Amaresito was born on 21 September 2015, by Claudia.
The former Tar Heels player had denied being responsible for his first son but shortly after his birth, Lia Ames sued him in a Miami Circuit Court and sought a court order stating the NFL player was legally the father of her newborn son. After battling in court for almost one year, the gridiron champion finally admitted he is Elijah's dad and is now legally recognized as the father. Julius and Lia Ames later reached an agreement over custody, support, and important decision making power for their child. Presently, the linebacker pays $8,000 monthly in child support to his former lover, Lia Ames.
Claudia and Julius seem to have blended their families from their previous relationships well enough as all the kids reportedly get along very well.
Height and Body Stats
Only a few players in the history of NFL can boast of having the physical package that Julius possesses. He stands impressively tall at 6 ft 7 in (2.01 m) and weighs 134 kg (295 lb). His hand measures 10 inches (0.25 m) while his arms are 34 1⁄8 inches (0.87 m) long.